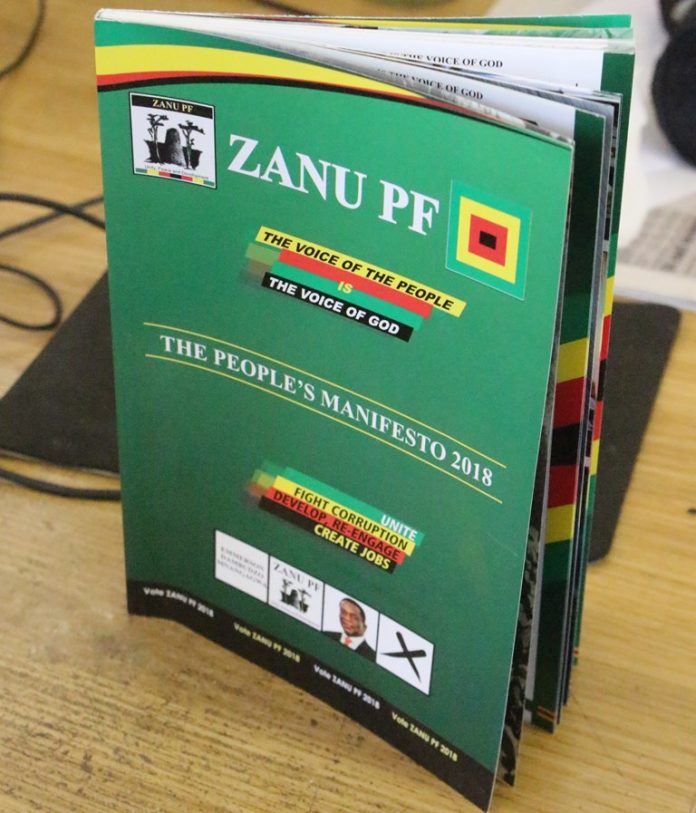 'ZIMBABWE is safe in the hands of ZANU PF' was more than a catch phrase from President Emmerson Dambudzo Mnangagwa during the grandiose launch of the ZANU PF Manifesto and election campaign at the Harare International Conference Centre (HICC) on Friday last week.
It was more than a launch of what should be a relatively easy election for ZANU PF.
It was a day of the reawakening of the people's dream, a day when even those across the country's political divide 'downed' their tools to marvel at the genius of this great Party.
Wooed by the awesome scenery created by the seductive green, red, yellow and black colours of ZANU PF that also make the national flag, none could resist the temptation to be part of the HICC carnival.
Roads leading to the venue of the launch were branded with the dominant green, the colour of life and life that the ruling Party will continue to give to the country in the years to come.
And this is ZANU PF.
This is what it does when its Party comes to town.
It sends messages of courage, history, belief and hope when the call comes.
Cometh the hour, cometh the moment, ZANU PF did just that.
The opposition must be very scared.
The game is just starting.
As is always the case when ZANU PF roars, there were far too many other eye-catching events on that historic day.
One stood above all.
The Manifesto itself.
Its theme is apt: 'Unite, Fight Corruption, Develop and Re-engage'.
Nothing to add or subtract here.
It is a document that speaks to the aspirations of the toiling Zimbabwean masses — a panacea to their seemingly chronic economic meltdown and a promise to a future of hope and more.
For a country that had spend the last 17 years harping about abundant natural resources, picking up fights with everyone and gleefully fussing about being a serious player in international politics, someone had to remind us, as a nation, that we had an economy to run.
There was a major lesson at the HICC on Friday — a lesson that President Mnangagwa has stressed at length as he extricates us from being a nation of ruckus politicking at the expense of the economy.
Let us dwell more on economics than on politics, he stressed.
There are some things that just go together.
ZANU PF and the people as well as the people and ZANU PF.
The love affair is just as strong as ever.
Next stop, the 2018 harmonised elections.
This is why the Manifesto is a business friendly one.
Let us allow it to speak for itself:
"The Party will focus aggressively on reopening the country for business with the global community so as to build our industries, create jobs, eradicate the scourge of poverty and uplift people's livelihoods.
As a Party, we seek the renewal of the mandate from the people to enable us to extend our transformation agenda.
The 2018 people's Manifesto unveils the immense opportunities awaiting Zimbabweans under the new dispensation by demonstrating the Party's commitment to fulfilling the aspirations of the people.
Attaining an economic growth rate of at least six percent per annum over the period 2018-2023; targeting US$5 billion annual foreign direct inflows and
US$10 billion in domestic investments; promoting equity, equality, gender balance and empowering the youths, women, people with disabilities and other vulnerable groups.
Creation of corruption free environment in the private and public sectors; intensify the fight against corruption in all its forms; non-interference by the executive in the operations of constitutional institutions that combat corruption and initiation of a broad-based campaign on the importance of upholding sound ethical standards across all sectors.
The ZANU PF Party under the new dispensation will restore our dignity and transform the livelihoods of our people.
This will be achieved through effective, consistent and pragmatic implementation of the various programmes, projects and reforms articulated in this 2018 people's manifesto."
This is an election that will, without doubt, set the country on a trajectory towards unprecedented economic growth.
President Mnangagwa has said we need to leapfrog other nations who had overtaken us during our dark period of senseless political dissent.
The MDC-Alliance leader, Nelson Chamisa, who has taken to make ridiculous electoral promises, was given a sobering reminder that this is not time for child's play.
We are in for serious issues; issues that promote stable and sustainable economic growth and development; issues that respond to the people's calls for prosperity.
We are here now and men are about to be separated from boys.
Vice-President Constantino Dominic Nyikadzino Guveya Chiwenga was on hand to give young Chamisa friendly advice on politics when he said: "We shall have time to dismantle their little, make-belief dreams as we get down to real campaign work.
Before they tackle our icon, could they do their own supporters a small favour by resolving legitimacy issues that dog and haunt them!
We excuse them for being too young to have participated in the struggle. But we cannot excuse them from mounting a bid for national leadership from a pilfered party crown!
The courted and concussed voter has to read, weigh and decide from a welter of competing visions.
But visions are deeper and a more serious affair for transforming nations, impacting a people.
Not childish dreams which excite rude passions, while not surviving even the most charitable scrutiny.
We hear such child-like and childish talk designed to transform make-belief worlds fit for the painter's canvas, never phases to be lived and enjoyed.
Bullet trains!
Spaghetti roads!
Rural airports!
Cell phones for animal kingdoms!
All such and much more crazy ideas to come.
Until we ask ourselves why pretenders who sell us such convoluted dummies cannot manage small traffic in our real-world cities and municipalities which they control and run! Why reach Bulawayo in 40 minutes when Harare workers can't reach Kuwadzana in five hours?
What open cans of spaghetti when potholes straddle single lane roads in the city centre?
Shouldn't these starry-eyed juvenile politicians take us to Mabvuku after a hard day's work before they put us on Apollo 11 to the Moon?"
Zimbabwe is on the cusp of big things and as President Mnangagwa said: "Ibwe pamusoro peibwe, Jerusalem yakavakwa," so shall the case be with this country.