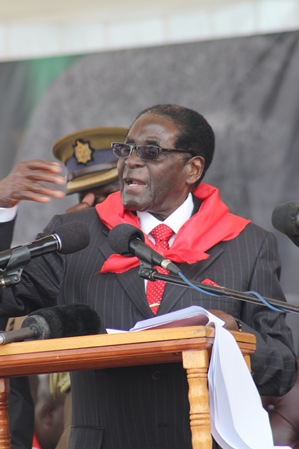 THE mayor of London, Boris Johnson must be kicking himself in the back, especially after the damning article he wrote in The Telegraph, exactly a week before President Robert Mugabe's 21st February Movement celebrations were held in the resort town of Victoria Falls.
Titled 'Happy birthday, Mr Mugabe, with special love from Labour', the article not only exposed Johnson's foolishness, but the extent the Brits are prepared to go in demonising President Robert Mugabe.
"I can't imagine that anyone in his right mind would actually want to go to the 91st birthday party of Robert Gabriel Mugabe," Johnson declared.
"It promises to be an event of truly spectacular moral ugliness."
Johnson was wrong because that was not the case in Victoria Falls on Saturday.
And people did not eat lion meat as Johnson had said.
In fact, the celebrations were spectacular such that even the predominantly white tourists in the resort town could not help, but marvel as over 20 000 people from various parts of the country converged at Elephant Hills Hotel Golf Course to listen to their dear President.
Some white folks even followed proceedings from a distance.
Perhaps they were also listening attentively as President Mugabe addressed the people.
His message was so clear.
'Zimbabweans must be principled and honest' and white people must stop taking advantage of the country forthwith.
Being principled, he said, begins from an early age and that is why it is imperative for every student to undergo national youth service training, a programme that has come under fire from the Western-sponsored so-called private media and non-governmental organisations.
Ironically, these media houses forget that in the USA and Europe, they prioritise national youth service and yet disregard it when it comes to Zimbabwe.
"National youth service is very important and we want to get to a point that every student must go for national youth service training," said President Mugabe.
"We want to see you (youths) become leaders of tomorrow.
"Always remember principle is right, principle is might and right is might."
Still on honesty, President Mugabe said corruption must be stopped forthwith.
He warned people to desist from lying just as some leaders from Mashonaland East were lying that all farms in the area were occupied by black people, yet there were in fact white people hiding in some of the farms.
He said this came out after he had a meeting with the Minister of Lands and Rural Settlement, Douglas Mombeshora.
"We were looking at each and every province," said President Mugabe.
"We started with Mash-East.
"In Goromonzi alone there are still 40 (white commercial farmers).
"From Goromonzi to Murehwa and Mutoko there are 123.
"I said ok some of our leaders were hiding them in farms and saying the farms have been given.
"So I said let's stop here, 40 and 123 that's 163 in just a small district of our country.
"40 plus 123 vachiri mumapurazi vanga vakahwanda.
"Mafarm mangani iwayo?
"Mapurazi anga akahwandiswa nanaKaukonde."
President Mugabe said they were going to look at every province and correct this anomaly.
On whites currently running game reserves in the country, President Mugabe said they will soon get a rude awakening.
He said there were lots of safaris in the country and very few were African despite the fact that the same whites imposed illegal sanctions against the country.
"The majority (safaris) are white," said President Mugabe.
"Taiti we must keep animals, yes, keep animals for ourselves, but vanaAmerica vakatipa masanctions, but their own Europeans come.
"They do their hunting and pay themselves, kill animals, carry the trophies with them.
"There is no sufficient supervision, but we are now going to invade these forests.
"Our people cannot continue suffering."
President Mugabe who recently assumed the African Union (AU) Chairmanship urged fellow Africans in Addis Ababa, Ethiopia, in January that it was time for Africans to fight for economic independence considering that most African countries achieved political independence only.
He preached the same message last Saturday and said Zimbabweans must be owners of the country's vast resources.
Joyce Mujuru's story of roping in Nigerian 'prophets' in her bid to depose President Mugabe from power was a major highlight from President Mugabe's address.
The people had a good laugh as the President narrated the story.
"We managed to know what Mai Mujuru was doing at her house," he said.
"Pamwe zvatinomboitwa!
"Pakambobatwa nyungururwi.
"Imwe yainzi itsvuku, imwe yaive nerumwe rudzi, ndokuiswa muchirongo chinemvura.
"Imwe ndoyainzi Mugabe, imwe Mujuru dzichirovana ipapo. Zvatinomboitwa kuseri kwatiri uko!"
He continued; "Vakauya (Nigerians) zvikanzi tsvagai huku gumi, iyi Mugabe, iyi Mai Mugabe, iyiEmmerson Mnangagwa.
"Zvakanzi chekai musoro, Mugabe ndobva achekwa, Mai Mugabe guu!
"Chakangosara chave chimutumbi chehuku chachekwa.
"Ropa iroro rakazunzwa hameno zvakaitwa ipapo."
Apparently when these rituals were being done, President Mugabe said, Mai Mujuru was half-naked.
Again another ritual, said President Mugabe was performed at Mai Mujuru's Beatrice Farm where five sheep were slaughtered before they were burnt.
As he narrated this story, people were shocked by Mai Mujuru's escapades.
"He has no reason to lie about this and witchcraft is something common among power hungry people," said one official who refused to be named.
"You will be shocked what some people can do just for power."
The celebrations in Victoria Falls were rounded off with an oversubscribed gala dubbed 'Jive for an icon' at Chinotimba stadium.
People danced the night away before returning to their respective provinces on Sunday.
The 21st February Movement celebrations were held under the theme: 'Celebrating the birth of Gushungo, the icon of Zimbabwe's revolution and champion of youth empowerment'.
It was pleasing to note that almost every speaker, paid gratitude to Amai Dr Grace Mugabe for doing a wonderful job at home, that of taking good care of her husband, President Mugabe.
This was indeed deserved recognition for 'Amai Stop It' as she is now popularly known.