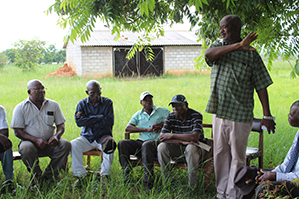 DEATH only becomes death when it knocks on your doorstep.
You can almost smell its scent, touch it, see it.
It becomes more vivid.
It makes you overly conscious of your mortality as a human being.
Such was my experience when I visited the Kanengoni residence in Warren Park, Harare, as soon as we received the news that our deputy editor had passed on.
Cde Alexander Kanengoni, the award-winning writer, liberation fighter, journalist par-excellence, teacher and fierce critic of neo-colonialism was no more.
The events of the fateful day just unfolded in a dramatic fashion.
It was Tuesday, April 12, a normal working day at The Patriot, or so we thought.
Earlier in the morning, Knowledge Teya, the news editor, had received a call from Cde Kanengoni informing him that he (Kanengoni) would not be coming to work that day as he was not feeling well.
He needed to rest, he had said.
I had eavesdropped on Teya as he relayed the message to the assistant editor, Chris Mutseyekwa, around 9am.
Around noon, we heard what sounded like bouts of laughter.
I presumed this was coming from Cde Kanengoni's office.
Cde Kanengoni, or 'DJ' as he was affectionately known in the newsroom, had a keen sense of humour and would always burst out laughing when he had visitors in his office.
It did not matter who he was talking to, the humour was natural, spontaneous, intrinsic, part of his character.
My mind quickly raced back to what Teya had said earlier; Cde Kanengoni would not be coming to work.
I remembered, he said he needed to rest.
It was then that everyone heard the 'laughter' for what it really was; someone was wailing.
The wails got louder.
Just about the same time, Chiratidzo Moyo came racing into the newsroom, gasping for air, and came short of screaming: "Nhai manzwawo here zvandanzwa kuti VaKanengoni vashaya!" (Have you heard that Cde Kanengoni has passed away?).
I shouted to her, "What! Repeat what you have just said!"
She approached my desk tentatively, with her left hand to her heart, and said: "I have just heard that Cde Kanengoni collapsed and died.
"Is it true?"
She was almost whispering, but the gravity of the message she was relaying caught everyone's attention.
There was a moment of silence.
Everyone froze.
For about a minute, everyone in the newsroom 'tried' to digest the shocking news, and then as if they had snapped out of a trance, people just individually shuffled to the car park, all trying to call DJ's phone.
The previous day he had come to work and we had a diary session with him in which the conversation drifted towards discussing his hero status when he died, not that anyone expected it would be soon, but in the context of national heroines Mai Chitepo (Victoria) and Vivian Mwashita's recent deaths.
Humble as he was, DJ had shot down the averments from the floor that he deserved hero status, until someone mentioned that he had played a crucial role in the country's history as the first team deployed to attend to the Nyadzonia massacre, Mozambique, in 1976.
Someone else said DJ deserved the honour for rendering his mastery to the Mgagao Declaration, which he said he was part of.
DJ went on to recount the horror of burying, with his bare hands, the bodies of more than 1 000 war refugees.
"Maybe," was the closest DJ came to admitting that he deserved such honour.
In the next 30 minutes, we were to visit the Kanengoni Residence in Warren Park D, Harare, where the reality that DJ had departed to the yonder world really sank.
When we arrived at the house, Cde Kanengoni's body was still in the house.
Sorrow filled the air.
His lifeless body lay on his bed, robbed of the glimmer that characterised him.
He looked peaceful, as if he was just sleeping.
I thought he would wake up.
"Ndiwo maendero acho here aya shamwari?" asked Mr Mutseyekwa, as if expecting an answer.
It was then that I got flashbacks of the first time I saw DJ, in 2004, when I was on attachment at The Daily Mirror.
I was fascinated by his stature because he seemed to dominate everything in his vicinity.
We were to meet again at ZANU PF Headquarters some time in 2010 while I was at The People's Voice when he had been designated deputy director of Indigenisation in the Party.
He did not forget a face.
Then, I did not know the real Cde Kanengoni.
I got to know him better the next year when he recruited me to The Patriot, that is when I realised that the years of experience in writing I thought I had was a drop in the ocean as Cde Kanengoni would panel-beat my writing, sharpen my skills, teach us to simplify complicated subjects and unpack issues without bias.
During the routine Monday and Friday diary meetings, I was to grow fond of this liberation fighter, whose cosmology stretched as far as the earth's surface, while every strand of grey hair appeared to represent fond memories of the fight against white supremacists, both before and after the liberation struggle.
Often he would say: "My understanding of issues is way better than yours perhaps because I have been around much longer than you.
"You will get there, because all of you have improved since you started writing for The Patriot."
DJ was an open book.
Ask him anything on any subject, he would first draw you to where it all began.
He had command of the English language, both written and spoken.
Even his Shona was very good.
And if there is one thing he believed in, it was imparting his knowledge to others.
"The problem with us blacks is that we do not document our history," he would say, before lamenting how his countrymen were dying with their untold stories while Rhodesians went on an offensive to distort the country's history.
He would say that in 30 years time, it is unfortunate that what may remain would be the distorted accounts being scribbled by Rhodies, if the Zimbabwean story is not told.
Cde Kanengoni fought the Rhodesians through the barrel of the gun and at independence, continued with the struggle.
This time with the pen; a weapon mightier than the sword and gun.
Writers are born, they do not die.
Your works live on DJ.
You are the greatest literary giant to emerge from the liberation struggle.
Go well, you are a hero!