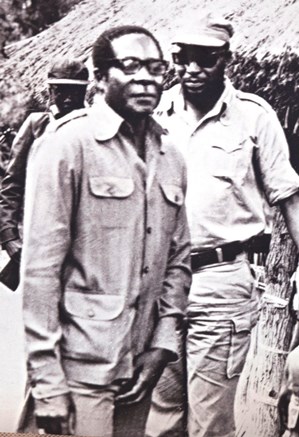 PRESIDENT Robert Mugabe during the liberation struggle was assisted by capable commanders.
The ZANLA Chief of Defence Josiah Magama Tongogara was phenomenal, the Chief of Operations, General Solomon Mujuru, was charismatic, Josiah Tungamira the Deputy Political Commissar was a man of action and Vitalis Zvinavashe (Cde Gava) Chief of Security was wisdom personified.
Guerrillas led by the above mentioned comrades testify that they were brilliant and inspirational leaders.
War veteran and former Attorney General, Sobusa Gula-Ndebele at various stages of the war worked with all the commanders.
"All the commanders were selfless men, they were not arrogant characters," said Cde Gula-Ndebele in an interview with The Patriot.
"The concept of 'shefu' was alien to them.
"Leadership to them was division of labour and not status or a means to living better than the others."
The war, recalls Cde Gula-Ndebele, was brutal.
"But Cde Tongogara was a humorous man; wherever he was people would be laughing," he said.
"He was a charismatic and forceful leader who inspired people to do things and get people going."
Cde Gula-Ndebele said Cde Solomon 'Rex Nhongo' Mujuru was an affable leader.
"He was not an imposing man, but was outgoing and people gravitated towards him," he said.
"He was a brave fighter and tactician.
"As long as one diligently performed their duties there would be no problems.
"He preferred discipline and hard work."
Cde Gula-Ndebele described the Chief of Security, Cde Vitalis Zvinavashe whose Chimurenga name was 'Sheba Gava' as a 'typical intelligence person'.
"He was a typical intelligence person, cool, calm and collected," he said.
"He was incisive in terms of his thought process and was patient and very particular about detail.
"Even when he joined the army, he would insist that things be done by the book. "For instance, he would say operations in the army are very simple for there is an army 'bible', laid down procedures and one simply has to follow those in execution of duty."
The Deputy Political Commissar, Cde Josiah Tungamirai, said Cde Gula-Ndebele, was a quiet and man of action.
"One thing I will never forget about him is that every time he approached a gathering before he addressed it, he would say brief me and we ended up giving him the nickname 'Brief Me'," he said.
Deputy Foreign Affairs Minister, Ambassador Christopher Mutsvangwa also worked with the commanders.
"Cde Tongogara and the other commanders of the struggle played a pivotal role as the war gathered momentum," he said.
"The first milestone was when the ZANLA forces joined FRELIMO the Mozambican army.
"This marked the beginning of a close friendship between Cde Tongo and Cde Samora Machel the then President of Mozambique and leader of FRELIMO."
The ZANLA commanders, said Ambassador Mutsvangwa, were a unified force, a development which ensured that the guerrilla machinery ran smoothly. Cde Tongo inculcated the People's War concept while Cde Mujuru was commanding a group of 45 which attacked Altenna Farm in Mt Darwin in 1972.
Cde Mutsvangwa describes the quartet as astute, disciplined, hardworking, patriotic, good teachers, intelligent and alert men.
Retired Brig Gen Mike Nyambuya said the leadership of the quartet was invaluable.
"I worked with all of them and their leadership cannot be compared," he said.
"They were result-oriented, patriotic and instilled a spirit of nationhood."
Another brave fighter and inspirational commander was ZPRA commander Alfred Nikita Mangena.
The Revolutionary Search Institute of Zimbabwe's project advisor, Tjenesani Ntungakwa described Cde Mangena as a fearless fighter.
"He became ZPRA Commander in 1971 appointed by the ZAPU leadership," said Ntungakwa.
Retired Colonel Tshinga Dube on the other hand said, Cde Mangena played a crucial role in the liberation struggle.
"After his military training in Algeria, he was deployed to Morogoro Tanzania to open a camp to train recruits from home," said Cde Dube.
"He was a brave and able solider who worked tirelessly and participated in the front which resulted in his death after being blown up by a landmine.