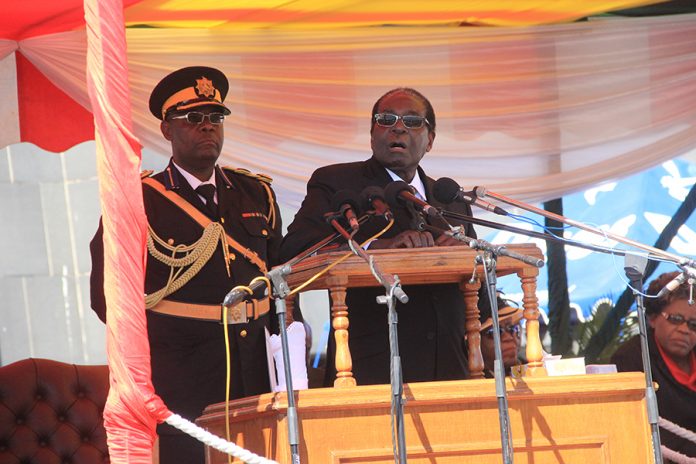 "All the world's a stage,
And all the men and women merely players;
They have their exits and their entrances;
And one man in his time plays many parts,
His acts being seven ages …" — William Shakespeare (As You Like It).
FORMER President Robert Mugabe's story was always going to touch the world, to awaken it from its seemingly deep slumber but then be subjected to various twists and turns; all to suit the entrenched interests, especially of those who reviled him both in life and death.
Such was, and still is, the bigoted belief of the anti-Mugabe brigade. They thought they could use his demise to defile his dream, self-belief and determination that he planted in his people.
But on September 6 2019, when he departed for the yonder world they thought they had found the catch they had long waited for.
How wrong they were!
It then came as no surprise that those who loved him carried the day, over those who loathed him.
Yet the tributes have been expectedly and evidently of honour and immense loss from all corners of the world; and that they are all befitting is a narrative that can never be ignored.
It is for a reason.
Cde Mugabe is a man whose contribution to the global political economy can't be glossed over by a few words.
It would be a dishonour, a disservice to what he did and contributed to the global political and economic world.
It is a story that should be told through documentaries, films and our curriculum.
Here is a story that should be used by our tourism sector to market the country; a story that should never be forgotten and a history whose enduring footprints must never be erased.
As we rummage through the many things that we have been left clutching by this great man, one hopes that there will not be someone from Hollywood who will come and steal that story from us.
It is our story.
It should be told by us.
And Robert Mugabe is our hero.
There is always that uncanny tendency from Zimbabweans to shuffle their history to the periphery, to put it on hold and, with time, completely forget all about it.
We have lost key aspects of our history because of that self-destructive tendency.
But because Cde Mugabe created a vibrant education system and an efficient information management system, that history will never be lost.
That is why this writer is not only taking offence with what has been written about Cde Mugabe but is struggling to canvass for the apt words to describe the great man.
We will nevertheless try to give this story meaning through the following narrative.
Just when one reaches the point where one thinks that everything that needs to be said has been exhausted, something new pops up.
Just when we all wrap our papers, tuck our pens into our pockets and get up to go, sure that all the words, all the superlatives and nomenclatures have been swallowed and spitted by those who now rely on the ever changing technology to cast them on the expectant lot, somehow new words, new argots emerge.
There they stand, from a distance, lurking with all their might and summoning the vibrancy and urging the writer in one to join the bandwagon and proffer a word or two to the expectant consumer.
And the consumer never tires of the new, different and sometimes fresh angle.
Cde Mugabe represented just one thing in his life.
He represented his people; an unflinching patriot who never wavered when it came to defending and protecting what was right for the people, his people.
The war against the West, which battle we are still entangled in, is ample testimony of this principled stance.
The continued attempts by the West, through their local proxies, confirm the strength and viability of that unwavering stance against Western imperialism.
He stood for his people, undeterred and unmoved by the manoeuvres from the West and those who tried, but with no success, to stand in the way of what he believed in.
They all lost because he believed in Zimbabwe, and Zimbabwe believed in him as well. That combination could not be broken and it shall never be broken.
Cde Mugabe imbued us with the strong belief that we belonged to Zimbabwe and that Zimbabwe belonged to us.
He was right and in many ways too.
This is our country and in it we find everything that the heart of a human being craves for.
When the West preach democracy, when they attempt to divide us, there is and will always be the towering figure of Cde Mugabe there to give us the light, to shine on us and to cast away the darkness of such vagaries.
We will not shed tears for Cde Mugabe because legends do not die.
We will not weep for him because we are armed with the knowledge that his legacy is there to guide and protect us.
Go well son of the soil!
Fare thee well Father Africa!
Sleep well the towering flame of African emancipation!
Let those with ears listen.