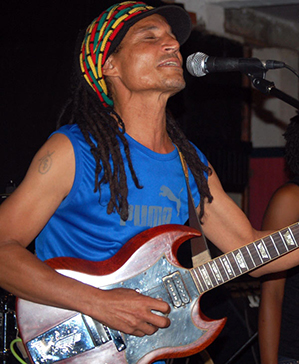 'MDHARA B' is what we used to call you Andy Brown and it's exactly five years now since you've been gone.
'Andy Brown', 'Maunganidze', 'Muzukuru' and a whole lot of other 'names' you had.
So many names on you Mdhara, but as I look back, you somehow adopted all of them as you went along.
No doubt those you mingled with have different tales about you.
Some say you were temperamental, but jovial at the same time.
Others say you were unpredictable, but full of beans always.
I decided to write you one Mdhara B, not just because it's your anniversary, but because there are certain things we never talked about before your untimely death.
Our last encounter was in Chipinge at the 21st February Movement gala in 2012.
I remember, despite complaining about the weather having gotten the better of you after visiting Switzerland, you went on to deliver a polished performance.
We embraced, but little did I know it would be the last time.
When your wife Nadine phoned that fateful day on March 16 2012 to tell me you were gone, we were celebrating a colleague's birthday just close to your house in Cranborne, Harare.
For some reason, I was convinced you were destined for Mudavanhu Village, Mberengwa (formerly Belingwe Tribal Trust Land) and it's a pity I couldn't accompany you to your final resting place, but my wife and colleagues were there.
You always talked about your mother Zvondiwe Shoko and, rightfully so, you wanted to be buried next to her.
It's only you and your mother who knew what you went through at the hands of your father, a British doctor it's alleged.
Only your mother knew the trauma of giving birth to a 'coloured' child in the then Rhodesia and I wonder how you both handled this seemingly awkward situation in the village, but I am sure it was not easy.
It's only your mother who knew how to stomach such statements as, "Handina mwana murungu pano," from your stepfather; the man she later remarried.
By then you were in Bulawayo.
As your sister Queen Mashie recently told The Sunday Mail, it's unfortunate you would at times see your mother being beaten before you ran away from home.
I suppose you did this to put her out of her misery, but then she found you before you later found yourself in an orphanage.
Godfrey 'Cadia' Shoko was your original name, but you ended up 'Andy Brown', the famous musician.
You became a brand even beyond our borders.
But as you lie peacefully Mdhara B, I wish we had had more time to talk about how you grew up and maybe we could have arrived at the man you came to be and how you influenced society.
I can't help but think you and your stepfather were probably compatible in a way; trying to fight the same war, but on different fronts.
And your common enemy must have been the whiteman.
It's sad your stepfather might have failed to come to terms with reality.
That you were innocent and it wasn't your fault; you had been conceived under 'odd' circumstances.
His bitterness might have stemmed from the fact that many white men in Rhodesia raped and constantly abused a lot of black women.
Queen Mashie says your mother had 'a thing' with the whiteman in question, but considering you were born on March 15 1959, could it be that your mother was also part of those black women who were abused by whitemen in Rhodesia?
It is on record the likes of Frederick Courtney Selous slept with many black women back then, leaving behind a host of 'coloured babies' they never cared for.
It was all left to the black mothers.
The likes of Gift Amuli have even opened up at some stage, condemning their white fathers.
Difficult as it may, hopefully his mother in Gweru will one day share her untold story.
But then Mdhara B, as we interacted back then, I also realised your contempt for the whiteman.
I still remember that incident at your house in 2011.
It was a beautiful spontaneous gathering on a weekend with friends and family.
Tarisai, Nadine, Amarra, Junior, Grieves, Wasu, Fide and Bonzo were all there.
But then your neighbour and friend after 'one-too-many' made a grave error.
"Uri mwana waSmith iwewe," he said.
There was dead silence.
"Haaa… ndikanyatsotarisisa mhino yako iyo, uri mwana waSmith chete," he continued, oblivious of how you were already seething with anger.
The blow you unleashed before chasing him out of your yard never escapes my mind.
With his nose bleeding, he went home, but returned with his wife who wanted to enquire what had happened.
"Amai murume wenyu ashaisha, amboramba achindituka nekundiwanzira pamberi peshamwari dzangu uyezve pamusha pangu," said Andy.
"Paazonditi ndiri mwana waSmith ndarwadziwa zvikuru."
"Kunditi mwana waSmith inini?"
You were still livid, but after she was briefed by others, she quickly apologised to you.
And that was it.
But that incident showed me you had a bone to chew with those vainzi vasina mabvi (whitemen).
And being called Smith's offspring was deplorable to you.
The last Prime Minister of Rhodesia, Ian Douglas Smith, like his ancestor Cecil John Rhodes, was no doubt the epitome of white supremacy in pre-independent Zimbabwe.
A man who, like his type and kind, dismissed blacks as filthy animals not even fit to be in their own country of birth.
A racist so unrepentant, who believed blacks would never rule their country 'not in a thousand years'.
So Mdhara B, I understand why you blew a fuse that day.
You somehow represented a section of the coloured community in the country and their 'tragedy' that arose out of colonisation.
Although you are gone Mdhara B, and a part of you was indeed white, something tells me you were black to the bone.
I stand to be corrected.