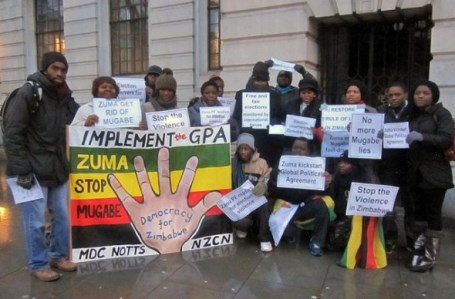 IN the past few weeks, I have heard some people here in the UK suggesting that a strong opposition that will remove ZANU PF from Government will come from the Diaspora, especially the United Kingdom!
Some even claim that they have been approached by the US foreign office to form a formidable opposition to replace Morgan Tsvangirai.
This week I spoke to a representative of Zimbabweans United for Democracy (ZUNDE): a trans-Atlantic coalition of Zimbabweans in New Zealand and the United Kingdom (with some Zimbabweans at home) who have formed what they allege is a pressure group to challenge ZANU PF in 2018.
So what is ZUNDE, who runs it, and what can they do, that which other political parties have failed to do?
I spoke to Mr John Huruva, the global organising secretary for ZUNDE.
"We are a union of democrats," said Mr Huruva.
"There are many political parties in Zimbabwe, and we are taking anyone from any of the political parties as long as they share our goals and believe in a united coalition against ZANU PF.
"We have a lot of people on the ground kumusha who are doing preparation work for us.
"We have not yet recruited anyone from ZANU PF.
"We have support from some mayors and councillors in Zimbabwe who I cannot mention at this point.
"We are attracting people from the MDC formations and other political parties."
I asked if they will talk to Tsvangirai.
"Tsvangirai will be out of the picture to tell you the truth," Mr Huruva said.
"We are talking to people like Strive Masiyiwa and Simba Makoni.
"Masiyiwa wants a little bit of time.
"We haven't heard feedback from Makoni."
I asked if they would invite the likes of Job Sikhala, and Mr Huruva said Job Sikhala was his personal friend and that he had joined Madhuku's NCA.
I then asked if they are not thinking of bringing Madhuku on board.
"Madhuku, we haven't spoken with him," said Mr Huruva.
"His problem is that he was advising ZANU PF.
"We have to choose people who join us.
"As for Tsvangirai, beating yaMangoma was his downfall.
"He shot himself in the foot.
"How can someone not in government yet, respond to opposing views with violence?
"Kokuzoti kana ave muGovernment macho ave nestate security at his disposal, pangabude chakanaka ipapo?
"Nobody is funding Tsvangirai at the moment.
"He is a total failure."
I also asked if they have spoken to people like Tendai Biti, Mangoma and other MDC-T key persons.
"Tinotaura navo vese ava," he said.
"Tine vanhu vakawanda although some want to remain anonymous.
"Mudzuri tinaye.
"He declared that ZUNDE iZESA."
On who is funding ZUNDE, I was told that they currently don't have any funders, and that all their money comes through membership contributions.
"We welcome any funding that does not come up with strings attached," he said.
"They charge £10 joining fee for those in the UK and US$1 for those in Zimbabwe.
"Members pay £5 per month or US$1 membership for every month for those in Zimbabwe."
Mr Huruva said that he thinks the people in the Diaspora are too key to any changes in Zimbabwe, because, according to him, many people in Zimbabwe have been tainted by corruption.
"We people in the Diaspora must play a pro-active role in Zimbabwean politics because we have not been tainted with corruption," he said.
"There is too much corruption in Zimbabwe and politics dzehwu shefu-shefu, zvehushefu-shefu hazvishande.
"There is rule of law here and we have learnt a lot from that.
"If we are to change the civil service in Zimbabwe, we need to replace the former military people who are running the key posts in Zimbabwe.
"We want an army which is non-partisan."
I asked Mr Huruva what the policies of ZUNDE are.
He said they do not have policies yet, but have policy clusters that come up with policy frameworks to address certain issues.
On how they are being received by ordinary people in Zimbabwe, Mr Huruva said, "We are not appealing to members of the public to come on board, but people who have options for Zimbabwe.
"After the last elections, we said what is the way forward for Zimbabwe?
"So we are not saying that we want to be leaders, but we want to take Zimbabwe forward.
"We are not a political party.
"We are building a coalition to create a common platform to show that going it alone hapana kwaunosvika."
Farai Mbira, the president of ZUNDE, lives in Wellington, New Zealand, where he helped to establish the MDC Wellington Branch.
According to information on their website, he is a former freedom fighter who joined the war in 1978.
He comes from Wedza.
Their vice-president, Benjamin Paradza, is a former Judge of the High Court of Zimbabwe and he also lives in Wellington, New Zealand, where he is a barrister and solicitor of the High Court of New Zealand.
Their secretary-general is Australian-based Moses Chamboko.
Huruva, the global organising secretary, was former organising secretary for the MDC in the UK before its split in 2005.
He remained with MDC-T after the split and contested for the Chivi North seat under the banner of MDC-T during the 2013 elections.
He contested against his brother Tranos Huruva, who was the seating ZANU PF House of Assembly member.
Eldrige Culverwell, the secretary for international relations, is also UK based.
It is difficult to comprehend how a bunch of Zimbabweans living in London or Wellington can hope to remove a party elected by more than three million Zimbabweans.
It is also difficult to understand how people who are out of touch with the reality at home would want to challenge a party that was formed in the heart of the ghetto, in Zimbabwe's 'Fiyo' or Highfield in the early 1960s.