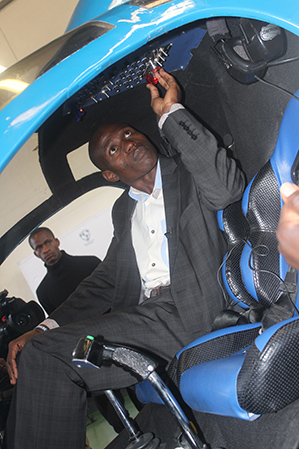 LAST week, the country awoke to world class inventions from 35-year-old Sangulani Chikumbutso, the founder of Saith Technologies, who unveiled a number of hi-tech home-grown solutions set to revolutionise the telecommunications, energy, security and transport sectors.
Saith Technologies unveiled mind-blowing inventions, among them, an electric-powered car (Saith EV) that can run perpetually without charging, a helicopter (Saith Hex-Copter) that works on five different fuels without making adjustments to the engine, a locally manufactured drone, a Microsonic-powered generator (Greener Power Machine) that can produce half a megawatt, surveillance towers, a mobile communications backpack, an intelligent IP Mesh backpack and a household transformer that can multiply power a hundredfold.
On Tuesday, The Patriot visited Chikumbutso at his Bluffhill Industrial Park office.
To confirm the size of his story, Reuters, a Chinese television station and SABC News were filming a documentary and doing features on the inventor.
Americans, Russians and even Canadians, said Chikumbutso, have already come knocking on his door.
"My biggest challenge has come from critics who allege that there is nothing unique about my products as they are 'copied' either from China or America, yet the same people from China, America, Russia, Canada, Brazil and South Africa have been calling me, saying they are interested in my unique technology," said Chikumbutso.
"When I formed my company in 2010, my vision was to register Africa on the international map," Chikumbutso said.
"On patenting my products, I have faced a number of challenges as it is a requirement that your invention should conform to laws of energy generation, especially with the Green Power Machine, which contradicts a number of laws of energy such as thermodynamics.
"For example, they say energy is directly proportional, that it has to balance, hence you cannot use a small engine to power a big truck.
"In the Green Power Machine we did it vice-versa; we are taking less, but generating more.
"This machine has a DC power of 220V, but at the end, we are generating half a megawatt.
"In physics it doesn't make any sense."
Chikumbutso said he worked with a group of top engineers and scientists in the world, since some people would not believe the capabilities of his inventions.
"We have since roped in nuclear scientists and electro-magnetic professors in assisting us on the patenting process," he said.
All the designs for the electric car, the helicopter and the generator were designed and manufactured in Zimbabwe, although they were forced to outsource some of their work abroad.
For instance, the bodywork for the electric car was done in China, while the windscreen for the helicopter and other instruments that could not be sourced locally were imported, but the power-train for all the designs are locally manufactured.
A number of business ideas that can turn around the fortunes of Zimbabwe come to mind, among them, the possibility of setting up a battery manufacturing facility that will support the electric car production, given that Zimbabwe has the largest lithium reserves in the world.
The Microsonic-powered generator, given the necessary Government support, could help ease the country's electricity woes as it does not run on any fuel, but actually generates power as it is running.
Chikumbutso has limited formal schooling.
He attended Haig Park and Kuwadzana 5 Primary schools before enrolling at Dzivarasekwa High Two.
He stopped school in Form Two.
"I was raised by a single unemployed mother and my education was financed by the Department of Social Welfare until I reached Form Two," he said.
"When things started to get tough, I dropped out of school.
"I worked in farms as a general hand, but in 1997 I received God and turned Christian, then I started having visions.
"I see designs, sometimes I see blueprints and I just make sketches."
It would be unfair to relegate Chikumbutso's inventions to the same basket as Daniel Chingoma's helicopter, or worse still, to associate it with Rotina Mavhunga's diesel oozing from rocks in Chinhoyi.
Chikumbutso's inventions are the real McCoy as evidenced by his demonstrations to The Patriot on Tuesday.
"I once spoke to Daniel Chingoma when he first came out with his helicopter design and gave him some tips on how to improve his helicopter," Chikumbutso said.
"While I lost touch with him, I would be eager to work with him because it was ideas like his which inspired me."
Failure to recognise the achievements of our own people has often led to other nations claiming them.
For example, in the sports arena, our own famous boxer Dereck Chisora was claimed by the British and in rugby Tendai 'Beast' Mtawarira now plays for South Africa.
Our current boxing hero, Charles Manyuchi was almost snatched by Zambia, had it not been for President Mugabe who this week honoured him at State House.
One wonders if Chikumbutso will be here to stay in a land which seems less interested in the marvellous works and exploits of its people.
Chikumbutso has received an overwhelming response from countries including Russia, Saudi Arabia, Canada, Brazil and China, all eager to partner with him.
"I have partnered with a large independent power producer in Brazil to supply them with a generator that produces 20 megawatts, while the three largest car manufacturers in the world are eager to work with me on mass producing the electric car in a deal where they will work on the body while Saith Technologies supplies the engine," he said.
"We are still working out the costing, but the car should cost less than US$20 000, and remember that you will not need to run it on any fuel as it runs perpetually."
The inventions by Saith Technologies could not have come at a more opportune time when Zimbabwe is stepping up efforts to support the economic blue-print, the Zimbabwe Agenda for Sustainable Socio-Economic Transformation (Zim-ASSET).
Chikumbutso and his inventions are assets that the Zimbabwean Government can exploit through pursuing public private partnerships in the energy and communications sectors to further President Robert Mugabe's dream of beneficiating the country's natural resources in order to achieve self-sustenance.
With adequate support and cooperation, Zimbabwe can easily sprint where others crawled.
It will be sad for Zimbabwe to one day import electric cars while it has the potential to be an exporter of such, cars that run 'perpetually'.