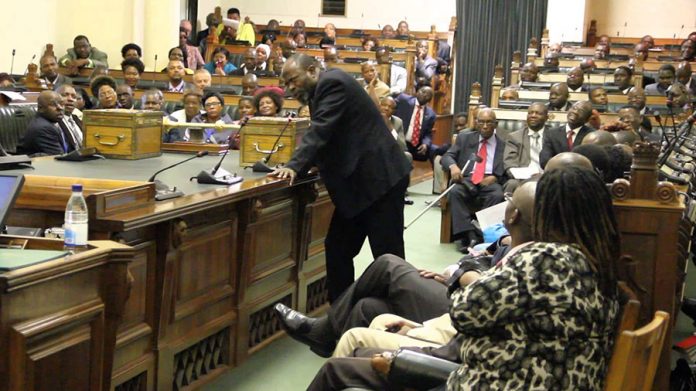 LAST week I touched on how some politicians only show up when its election season, promising all sorts of goodies and even bringing a taste of these goodies, only to disappear once they are elected.
The disappearing representative is a common phenomenon the world over, but some clued-in voters have managed to tackle this by punishing perennial offenders through voting them out of office.
There is a story that often makes the rounds when election season is upon Zimbabwe.
According to one version of the story: In 2000 the late Vice-President Simon Muzenda's fallout with Dr Eddison Zvobgo became a matter of public record.
Addressing a rally in Chivi, rural Masvingo, at a time when ZANU PF was struggling with defections and apathy, VP Muzenda blasted Dr Zvobgo whom he labelled as a nonentity in ZANU PF when he said: "Chinohi Zvobgo chii panyama yehuku?
Chero tikaisa gudo tikati ndiro ratada, ndiro ramunovhotera." (Who is Zvobgo after all? Even if we nominate a baboon, that's what you will vote for)."
This was then beamed on the ZBC-TV 8pm main news.
The rhetoric that ZANU PF supporters vote for the Party and not an individual candidate is debatable.
This current crop of ZANU PF Parliamentarians is a mixed bag; we had some self-confessed Grade Two dropouts, war veterans, academics, farmers, retired civil servants, business persons and some career politicians.
In the aftermath of the 2013 harmonised elections, discourse from political analysts queried the wisdom of ZANU PF in allowing what it termed the less-educated of the citizenry to represent it in Parliament, with some asking whether the likes of Hounourable Joseph Chinotimba would be able to debate on issues to do with nuclear proliferation treaties and other advanced technological and intricate matters.
Well, Honourable Chinotimba, though comical, manages to stir debate in the House time and again concerning bread and butter issues affecting his constituency despite his perceived education 'deficiencies'.
The opposition is also not left out on this issue, as one of its legislators, Honourable Lwazi Sibanda (Tsholotsho proportional representation) went for 18 months without saying a word in Parliament.
When asked over her failure to utter a single word in the House, she said she was still learning the ropes.
Coming to ministers.
The continued accusations that most of them have been evading Parliament business not only makes sad reading, but is an indictment on the ruling Party.
Under the new Constitution, for one to be a Minister or a Deputy, he/she has to be an elected official, and Parliament is the gateway to Cabinet.
The chief reason proffered as to why most of these officials are absconding Parliament has to do with them being afraid of answering tough questions from the House.
The Parliamentarians themselves have also been up to no good, at times showing up late for work, absconding and behaving in a conduct unbefitting their station.
However, I hear when issues to do with their welfare are up for discussion, they pitch up on time and debate passionately.
The aforementioned issues are intended to tie up with Dr Muzenda's baboon utterances.
While many might have taken this statement to mean that ZANU PF supporters would vote for the Party and not interrogate whether a specific candidate had the qualities to represent them either in Council, in Parliament or even the highest office in the land, this is not what Dr Muzenda meant.
When one puts his/her name forward as a possible candidate to represent a political party during elections, he/she is expected to meet a certain criterion.
l Does this person understand and embody that party's ideology?
l Is he/she able to articulate the party's position coherently?
l Does he/she enjoy the electorate's support?
l Would he/she be a good representative of the Party?
So as the 2018 elections draw near, political parties have a duty to ensure they offer the electorate the cream of the crop among them.
Zimbabweans should not be hoodwinked by false promises, by fools' gold and other goodies, which would see them electing disappearing legislators.
Political parties must be on the lookout for opportunists who seek to use their financial muscle to gain political office. Political parties should furnish the electorate with candidates who are accountable, transparent and have a track record in their organisations.
There is need for frank debate on the issue of the zebra system which was recently debated in Parliament.
Women constitute more than half of the country's population and yet they take up less than 20 percent of decision-making positions in the country.
Some have blamed the low number of women on a hostile political environment, which puts off the many women leaving only the perceived abrasive females to grab office. This, however, is not an excuse and if women are to take up leadership positions, they have to fight for them.
While the zebra system is noble, some have tried to tally it with the quota system.
My problem with the quota system is that it again furthers the notion that women have to be given everything on a silver platter.
However, taking into cognisance the socio-economic differences between men and women in Zimbabwe, it goes without saying that an empowerment programme of some sort should be adopted in order to encourage women to take up political space.