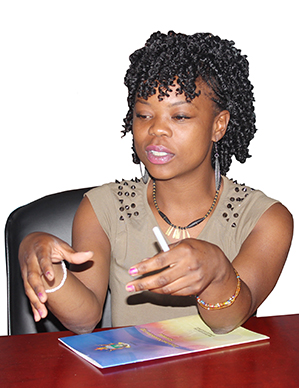 THE saying 'seeing is believing' hardly applies to science, which operates on scales of atoms and molecules.
So how does one make something miniscule and abstract appear real to the ordinary eye?
Imagine spilling coffee on your shirt just a few minutes before driving to work and never get late because the coffee just runs off with no stain left behind.
What about medicine that through rubbing it in your skin can penetrate and go and attack the lump in your stomach and clears you of cancer or fibroids?
This sounds too futuristic and yet it is happening today.
It is called nanotechnology.
However, people's understanding of nanotechnology remains limited.
Nano scientists and local artistes convened in Harare last week to explore how best they can make nanotechnology easier to understand to the public.
Local artistes such as Jah Prayzah, Winky Dee, Alexio Kawara, Pauline Gundidza of Mafriq, Chibhodhoro, Gede and others have taken the initiative to drive the awareness of nanotechnology through songs, drama and art.
Speaking at the convention Alexio said he was working on a song on nanotechnology.
"I now understand what nanotechnology is because l had the privilege of having Nano scientists explain it to me," said Alexio.
"It is now my turn to make the public understand this intriguing science."
Pauline, who now plays the mbira, said science was a source of inspiration.
"As an artiste I am interested in science and connecting it to an art historical perspective," she said.
In an interview, technical director for National Nanotechnology Programme in the Ministry of Higher and Tertiary Education, Science and Technology, Professor Charles Maponga, said art is not only getting inspired by science and technology, but enhancing it.
"During the past months, local artistes we have engaged have seen the light and are prepared to take the next step," said Prof Maponga
"As scientists we can only engage science, but cannot explain it.
"Artistes are the best people to leapfrog Zimbabwe into Nanotechnology revolution."
Prof Maponga said a nanotechnology museum is on the cards and is expected to be operational by July this year.
He said the museum will be filled with Nano products such as shirts socks, golf balls, drugs, devices, cosmetics and other products produced locally.
"The ultimate goal is to ensure that as many Zimbabweans as possible master modern technologies and integrate these into socio-economic activities towards the attainment of sustainable and improvement of the quality of livelihoods," said Prof Maponga.
"Nanotechnology can thus be exploited as an enabling engine for new economic growth, sustainable development and societal well-being."
Nanotechnology is still in its infancy.
But its potential, experts say, is mind-boggling.
"Nanotechnology will eventually revolutionise and impact every single aspect of our lives, including the arts," said Prof Maponga.
"It has applications in all spheres of life."
The word nano is Greek for 'dwarf'.
A nanometer is one billionth of a metre.
To better understand the miniscule scale of this science, consider this: The average thickness of a human hair is 50 000 nanometers.
Zimbabwe adopted the National Nanotechnology Programme in September 2012.