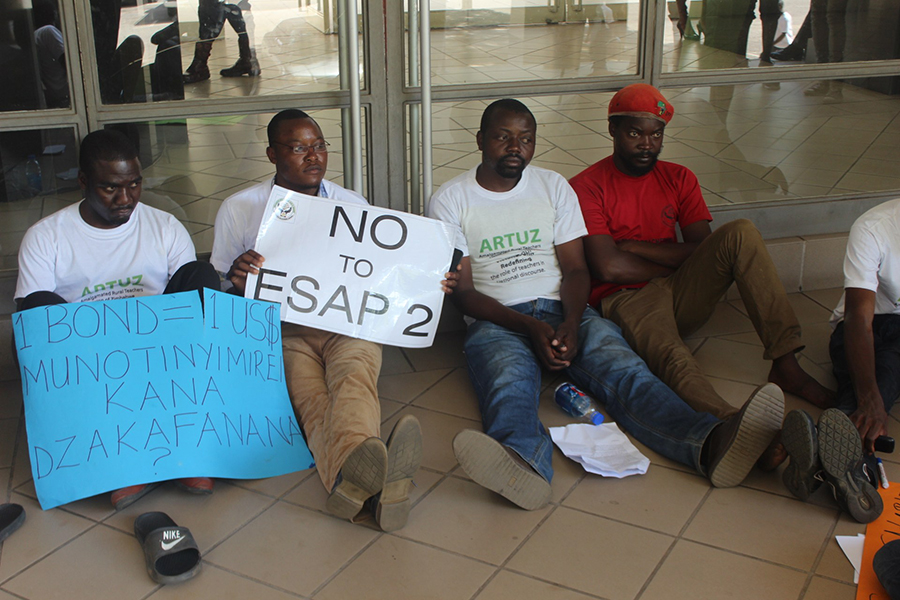 ZIMBABWE is still besieged by non-governmental organisations (NGO's) regime change antics despite intercepting their illegal machinations time and again as well as laying bare their sinister plot.
That NGOs have always wanted regime change in the country is a public secret.
They have used countless attempts to get the opposition MDC-T into power through the backdoor, using unconventional and illegal tactics, all of which are scripted by their Western handlers.
And it seems NGOs have gone back to the drawing board, and they are apparently using an all too familiar tactic; using trade unions to try to overthrow a democratically elected Government.
Remember how the Zimbabwe Congress of Trade Unions (ZCTU), founded in 1981 following the amalgamation of six trade unions, became the largest trade union ostensibly set up to represent workers' interests.
The ZCTU later proved to be a wolf in sheep skin when it morphed into the Movement for Democratic Change (MDC).
The MDC was founded and launched on September 9 1999 at Rufaro Stadium in Harare.
However, it came as no surprise that the top leadership of the MDC came from the ZCTU, including the late MDC leader Morgan Richard Tsvangirai who sat at the helm of both the former and the latter.
Before taking off its gloves and going into full fledged politics, the ZCTU was the lone voice agitating for regime change in the late 1990s.
In 1997, for instance, the ZCTU planned to bring the Government to its knees by spearheading and organising a record 231 national and industrial strikes, most of which were supported by civic organisations.
This perhaps explains the current opposition's obsession with strikes and boycotts.
As the years have gone by, the ZCTU has openly maintained close relations with the opposition.
However, with the MDC having failed to unseat the ZANU PF Government through the ballot for two decades in succession, regime change proponents have not given up.
It seems there are a few cards up their sleeve which they are yet play.
One of these is the 'Janus-faced' outfit, Amalgamated Rural Teachers Union of Zimbabwe (ARTUZ), founded in November 2016 and fronted by one Obert Masaraure.
The union has proved beyond reasonable doubt that they have an insatiable appetite for anarchy.
Besides getting themselves arrested countless times for being a public nuisance, ARTUZ members recently 'demonstrated' by walking the 275km-stretch from Mutare to Harare over a period of 10 days, threatening a 'difficult' new year for President Emmerson Mnangagwa's administration.
The marchers were first arrested at Macheke, then in Ruwa, while some were taken in for questioning while picketing Finance Minister Professor Mthuli Ncube's offices at the New Government Complex in Harare.
The reason for the march; the resignation of Finance Minister Professor Ncube, civil service-wide strikes and salaries in hard currency US dollars, among other outrageous demands.
But to have the impact they envisage, ARTUZ let the cat out of the bag when they released a statement courting ZCTU to arm-twist Government to give in to their litany of demands, which apparently
did not address a single issue affecting rural teachers.
"ARTUZ calls upon all civil servants and the broader working class to stand with our doctors. We encourage the ZCTU to set dates for the national action," read their recent statement in part.
If ARTUZ was set up to alleviate the plight of rural teachers, why is it that issues they have raised do not concern the 'affected' constituency they claim to represent?
The closest association ARTUZ has with rural teachers is only in name.
A teacher's union or regime change outfit?
ARTUZ, formerly Rural Teachers Union of Zimbabwe (RTUZ), was founded in 2009 but was launched officially in Harare on March 12 2013.
However, on November 20 2016, RTUZ merged with other rural teachers' associations and formed ARTUZ.
According to ARTUZ, the union currently has a membership of 5 534.
The union operates and has structures in eight administrative provinces of Zimbabwe, excluding Harare and Bulawayo metropoli.
This is despite the fact ARTUZ is headquartered at Bard House, 69 Samora Machel Avenue in Harare.
And its links to the opposition have been glaring.
Early this week, ARTUZ hired MDC Youth leader Discent Bajila to be one of their key negotiators during a meeting with Government.
Said Bajila: "The Amalgamated Teachers Union of Zimbabwe has invited me to be part of their negotiations with Government on Monday. I have accepted the invitation and I will be meeting the ministers."
Bajila is the outgoing secretary-general of the MDC Youth Assembly.
He has vast experience in civic society activism, having cut his teeth at the National Youth Development Trust in 2008.
Bajila has worked with renowned regime change organisations such as Bulawayo Agenda, Southern Stars Foundation and Youth Agenda Trust.
Despite the purported claims of representing rural teachers, it's important to note that the union's leaders are not rural teachers, while others are not even teachers at all.
They are activists working with other regime change organisations such as ZCTU, Zimbabwe Lawyers for Human Rights (ZLHR), Zimbabwe National Students Union (ZINASU), Crisis in Zimbabwe Coalition (CiZC), Students Christian Movement of Zimbabwe (SCMZ), Education Coalition of Zimbabwe (ECOZI) and Centre for Community Development in Zimbabwe (CCDZ), among others.
Following the Mutare-Harare march, some disgruntled members accused the leadership of taking them for a ride and using them.
According to The Herald, the members who partook in the march were promised US$100 each, but they fear they were fleeced as nothing was paid out.
To the contrary, ARTUZ members were given food hampers donated by regime change outfit Citizens Manifesto, as payment for the march.
ARTUZ members further accused their leadership, comprising Obert Masaraure, Dirk Frey and Robson Chere, of misappropriating funds.
In addition, ARTUZ leadership has been accused of living large while members are struggling.
"Some teachers are also questioning the involvement of Citizens Manifesto and Zimbabwe Lawyers for Human Rights in issues to do with the welfare of rural teachers which they suspect was meant to access funds meant for the teachers' welfare under ARTUZ," said The Herald.
Remember Citizen Manifesto is fronted by Briggs Bomba and Brian Kagoro.
The Manifesto was launched at Harare Gardens in July 2017, where it handpicked 'disgruntled' groups to actively participate in the fresh regime change onslaught.
The so-called 'disgruntled' groups, to push this agenda both in urban and rural Zimbabwe, included students from tertiary institutions, trade unions, the informal sector such as vendors, public transport operators, resident associations and churches.
And it seems the strategy is well on course.
Faces behind ARTUZ
The background of some ARTUZ leaders makes one wonder if it is a genuine teachers' union.
ARTUZ is led by activists comprising Masaraure who is the national president, vice-president Gaudencia Mandiopera, secretary-general Chere, spokesperson Macdonald Kondo and Frey, among others.
Frey is one of the activists who started the Occupy Africa Unity Square Movement under the leadership of the Zimbabwean journalist-cum-activist Itai Dzamara, who shot to fame after his alleged disappearance.
Frey was also the deputy chairman of the National Youth Action Alliance (NYAA), an entity he founded with Dzamara.
He refers to himself on Twitter as 'murungu mutema', a white blackman.
Frey was born in Tanzania in 1986 to German parents, but was brought to Zimbabwe when he was seven months old.
After completing high school at Speciss College in 2004, Frey went to Australia in 2005 for his university studies.
At Griffith University in Australia, after some 'soul searching', he opted to study for a bio-technology degree, but he dropped out.
He left Australia but didn't return to Zimbabwe straightaway.
Instead he settled in South Africa, where he enrolled at Rhodes University in Grahamstown to study economics.
Again he dropped out twice.
Frey has no background in teaching, and one wonders how he ended up at ARTUZ if the organisation represents what it purports to represent.
Another controversial figure at ARTUZ is its president, Masaraure.
Masaraure is an anti-Government activist whose career began during his days at ZINASU. He has a tainted past involving misguided activism at the Midlands State University where he was suspended in 2006, 2008, 2009 and finally expelled in 2010.
In 2013, Masaraure formed ARTUZ.
However, his teaching credentials have been questioned in some quarters.
In a bid to prove that indeed Masaraure is a teacher, a dubious teachers' Hwedza Merit Award was presented as evidence that indeed he is a teacher.
Masaraure was coached for the task ahead of him in 2017 when he attended the Mandela Washington Fellowship (MWF) for Young African Leaders.
The fellowship, launched in 2014, is the flagship programme of the Young African Leaders Initiative (YALI).
These young African 'leaders' are at the forefront of pushing for regime change in Africa, as they have been taught and brainwashed to despise their past and heritage.
YALI was established when the US interests on the continent shifted from opposition political parties to the youths.
The term, 'generation democracy' best describes the targeted group.
Upon returning to their home countries, Fellows continue to build on the 'skills' they would have developed during their time in the US through support from US embassies, four regional leadership centres, the YALI Network and customised programming from USAID, the Department of State and affiliated partners.
"Upon completion of the MWF, Masaraure will push for policy transformation in the education sector hoping to achieve a pro-poor education system," reads his YALI profile.
Since then, Masaraure and his colleagues have become perennial participants in sporadic anti-Government protests, this time using ARTUZ.
Last year, the country was rocked by bloody demonstrations in the aftermath of the July 31 elections.
Violent protesters hurled stones at law enforcement agents, set tyres ablaze, burnt vehicles and razed property to the ground belonging to both Government and private citizens.
The rioters looted shops and attacked innocent citizens in the mayhem.
With the current economic challenges, ARTUZ is in a bid to revive that spirit of revolt by demanding, from Government, what is impossible.
Attempts to undermine the authority of the Government using social media platforms such as Twitter, facebook and Instagram have intensified.
The union has also been accused of grandstanding to get the attention of Western donors.
Sadly, thousands of teachers are being fleeced, unaware of what ARTUZ is all about.
And it seems this is just but the beginning.