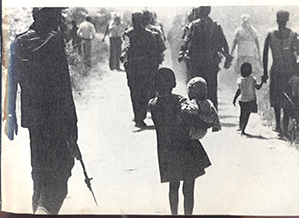 THE closing chapter of Rhodesian history was decided at Lancaster House Conference in London, between September 10 to December 15 1979.
There, in what has been described by some as the 'Funeral Parlour of the British Empire', the curtain was brought down on the liberation struggle that had lasted for over 15 years.
Outside discussions on the land issue, one of the agreements made at the Lancaster, was the decision to create assembly points throughout the country to house guerillas and initiate a demobilising exercise.
Assembly points, also known as rendezvous points, were the concentration points for all guerilla groups.
The ceasefire was monitored by the Commonwealth monitoring forces, composed of 1 500 peacekeepers, including 150 Australians, 22 Fijians, 50 Kenyans and 75 New Zealanders.
Britain provided 800 soldiers, some 300 Royal Air Force personnel and a small number of Royal Navy and Royal Marines.
In the meantime, security forces were to withdraw to their own bases.
A period of one week was given to the forces to assemble, after which the ceasefire would come into effect.
Sixteen (16) assembly points were agreed upon, a few located in the heart of Rhodesia.
These assembly points included Kilo, Foxtrot, Lima, Juliet, Golf, Echo, Delta, Charlie, Bravo, Alpha, Papa, November, Quebec, Mike, Hotel, Romeo and Kilo.
Of these, about 14 were located along the periphery of Rhodesia; in the north-west, east and south-east of the country.
Each was to be manned by a small contingent of Commonwealth monitoring forces and all the Zimbabwean National Liberation Army (ZANLA) and Zimbabwe People's Revolutionary Army (ZIPRA) guerillas, in any one area, were to go to the closest assembly point.
Over that seven-day period between December 28 and January 4, more than 25 000 patriotic forces marched into the 16 assembly points.
At the same time, Rhodesian soldiers began to concentrate at 40 different bases spread all over the country.
The Rhodesian troop locations were mainly in the centre of the country, but with some right on the borders.
Thus the guerillas in their assembly points would be sandwiched between Rhodesian forces and cut off from their escape route to Mozambique or Zambia if attacked.
Once in the assembly points, all guerillas were required to register their names, weapons and the weapons serial numbers.
Within assembly points were daily counts of the Patriotic Front forces.
These were, most of the times, conducted by the commanders of the Patriotic Front forces.
Actual physical counts in the presence of Monitoring officers were seldom done.
Nor was it possible to monitor all movement in and out of the assembly points, particularly at night.
The camps were makeshift arrangements near sources of water while some camps bounded nearby villages and schools.
Spread over kilometres, they were bordered by a perimeter hacked out of the bush under British supervision.
However, Rhodesian forces carried out independent investigations of the assembly points and moved even closer to set up observer points.
They would encroach into the assembly points breaching the ceasefire agreement.
On one occasion, the monitoring force firmly ordered the Rhodesian Forces to withdraw and to agree to maintain three to five-kilometre buffer zones around each assembly point.
The fact, however, that elements of the Rhodesian forces were able to encroach upon the assembly points demonstrates that numbers of the Rhodesian forces and auxiliaries were so large that the Monitoring force could not keep track of their movements.
It was extremely difficult to monitor all activity given Rhodesian forces were allowed to exit their bases, moving around, while the guerillas were not.
There are shocking reports of Rhodesian forces violating the ceasefire agreement and killing defenceless guerillas in assembly points.
The Patriot in January last year highlighted some of these violations in Mount Ruombwe and Mhangura where 20mm cannons were used against defenceless freedom fighters, some of whom had handed over their guns to their superiors.
In addition, in Lupane, Rhodesian forces were also responsible for a large number of guerilla (as well as civilian) deaths during the assembly points phase.
Operationally, the monitoring force headquarters received daily reports by radio from all assembly points and Rhodesian forces bases.
Moreso during the ceasefire transition period when there were continuous education programmes for the guerillas.
However, it was not organised as most assembly points were always flooded with people looking for their relatives, sons and daughters.
The war had lasted over 15 years and some finally had an opportunity to see their loved ones for the first time since then.
By midnight of January 4 1980 all guerillas were expected to be gathered at their designated points.
Assembly points November and Quebec were both closed as no guerillas had been recently operating in that area (Northern border) and the Commonwealth troops at those locations were redistributed to some of the larger assembly points that were holding several thousand guerillas.
Dzapasi/Foxtrot Assembly Point, the largest, held over
15 000 guerillas.
Three months later, on March 2 1980, all Monitoring Force personel were pulled back to a tented camp in and around New Sarum airport, and then flown back to the UK and various other Commonwealth countries.
While in the assembly points guerillas were made to fill in forms to indicate whether they wished to join the army, seek employment or resume with their education.
Re-integration into society and demobilisation had begun.
Many guerillas joined the Zimbabwe National Army (ZNA), Zimbabwe Republic Police (ZRP), some opted to continue with their education while others retired to private life.
The transitional phase of ceasefire from revolution to peace harbours a lot of sad memories and untold sufferings.
Yet this assembly point phase is one of the periods least documented in history.