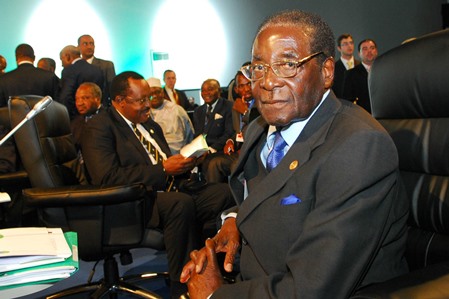 THERE are no differences between the year 1997 when President Robert Mugabe took over leadership of the then Organisation of African Unity (OAU) for the first and last time and 2015 when against all odds he bagged Chairmanship of the African Union (AU).
President Mugabe's assumption of the reigns of the AU last week will inevitably evoke memories of the ill-fated decision by the West, led by Britain to try and derail the economic empowerment agenda that Africa set in motion in 1963 through refusal to honour their pledge to fund Zimbabwe's land reclamation exercise.
On November 4 1997, Claire Short, Britain's former Secretary of State for International Development, stunned Zimbabwe when she wrote a letter to the then Minister of Agriculture, the late Kumbirai Kangai stating that the election of a Labour Government 'without links to former colonial interests' meant Britain no longer had 'special responsibility to meet the cost of land purchases'.
"We are a new government from diverse backgrounds without links to former colonial interests," reads part of Short's now infamous letter.
"My own origins are Irish and as you know we were colonised not colonisers."
With that, relations between Zimbabwe and its erstwhile coloniser Britain began a downward spiral that sucked in other Western nations who took sides with London.
History would repeat itself in the days leading to President Mugabe's election as new AU Chairman when there were fresh attempts by these Western powers, which unfortunately and disappointingly provide over 60 percent of the continental body's budget, to thwart the Zimbabwean leader's ascendancy.
Mugabe puts the West in the shade would have sounded a more appropriate headline, but this is more about the new AU Chairman and his way of thinking and what he represents not eye catching headlines.
Most importantly it is how his thinking influences Africa and the developing world.
Mugabe, as The Herald Editor Caesar Zvayi once wrote, is an institution and a way of thinking.
This is why the West, running scared, unsuccessfully tried to block his AU takeover in Ethiopia last week.
His ascension brings to finality the question of empowerment in a continent that has been perpetually put under the shadows of economic prosperity by the West.
The fundamental question of resource ownership and exploitation of the same by its owners will be the major highlight of his tenure as AU Chairman.
It reignites one of the aims of the OAU whose goal was to foster unity among African nations for political protection and economic prosperity.
President Mugabe holds the key to the attainment of that goal and dream, the African dream.
He is the epitome of the African dream, the link between politics of liberation and post-colonial politics.
His Land Reform and Resettlement Programme in Zimbabwe is ample testimony of the success of empowerment initiatives that Africa's founding fathers sought hard to achieve.
The Land Reform Programme in Zimbabwe has seen a major restructuring of the agricultural sector and the wider economy back to the hands of the majority.
A transfer of nearly 10 million hectares benefitted over 400 000 households, over a million people.
"Given that the continent is rich in mineral resources – and resources should be seen to contribute more meaningfully to Africa's development – they are our wealth and we must guard against their being exploited for the benefit of others," said President Mugabe in acceptance speech.
In October 2013, Richard Dowden that man who set in motion the West's anti-Mugabe campaign commented in an issue of Prospect Magazine, that President Mugabe's victory in the July 31, 2013 harmonised election was 'the biggest defeat for the United Kingdom's policy in Africa in 60 years'.
But his assumption of the AU Chairmanship could yet prove the sweetest of his many victories against Western powers.
Even sweeter is widely suppressed but compelling facts that while the AU chairmanship is largely a ceremonial role, the leader is in a position to influence topics for debate within the bloc.
There is no doubt that he will influence topics for debate as he demonstrated in his acceptance last Friday when he spoke of the need for Africans to be masters of their destiny through ownership of land and resources.
The West will have to constantly interact with President Mugabe in his capacities as AU, Southern African Development Community (SADC) and Zimbabwean leader.
Vachachiona gore rino!
His role of Chairman of the AU comes at a time when the continent is facing numerable challenges, one of them being threats to human security, especially in West Africa and in particular Nigeria where the radical insurgent group Boko Haram has killed thousands of Nigerians.
"The scourge of terrorism and all its attendant evils threatens all our gains achieved since 1963," he said.
"In the coming year we therefore should deliberate and find lasting solutions to the scourge of terrorism, the loss of innocent (life) and the destruction of property inflicted by terrorists recently in Cameroon and Nigeria."
His acceptance speech was laden with the familiar rallying cry that Africa's wealth belongs to Africa not imperialists and colonialists.
"African resources should belong to Africa and to no one else, except to those we invite as friends," he said.
"Friends we shall have, yes, but imperialists and colonialists no more."
It is these chilling, but realistic messages that scare the West.
However, as Zimbabweans, as Africans, they only mean good for and to us as the African dream is being repackaged, and rebranded.
With leaders like President Mugabe at the helm, we can safely go home to sleep peacefully.