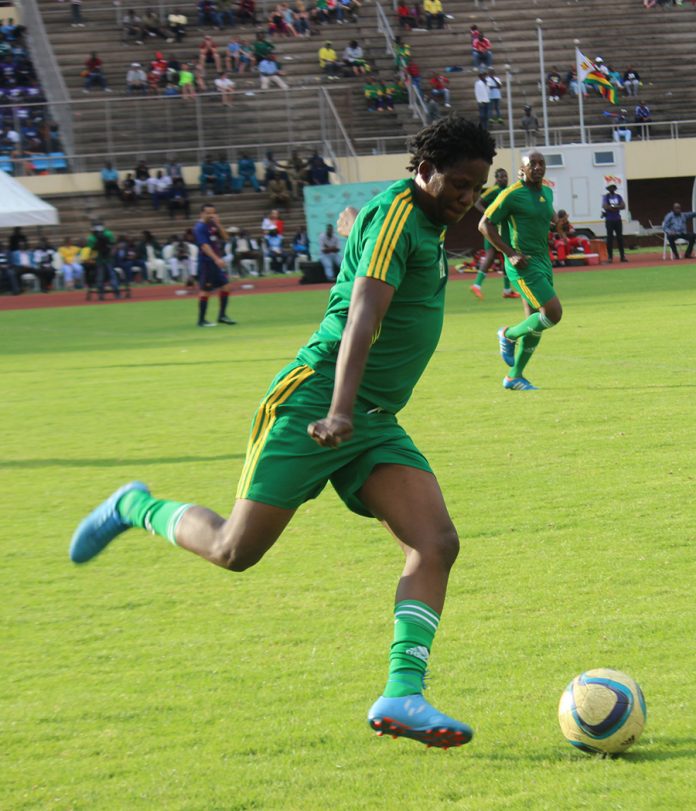 By Gamuchirai Mugadzaweta
BAD boys of soccer in Zimbabwe have matched other legendary bad boys like Louis Suarez, the legendary Diego Maradona and Mario Balotelli, among others.
The love of women, booze, living in the fast lane and the fame that comes with it can be too much for individuals who think they are bigger than the game itself.
Zimbabwe has its own share of bad boys who can be vividly remembered for their wild behaviour both on and off the pitch.
The bad behaviour off the football pitch affects players' performances as some abscond or report for training under the influence of liquor and narcotics.
Lessons must be learnt by youngsters like Denver Mukamba who is at the centre of controversy at Dynamos football club.
The talented young man, with a promising future ahead, has opted for the wise waters and drugs as fame erodes his hunhu/ubuntu.
Drug abuse has had negative effect on the youths nowadays.
The failures that occurred during the heyday of Archiford Chimutanda, Moses Chunga, Rodrick Mutuma and many others should not be seen in today's youngsters, as they have a chance to learn and correct the mistakes done.
Chimutanda did not bother to train with his team, preferring to read novels at home while others sweated.
Of course when it was game time, he would deliver better than those who were at training but it was arrogance that resulted in him never fully blossoming into the giant he was meant to be on the pitch.
Chimutanda was just not disciplined, resulting in him never settling at any one club.
Moses Chunga, undoubtedly one of the country's greatest players, was widely considered a very stubborn character.
At times Chunga would allegedly refuse to play for the national team because he felt he was being underpaid.
In Europe, where he had the opportunity to display his skills, he was known in some instances to defy coaches' orders, dribbling when he was supposed to just pass the ball.
In recent times, Mutuma has been among the 'problem-children' of soccer.
Giants Dynamos had to let him go and now he has joined Yadah FC.
One hopes the prayers of proprietor of the team, Prophet Magaya, will work on him.
However, the future of the team hangs in the balance as prophet Magaya is contemplating withdrawing sponsorship.
Being big-headed has spoiled the player's opportunities to ply his trade in bigger leagues.
It has also hindered his chances of landing endorsement deals, fewer though they may be.
For local players, it will be folly to behave like their counterparts elsewhere in the world.
Abroad, football is a multi-million-dollar industry and when players begin to strut like peacocks, they would have made their millions.
Locally it is common knowledge that players struggle, and in some instances go without salaries, which makes their situation precarious, to say the least.
There are players who have become famous for clubbing and 'getting wasted' in order to impress friends rather than go home early and be fresh for training.
Another great player, who could have achieved much more had it not been for his wayward behaviour, was the prolific Ronald 'Gidiza' Sibanda.
As much as he was known for his prowess on the soccer pitch, he was equally infamous for his drunken behaviour in the ghettos of Bulawayo.
Gidiza could have donned the jersey's of the world's greatest football clubs but his talent was watered down by one too much as that have made many a star do foolish things.
The love for the bottle saw Gidiza fail to attend training sessions, missing out on opportunities to further his career.
Arguably one of the country's best natural midfielders who had an accurate pass, Sibanda would have been in the class of Barcelona's Andre Iniesta and Alonso Xavi, yet his career never got that far.
In a world where players are closely monitored before they are bought for big bucks, behaviour is a huge consideration before a deal is sealed.
No club in its right senses will invest millions of dollars in a player who does not care about his talent, no matter how talented the footballer is.
Some of our local players have been on the radar of big teams but have never been approached because of the 'bad boy' tag that has been attached on them.
Without doubt, to make it in any profession, it is imperative that one respects rules governing that field.
While some may break the rules and still go ahead to cut the grade, careers of many have ended prematurely.
It is particularly important for young players getting into the game to be highly disciplined.
Once one's steps into the spotlight, it is imperative to always know and remember that every decision taken might make or break a player.
Senior players must be a positive influence on the younger ones; when the greenhorns pick unhealthy habits let there be veterans to advise them accordingly.