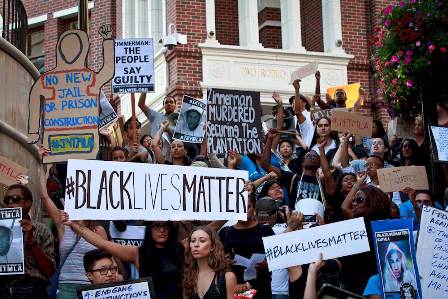 AS the year comes to an end, it is a time to reflect on events of the last 12 months, introspect on accomplishments, targets and goals that we failed to meet and of course, plan for 2016.
As I reflect on the closing year, one man has made a mark on the black community because of his unrelenting pursuit for justice.
He is Benjamin Crump, a civil rights attorney based in Tallahassee. Crump has a bachelor's degree and a law degree from Florida State University.
He was named one of the National Trial Lawyers Top 100 Lawyers and Ebony magazine's Power 100 Most Influential African Americans. He has received the National Association for the Advancement of Coloured People (NAACP)'s Thurgood Marshall Award and the Southern Christian Leadership Conference's Martin Luther King Servant Leader Award.
Crump is known for taking on high visibility pro bono cases with widespread media attention and civil rights implications. He is best known for representing the family of Trayvon Martin after the unarmed black 16-year-old was fatally shot by a neighborhood watch volunteer, George Zimmerman, in 2012.
Crump has represented the family of Alesia Thomas, a 35-year-old single African-American mother who died while in police custody in August 2012. Journalist Chuck Philips reported that during the arrest by female Officer Mary O'Callaghan, Thomas was "…slammed to the ground, handcuffed behind her back, kicked in the groin, hog-tied and stuffed into the back seat of a patrol car, where she died". 
Crump demanded that dashboard video of the incident be released, threatening legal action and encouraging Attorney General Eric Holder to launch a federal probe.
He has also represented the family of Michael Brown. Brown, an 18-year-old African-American male, was shot on August 9 2014, in Ferguson, Missouri, a northern suburb of St Louis by Darren Wilson (28), a white Ferguson police officer. Wilson fired at Brown several times, all shots striking him in the front, with the possible exception of the two bullets fired into Brown's right arm. In the entire altercation, Wilson fired a total of 12 bullets; the last was probably the fatal shot. Brown was unarmed and moving toward Wilson when the final shots were fired. 
Other clients include the family of Martin Lee Anderson, an African-American teenager who died after a beating in 2006 by guards in a Florida youth detention centre; the family of Genie McMeans, Jr., an African-American driver who died after being shot by a white State Trooper; the family of Ronald Weekley Jr., a 20-year-old African-American skateboarder beaten by police in Venice, California; the family of Tamir Rice, an African-American youth who was killed by police in Cleveland, Ohio, while holding an air gun (a replica of a real gun); and the family of Antonio Zambrano-Montes, an illegal immigrant from Mexico who was killed by three policemen in Pasco, Washington, while throwing stones. 
Crump is representing Corey Jones, who was killed by a plainclothes officer while waiting for a tow truck in South Florida.
This week, Crump again made the news when he represented several African-American women who were abused by former Oklahoma police officer, Daniel Holtzclaw.
Holtzclaw was accused of sexually abusing multiple women after stopping them over the span of his police career, targeting ones from a poorer, overwhelmingly African-American portion of the city. According to police investigators, Holtzclaw ran background checks on women with outstanding warrants or other criminal records and methodically targeted these victims.
Addressing journalists, one of the victims, Shandegreon 'Sade' Hill said that Holtzclaw pulled her over in December 2013, and she was later taken to a hospital on the other side of town. Once there, Holtzclaw raped her while she was handcuffed to a hospital bed.
An all-white jury with eight men and four women convicted him on 18 of 36 charges, with the recommendation that he serve 263 years in prison. In all this there has been very little media coverage or public outcry about Holtzclaw's case. This is a white law enforcement officer who preyed on women — all African-American — in one of Oklahoma's poorest neighborhoods, exploiting his police badge to intimidate them into keeping quiet.
We need more men and women like Crump in our community; those who do not just sit back and watch, but get into the thick of things in order to be the voice for the voiceless. That is why Crump is my man-of-the-year.