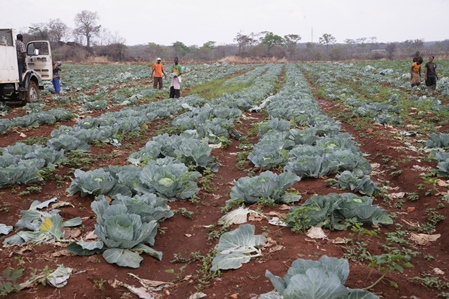 ZIMBABWE Farmers Union (ZFU) has released a 10-year Horticulture Strategic Plan aimed at guiding the development and revival of the sector in a bid to restore the country's global competitive status in the production of fresh produce.
The strategy will be rolled out through the ZFU Commodity Association and Zimbabwe National Horticulture Producers Association.
Horticulture exports in Zimbabwe by 1985 stood at 925 metric tonnes per year with an average value of US$3,5 million.
Export volumes grew to a peak of 81 883 metric tonnes in 2002, with a value of US$124,5 million.
Thereafter, when Britain and its Western allies became hostile on Zimbabwe imposing illegal sanctions, horticulture exports declined as European markets, the major consumers shunned local produce affecting local farmers' capability to produce.
In an interview with The Patriot, ZFU executive director, Paul Zakariya said the strategic plan's main objective was to increase the competitiveness of the horticulture industry on the local, regional and international markets.
"The main objective of the strategic plan is to guide the development of the horticulture industry for a period of 10 years, from 2014 to 2024," he said.
"The strategy will also create conducive regulatory policy environment for the sector; improve access to finance and development of market information services.
"The export output per annum at the end of the 10-year period is targeted at 100 000 tonnes with a value of US$150 million, the strategy seeks to increase local production, increase exports and decrease imports."
Due to limited commodity associations in the sector, horticulture production in the country was characterised by uncoordinated operations, a situation that has resulted in most farmers failing to realise their full earning due to malpractices involved in the sale of their fresh produce.
These uncoordinated practices have resulted in most horticulture farmers getting a raw deal on the market due to lack of proper information and knowledge about proper ways of doing business and modern trends in the sector.
Lack of capital also led to produce failing to achieve quality levels required.
Horticulture is best conducted in controlled environments such as greenhouses but due to lack of capital many producers have not been able to create these ideal conditions.
Zakariya said the strategy will help bring sanity and order in the horticulture industry through the adoption of a code of practice to guide farmers.
"The strategic plan proposes the development and implementation of horticulture produce quality standards that are in line with international principles to fulfill steps towards a competitive horticulture sector," he said.
"The local guideline standards will be used to build the capacity of many smallholder producers until they are ready for global standards certification."
However, despite challenges faced by horticulture farmers, over the past four years, production of fresh produce in the country has been moving on a positive trend encouraged by government's agricultural development programmes.
According to a research by agricultural consultant firm Knowledge Transfer Africa, farmers this year sold more than US$3 million worth of fresh produce at the Mbare Agriculture Market and that is in May alone, 46 percent higher than a year earlier.
The study which collected data on fresh produce from all of the country's farming districts, shows that consumers spent US$1,2 million buying over 202 000 boxes of tomatoes in the month under review, the highest of any other produce delivered to the market.
At least US$243 477 worth of groundnuts were sold, the second-highest contributor, says the firm in a study titled, 'Agriculture Performance through Ordinary People's Markets'.
The research surveyed 6 250 farmers who sold different commodities at Mbare, from vegetables to wild fruits, gourds, tubers, fruits and field crops.
Other agricultural products such as tea leaves and spices were also included.
In the fruits category, bananas topped the list with 7 697 baskets worth US$230 923 exchanging hands.
Leaf vegetables raked in US$155 418 from 91 964 bundles.
An estimated US$47 000 was realised from the sale of wild fruits like Masawu, Nyii, Mawuyu, Tsubvu and Snot apples.
Most of the produce was supplied by farmers from Mashonaland East and Manicaland provinces, some of the country's wettest zones, which contributed 62 percent and 16 percent respectively.
Matabeleland South anchored at 0,16 percent.
Zimbabwe Commercial Farmers Union national chairperson Collins Nherera said the country has a potential of reviving its breadbasket status in horticulture if more funding was availed to farmers.
"Recent horticulture trends have shown that farming of fresh produce is picking up encouraged by the adoption of irrigation schemes by small-scale farmers that have resulted in most of them increasing their hectarage," he said.
"There is need for more funding in the sector to enable farmers to acquire the required infrastructure such as cold rooms that will enable producers to supply high standard crops that are competitive on the market."
Zimbabwe has a favourable and diverse climate that enables production of a wide range of fresh produce year round.