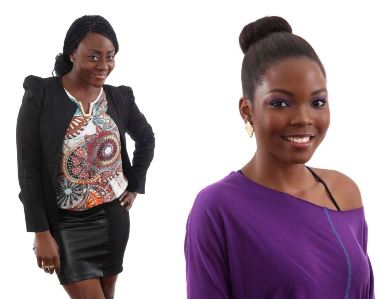 TWO housemates from Southern Africa have already left Big Brother Africa after being evicted from the game last Sunday.
The duo, Resa from Zambia and Mira from Mozambique, were the first casualties in this year's game dubbed 'Hotshots', which will be short compared to past editions.
The show will run for 63 days instead of the 91 plus days.
All the housemates, excluding Laveda (Tanzania), who won the title of head of house after scoring highest with the studio audience during the talent show, were up for eviction.
Twelve housemates failed to win a country vote leading to the tie-breaker rule to come into effect. The end-results saw Resa and Mira getting the least support from Africa and were sent packing.
Their game plan which saw them mixing and mingling and making them visible in the house did not do the magic for them.
Both talented and beautiful, Mira and Resa participated well in the first task given the housemates.
They impressed in their team 'Waka-waka'.
Mira was the brains behind the team's presentation while Resa was as good a lead actress as any.
Why then did Africa not fancy them?
In this season of Big Brother, it is Resa and Mira who became the first female housemates to get into 'relationships' inside the house.
The Mozambican beauty did not waste any time in getting 'hitched', with less than a week in the house Mira had already kissed two men.
She claimed that she was in 'love' with Luis (Namibia) despite going on to deeply kiss Nhlanhla (South Africa) whom she referred to as a brother.
Resa on the other hand was 'involved' with Permithias (Namibia).
Was Africa angry with their behaviour?
A woman quick to show affection to a man, in many African parts, is frowned upon.
Mira's jumping from one man to another obviously did not impress many.
Though Big Brother Africa largely promotes Western culture, comments of Africans watching the show indicate that our morals still matter and are respected.
"Now kiss home..bye chao ..Team Kenya wants to show you how it is done, you do not have to kiss all frogs," commented Mailliwmitesh.
"Be more conservative Mira and respect your friend's relationships next time, there is no excuse for bad behaviour," wrote Sleek Plus on facebook.
Meanwhile six housemates are up for eviction this Sunday.
The housemates include JJ (Zimbabwe), Frankie (Rwanda), Tayo, Lilian (Nigeria), Sabina (Kenya) and Esther and Ellah (Uganda).
In the past seasons, the 'African ambassadors' in the house have shown that youths of the continent are doing a 'good' job of 'adopting', rather aping Western ideologies.
The concept of unhu/ubuntu, which Africa prides itself in, is definitely not in existence in the house.
One cannot help, but wonder what purpose is being served by the show when instead of being a cultural melting pot it becomes a contest to exhibit how 'Westernised' the housemates are.
Issues that have raised eyebrows include the housemates' way of dressing and language as well as engaging in wanton sexual activities.
In the past editions, violence has become the common tool used by housemates to solve issues with some housemates being described as 'party animals', who occasionally resort to fighting whenever they have disagreements.
The dressing of the housemates leaves a lot to be desired as most of the time they walk around naked, something that does not reflect African values.
Is this what the current generation of African parents are teaching their children or promoting?