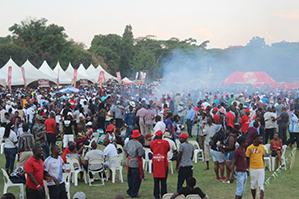 Tapiwa Nyati
THE Castle Lager Biggest Braai, which could have turned out to be one of the most spectacular events of the year, became just one of those shows that do not really tickle despite the huge hype.
Despite revellers devouring more than the targeted kilogrammes of meat,
10 000kg, the event organised by Delta Beverages, through their Castle Lager brand, at Alexander Sports Club, Harare, had some shortcomings.
Many attended the braai expecting to drink, eat and dance to their hearts' desire, but it seems organisers were more keen to achieve the targeted 10 000kg of meat.
Indeed, it was the biggest braai festival ever, 12 000kg of meat were consumed, but the organisers were overwhelmed by the attendance.
Anyone who was part of the more than
5 000 revellers who came to partake in the meat, drink and music fete will attest to the fact that getting into the venue was a nightmare.
Of course, those who made 'connections' with the security and bouncers at the gate, who were making an extra dollar buying tickets for those who could not brave the queue, did not have problems.
So novel was the idea of a mass braai that as the sun set, droves of people descended on the venue.
People naturally bought into the idea and thrill of the biggest ever mass braai festival and came in huge numbers.
Contrary to the notion of a poor people hard-pressed by harsh economic conditions, thousands descended upon the sports club ready to spend money.
But people ended up walking around, completely confused, as there was a single entry point which struggled to accommodate the huge numbers. Eventually, some revellers got in for free as it became difficult to manage them and tickets ran out.
Inside the venue chaos reigned supreme.
The five-dollar ticket, to access the fun, came with a meat starter pack and a litre of draught Castle Lager.
But this ticket was no guarantee to the beginning of merry-making, but actually initiated headaches in the arena as people found out.
The organisers clearly underestimated the turnout; so many were the revellers that serving points of both beer and meat were overwhelmed.
After spending about an hour in a beer queue, one was forced to spend the same amount of time for meat already paid for.
The selling points for beverages had difficulties serving the thirsty thousands.
At one point, all beverages ran out and imbibers had to wait for another delivery from Delta.
Those not patient enough ended up leaving the venue to buy cold beverages elsewhere.
"For Delta to run out of beer, seriously, ice I understand, but beer here vakomana?" said one Tatenda Chemhere.
"They manufacture beer and distribute it, so honestly, how do they run out of beer on such an event?"
And then justice was not served to the whetted music appetite.
Ammara Brown is a talented performer, but at the braai, her performance was just not on.
It seems seductive dancing was all she could do.
It is an open secret that for local revellers to have a good outing they want to sing along, but it seems most of Ammara's songs are not known.
She was only saved by singing a handful of her late legendary father Andy Brown's songs and those of her departed stepmother Chiwoniso Maraire.
As always, Oliver 'Tuku' Mtukudzi, did not disappoint, but could have done better with his playlist.
His music selection was not fit for the revellers who were eager to burn some calories on the dance floor.
And slotting in Killer T just after Tuku was just setting him up for 'failure'.
It was a tall order for the young dancehall musician.
He did not have much time as Ammara seems to have used it all up.
Thanks, however, to DJs L Roy, Chucknosis, Stavo and Storm who saved the day.
The gong goes to Chucknosis who kept revellers on their feet.
As Chucknosis began to do his thing on the turntables, it instantly became a classic moment.
He mixed up hits taking revellers down memory lane and back to the present.
Yes people ate, drank and danced, but Delta could have done better.
According to Siphiwe Annelisa Mangwiro, next time Delta should be more organised.
She said revellers should have been given an opportunity to vote for artistes they wanted to perform.
Florence Nelia, on the other hand, said despite there being many aspects that needed improvement, it was a great time with great company.
Although the entertainment was lukewarm, she said the vibe was great.
Through its various beer brands, Delta Beverages has become one of the biggest sponsors of various entertainment activities.
Zimbabweans have managed to enjoy top international acts through Delta sponsorship and it is commendable that they are also promoting local acts.
Hopefully their next event will not only be bigger, but better.