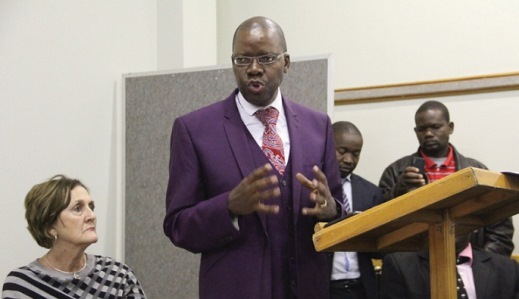 The events over the last few days which have provided entertainment for free to Zimbabweans have vindicated many pundits who had condemned the MDC to a tragic end.
There really is no surprise that the prophets who spoke into the Morgan Tsvangirai led party's future were so accurate in their predictions.
Their predictions were not based on any form of prejudice except that one could easily foretell that the project was doomed even from the start.
What probably was even in the minds of those who were part of the grand British project to try and unseat ZANU PF was that they knew they were a microwave attempt to rip the Zimbabwean political system apart.
But Zimbabwe is not built on microwave project sentiments one should know by now.
A country built on a nationalistic foundation and ideologies deeply rooted in liberation war credentials cannot just be wished away by emotions.
Whoever envisages a Zimbabwe with ZANU PF out of power needs to go deeply into understanding the people's desires.
The cliché which has played out that, "from the people, the party came to the people shall it return". is a good explanation of how politics in this nation must be negotiated.
Without grounding in the people's wishes, it can only be daydreaming that ZANU PF can be dislodged from power.
It is a mass party and its legitimacy comes from the people.
It draws its day-to-day lifeline from the recognition that the people must come first not donor interests.
This raises an important matter which Biti and friends who claim to have suspended Morgan Tsvangirai must take heed of.
Biti and company need to know that if the MDC must be a force to reckon with, the current template of that movement must be shredded and a new path defined.
Unfortunately they do not seem to have capacity or the strength to insist on such a political roadmap considering the fact that they are a donor project.
The project has a foreign face and even after Biti and his company announced the Morgan ouster, the coup still smells very British.
The movement's spokesperson Jacob Mafume full of excitement spoke so passionately yet so ignorantly about charting a new course.
For those who see beyond the surface there is no new course those people can chart?
There is no departure from the modus operandi that thrust Tsvangirai into the undeserved limelight he has basked in though very ignorantly.
I would write to Biti and his team to give that party a new face if they want to survive beyond this year.
Unfortunately with the news popping out that they are meant to be a donor replacement of a failed Morgan Tsvangirai experiment, they still stand to be rejected.
Perhaps being so ignorant of history, the entire MDC lot has not studied the history books of how this nation was born.
The genuine Zimbabweans will never be taken for a ride and hence they testified in July 2013 by giving ZANU PF a victory last seen in 1980 at independence.
The spirit of independence has a way of reviving itself and spurring on the people to respect the liberation legacy above all things.
The schooled Biti should know better and think about giving Zimbabwean opposition politics a new face.
That face can only be seen when the party entirely turns its back on foreign donors.
But with verified facts that Biti is the new darling of donors, the so-called coup also remains a child project that has died even taking its first few steps.
It is a perpetuation of attempts to recolonise the Zimbabwean political spectrum and a, "confusion within a confusion."
The law firm is still a better option which Biti could still go back to and thrives.
He can still contribute meaningfully to the development of the nation without denting his reputation and doubting his being Zimbabwean.
When all is said and done the daring fact is that Biti must dislodge himself from the tainted image of an MDC project.
One who is man enough would actually go out and create a new project in line with what Zimbabweans want.
Perhaps those predicting that out of the MDC shall rise a new political arrangement altogether could be on track.
Biti, you still sound like Morgan except for the difference of your physique and intellect.
You still walk and dance like him.
You still drink from his cistern and in that way, you cannot be an alternative political party that Zimbabweans can bank upon. You still do not inspire confidence even after firing Morgan Tsvangirai and his top lieutenants.
The money is still coming from the donors.
The coverage given to the Morgan Tsvangirai suspension by the international media is vindication that focus is shifting to Biti and those pulling the strings are none other than the same British sponsors of Morgan Tsvangirai.
Unless Biti convinces us, he lives to walk the same fate to doom which Morgan and his friends have walked along.
Coming on the backdrop of previous admissions by Zimbabwe's enemies that ZANU PF will never be dislodged from power, the best will be for the so-called renewal team to renew its mindset by taking back to the ZANU PF headquarters.
That is home for all who think Zimbabwe is for Zimbabweans and will guarantee aspirants to political office a life in that domain.
While Biti continues as the new shining beacon of renewal, Zimbabweans are not convinced. They can hear well into the voice of his masters.
They can feel his masters' touch.
This is a chance people like him should not waste.
ZANU PF is home for them and like prodigal sons, the fattened calf and mighty feast awaits them too if they go back with humility.
There is no life in the MDC and there never was except for a few moments of illusion which the MDC came along with.
Fortunately nobody bought into their trickery and the latest circus has exposed the British project as a total failure.
As long as Biti sups with the British, there is no place for him and any MDC attempt in this country called Zimbabwe.