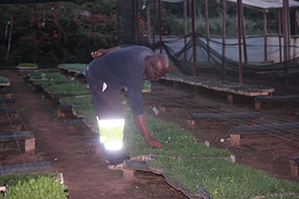 IT takes someone driven by passion and determination to venture into unfamiliar terrain as many are discouraged by fear of the unknown.
For long, commercial agriculture was a preserve of white farmers, but thanks to the Land Reform Programme the perception that had been created by the whites that blacks are only good as farm labourers has been debunked.
Before the programme in 2000, very few blacks owned farms as the colonial system was designed to deny the indigenes an opportunity to own land.
Today, resettled black farmers have conquered in the fields of tobacco, sugarcane and livestock production, once a preserve of white farmers.
One such farmer who decided to venture into the field of flower production, once dominated by former white land owners, is Chegutu-based Joseph Kaundura.
Faced with a choice to continue with his desk job and enjoy the city's bright lights or take up the opportunity to become a full-time farmer, Kaundura chose the latter.
"My wish is to impact on the lives of people and ensure that I contribute to the development of this country and that I am able to do as a productive farmer," Kaundura told The Patriot during a tour of his farm last week.
"We got land and we should be able to utilise it.
"If the whiteman did it, we are also capable of doing the same or even going beyond."
The farm Kaundura operates from was previously owned by one L.J. Kreamer who was popular for flower production and other horticulture products.
It is in his predecessor's footsteps that Kaundura is following.
"We decided to maintain the standards that were set by the former white farmer who occupied this land before us," he said.
"We are producing flowers, cabbages, tomatoes and vegetables."
Most farmers who took over from the white farmers have since switched from flowers to tobacco and maize production, not because the resettled farmer lacks the knowledge or willingness to continue exploring what used to be one of the lucrative ventures before the turn of the millennium.
Irked by the Land Reform Programme, there have been moves to stifle the progress of the 'new' farmers.
Zimbabwean-grown flowers used to have a ready market in Europe with white farmers making a killing out of the trade.
Local farmers have since been shut out with some traditional markets citing unashamedly that they will only purchase flowers grown by white farmers not by black farmers.
Following the recession in Europe, markets in Holland, a major buyer, crashed as companies went bankrupt.
Local farmers were left with the South African market, but faced a challenge as the market was flooded by growers from Ethiopia, Kenya and Zambia.
Kaundura said he was not deterred by the lack of markets, but willing to tap into new markets, especially the local.
He grows white and purple asters, tuber roses, solidago asters and lisianthus flowers.
"Locals are now warming up to the need for fresh flowers on occasions such as weddings, conferences and anniversaries so our aim is to tap into the local market," he said.
"We also find that even in the traditional markets there is always someone who, despite the general view of many buyers, is ready to buy the quality flowers we produce."
The sector has potential to rebound as local flowers remain the best due to favourable production conditions.
Europe experiences severe winters which makes it difficult for them to produce flowers for the peak periods when flowers are in demand such as Christmas, Valentine's Day and Mother's Day.
Flowers on the export market are sold through an auction system and this means local farmers have to grow quality products to get favourable prices.
On the market, all flowers are graded using the same method and do not factor in the challenges a farmer would have faced and this is the other reason local farmers quit flower production.
The production of flowers, Kaundura said, is 'engineered' and the process is manipulated by light.
"A flower has to grow three centimetres a day and this requires it to get extra six hours of light from that which is provided by the sun, hence we have to use electricity from 8pm to 3am," he said.
"In our case, we have not been affected by load-shedding as some of our counterparts in other areas and this means we are in a position to produce a quality product."
With more determined farmers like Kaundura, the efforts by Government to empower its people through the land will not go to waste.