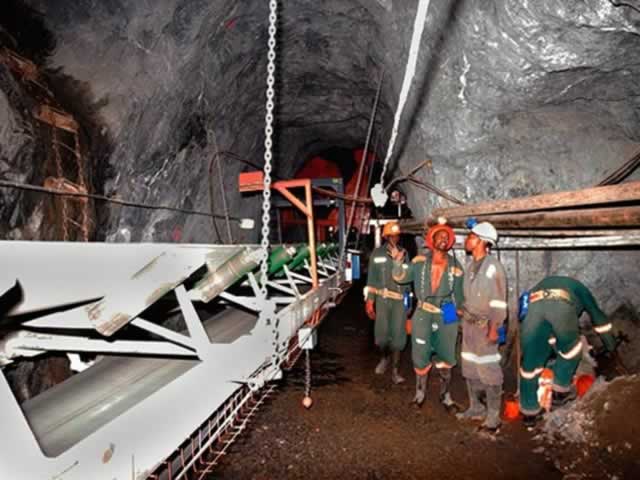 Business Reporters
BLANKET Mine says it will increase its gold production levels by 2 483 ounces in 2014 to achieve a 48 000 ounces target.
Last year, the miner realised 45 517 ounces of the yellow metal.
Blanket Mine is 49 percent owned by the Toronto-listed Caledonia Mining Corporation while 51 percent is owned by indigenes.
The Gwanda-based gold mine became the first mine in the country to fully comply with the indigenisation law in 2012.
In a statement Caledonia's president and chief executive, Stefan Hayden, said the company has finished operational developments that were needed to achieve the anticipated target.
"The underground development that is required to achieve the projected increase in gold production to 48,000 ounces in 2014 has been completed and I look forward to Blanket delivering this increased level of production in 2014," Hayden said.
"Production for 2013 was little changed from 2012 notwithstanding the fact that during 2013 the achieved head grade returned towards the normal life of mine average of 3.84 grams per tonne, as previously advised. Production for 2013 was 3.4 percent ahead of the targeted production level of 44 000 ounces."
During the last quarter of 2013 the gold mine embarked on a three-day shut down of the milling plant for maintenance.
Blanket Mine retains its position as one of the lowest cost gold producers in Africa.
Caledonia recorded a profit after tax of US$13, 2 million during the third quarter of last year compared to US$3, 2 million in 2012. The mining firm last year introduced a new dividend policy of declaring dividends on a quarterly basis as a long-term measure to maximise stockholder benefits.
The mining sector remains a key driver of the country's economic growth, contributing more than 13 percent to gross domestic product, accounting for more than 50 percent of total exports.
The country's gold production took a plunge during the decade to 2008, with production plummeting to a low of four tonnes in 2008. Production has been slowly increasing, with 15 tonnes recorded last year against the country's highest annual production of 27 tonnes in 1999.
In 2014, the mining sector is projected to grow by 11, 4 percent on the back of planned investments and largely driven by strong performance in gold, diamonds, nickel and coal.
Total gold output for the first eleven months of 2013 amounted to 12 914,51kgs, compared to 13 650, 91kg produced during the comparative period in 2012 representing a five percent decline
The underperformance was attributed to the accident at Freda Rebecca, escalating operational costs, unreliable power supply, and failing international gold prices, reaching a low of US$1 198 per ounce in June last year.
Owing to these factors, the 2013 gold output target was revised downwards from 15 000ksg to 14 000kgs.
In 2014 however, gold production is projected to increase by 7,1 percent from 14 000kgs in 2013 to 15 000kgs.