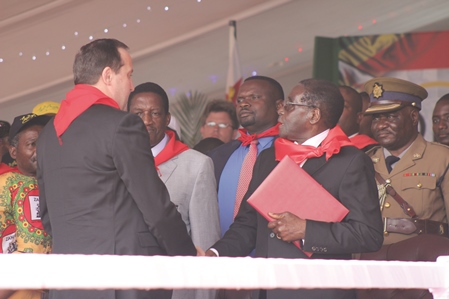 THE 21st February Movement celebrations in Marondera on Sunday were not just about President Robert Mugabe's 90th birthday, they were more about a life well lived this far and the political achievements by the country's leader.
Here is a man who is set to become the chairperson of the Southern African Development Community (SADC) and the African Union (AU).
His personality, usually marked by principled stances on life and humanity and resoluteness, has found many admirers across the globe.
In Marondera, there was a definition of the person that President Mugabe is.
One does not have to love him in order to appreciate the immense contribution that he has made even to Africa.
It was a pomp and fanfare filled event.
The estimated 45 000 strong crowd that thronged Rudhaka Stadium was treated to a feast of music, dance and artistry.
The open space venue, chosen in anticipation of the huge crowd that duly came was reminiscent of crowds during the campaigns towards the July 31 2013 harmonised elections.
Accompanied by his wife, Amai Grace Mugabe, their children, Bona and Chatunga and relatives, President Mugabe moved around the venue in the back of an open truck waving his trademark clenched fist to the cheering crowd.
Immediately the proceedings commenced with Father Fidelis Mukonori leading with a prayer before he anointed President Mugabe with consecrated oil as per Roman Catholic tradition.
Addressing the gathering, Father Mukonori said old age is a blessing.
"We want to pray with the President for showing us that it is possible to be 90 and not die at nine," said Father Mukonori.
"Old age is a blessing and I would like therefore to pray.
"I will anoint him with holy oil for his soul and a rosary that he carries everyday."
Besides the many and glowing tributes, there was a rather intimate profiling of his life.
How he has lived with his sorrows at the loss of family members and friends and his love for his wife, Amai Grace Mugabe.
He duly poured it out in a speech that will go down in history as an expression of that which has got him going for that long, his 'stubborn' defiance of death that many especially in the Western world have wished him from time to time.
"Zvinorevei kuva nemakore 90," said President Mugabe.
"Kunzi ava nemakore 90 uchikorokotedzwa.
"Vazhinji vakaenda, madzisahwira neshamwari, ndinofunga nezvazvo."
President Mugabe acknowledged that it would not have been possible without the caring shoulder of the First Lady.
Amai Grace Mugabe, he said, was a provider and a lover.
"I want to thank my wife Grace Mugabe and the children in a special way," he said.
"I am 90 years not alone.
"I am 90 years with her.
"She has been the caretaker, the provider, the sustainer, the lover.
"So we do not forget her when we celebrate."
For one to live such a long life, said President Mugabe, it is through staying clear from alcohol abuse, smoking and promiscuity.
He said even though he tried smoking and drinking, it was against his principles and beliefs.
"Vanhu vanofara hongu asi zvinoda kuzvidzora, kwete kuita zvekumwa nekuputa mapapu okuvara," said President Mugabe.
"Ndakambozviedza ehe, kuputa, ndikati ahh! hutsi ihwohwo huchienda mumapapu?
Ndikamboedza kunwa doro, ndikati ahh! Zvinovava kudaro izvozvo?
"Asi vazhinji vaimwa nokuputa vakagurwa hupenyu hwavo nazvo."
There were also tributes from foreign Heads of State and the ZANU PF Youth League in Marondera.
The Republic of China leader, Xi Jinping and Russian President Vladimir Putin said President Mugabe deserved to be honoured for championing Africa's quest for economic empowerment and self determination.
"You are one of Africa's leaders of older generations, you have firmly safeguarded the sovereignty of your country and ensured self-dependance and self improvement," President Jinping said in a message delivered by China's Ambassador to Zimbabwe, Lin Lin.
"You have firmly safeguarded Zimbabwe's sovereignty and you are a dear old friend of the Chinese people.
"China has always been a trustworthy friend and brother and will firmly support the national development of Zimbabwe."
President Putin, in a message delivered by Russia's Ambassador to Zimbabwe, Sergey Bhakarev wished President Mugabe good health and success.
"I wish you good health, happiness, well-being and every success in your activities," he said.
"Your name is inseparably linked to gaining independence and establishing statehood by the Republic of Zimbabwe."
ZANU PF Secretary for Youth Affairs, Cde Absolom Sikhosana, said President Mugabe had provided exemplary leadership to the people of Zimbabwe.
Let those with ears listen.