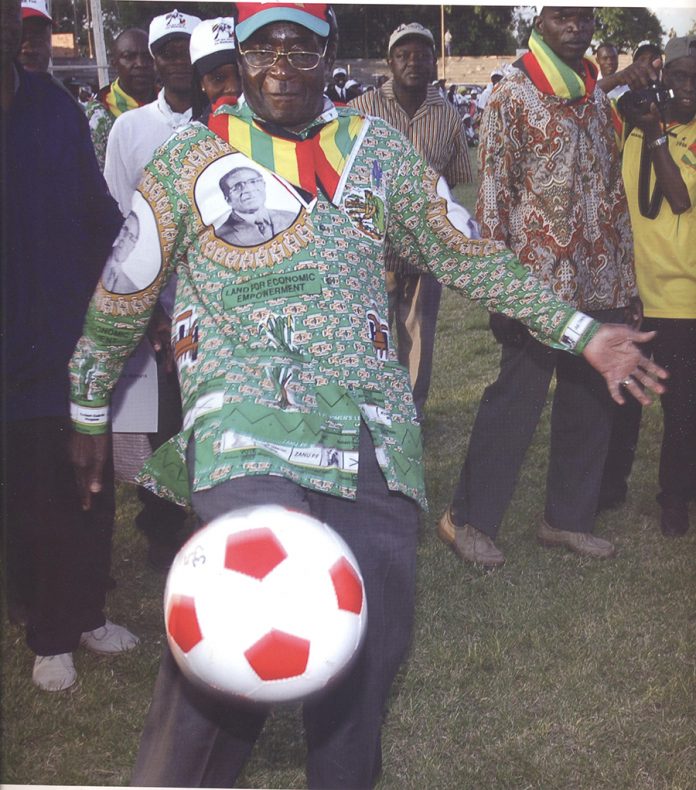 By Sheldon Hakata
THAT he was a man of many talents, a man of wisdom and the light whose flame shone across all facets of development is an indisputable fact.
And the tributes have continued to pour in from across the world; but this is something that could have been done while he was still alive.
Unfortunately, and as is the nature of mankind, people only appreciate and give honour when someone is gone.
Cde Robert Gabriel Mugabe was looked at with envy by fellow Africans and those from beyond for a reason.
Apart from being a pacesetter in African politics, the late former Zimbabwean President was a keen follower of sport, especially tennis, cricket and football.
Through sound leadership of this great statesman, Zimbabwe has been able to participate in regional, continental and world competitions; coming tops in a number of sporting disciplines.
The man hosted a lot of sports stars and soccer teams, always making them feel welcome at the State House for luncheons and other events.
His death has robbed sport of a true patron.
Besides being a staunch fan of Spanish giants Barcelona, Bob, as he was affectionately known, used to watch the Warriors' soccer matches.
The man did not just speak glowingly about sportspersons but also extended financial rewards to those who excelled.
Such was the benevolence of the man.
Cde Mugabe was the former patron of the cricket national team, The Chevrons and The Mighty Warriors.
Many would vividly remember the late former President praising Mighty Warriors' superstar Rufaro Machingura after sinking South Africa with a single strike at Rufaro Stadium in 2011.
"Takava nerufaro kuRufaro naRufaro,'' he said in praising the star.
A football tournament, The Bob Super Cup, introduced in 2011 to commemorate his birthday, featured some of the country's big clubs Dynamos, CAPS United and Highlanders, with the first edition being the Bob Super Cup @87 sponsored to the tune of US$40 000.
The Dynamos class of 2008 dined with former President Mugabe at State House after reaching the 2008 CAF Champions League semi-finals, with David Mandigora as head coach then.
The Warriors and Mighty Warriors were also hosted at State House on a number of occasions.
The women's soccer team got an invitation to a banquet and received a life-changing windfall following their 1-0 COSAFA Cup victory against South Africa in 2011.
Minister of Youth, Sport, Arts and Recreation Kirsty Coventry, the swimming legend, after returning from the Athens Olympics with gold, a sliver and a bronze medal was accorded a banquet and US$50 000 reward as well as a further US$100 000 reward in 2008 after breaking the world record in the women's 200m backstroke (winning gold), three silvers in the 400m individual medley, 100m backstroke and 200m individual medley in Beijing Olympics.
She was nicknamed 'The Golden Girl' by Bob.
The Comrades Ultra-Marathon winner for the third time in South Africa, Stephen Muzhingi, enjoyed luncheon with the former First Family and was rewarded with US$50 000.
Paralympic Games gold medalist Elliot Mujaji and his family of three children were taken for a holiday in Malaysia after the later's exploits at the 2004 Athens Paralympics Games in Athens, Greece.
World Boxing Council welterweight international champion Charles Manyuchi also had the opportunity to wine and dine with President Mugabe at State House and received hefty amounts of money for flying the flag high.
Go well great man!