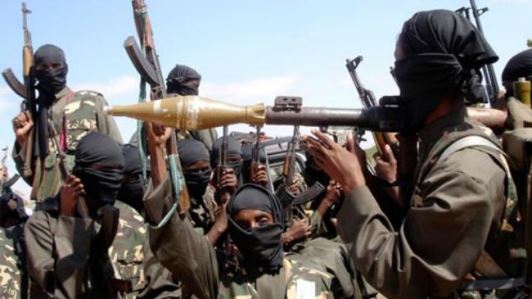 EVENTS of the past few weeks have brought to the fore a rather pertinent question in relation to how Africa handles crises.
For close to a decade, the African Union (AU) had been running under the mantra, 'African solutions to African crisis', but its actions have been far removed from its discourse.
The coming of South Africa's Nkosazana Zuma was heralded as the beginning of a new era, where Africa would move back to its pan-African ethos and see more cooperation among African nations.
Has Africa made any meaningful headway in its goal to ensure peace and security on the continent?
When all is said and done, is unity of purpose and cooperation evident in the numerous crises that arise on the continent?
Africa has been silent about the goings on in Nigeria for too long.
Is it because African leaders are afraid to telling each other the truth?
Why does Africa always have to wait for outsiders to proffer solutions to her problems?
Loosely translated, the name Boko Haram could mean, "Western education is sinful," this symbolises the group's strong opposition to anything Western, which it sees as corrupting Muslims.
The group is known for attacking Christians, Muslims and government targets. Violence linked to Boko Haram has resulted in an estimated 10 000 deaths between 2002 and 2013.
Tracing Boko Haram's roots, one discovers that when Mohamed Yusuf became its leader in 1995, he popularised it.
He established a religious complex that included a mosque and a school where many poor families from across Nigeria and from neighbouring countries enrolled their children. The centre would become the recruiting ground for future jihadists.
Human Rights Watch researcher, Eric Guttschuss told IRIN news that YUSUF successfully attracted followers from unemployed youths, "by speaking against police and political corruption".
Abdulkarim Mohammed, another researcher on Boko Haram, intimates that violent uprisings in Nigeria are ultimately due to the, "fallout of frustration with corruption and the attendant social malaise of poverty and unemployment."
A Nigerian University lecturer, Chris Kwaja asserts that while religion continues to be misconstrued as the driver of violence, disenfranchisement and inequality are the true root causes of groups like Boko Haram.
Nigerian opposition leader, Buba Galadima says Boko Haram is engaged in class warfare and is being portrayed in government propaganda as terrorists in order to win counter terrorism assistance from the West.
On November 13 2013, the US government designated Boko Haram a terrorist group. It is believed that the group is motivated by inter-ethnic disputes as much as by religion.
According to Human Rights Watch, during the period between 2009 and the beginning of 2012, Boko Haram was responsible for over 900 deaths.
The April 14 2014 incident where Boko Haram attacked a girls' school and kidnapped over 200 female students would have passed as another incident had the mothers of those girls in collaboration with women activists not aggressively campaigned to highlight the incident.
America's First Lady, Michelle Obama, took over the President's weekly radio and internet address on the eve of Mother's Day.
In her address, Michelle said she and President Obama are 'outraged and heartbroken' over the April 14 abduction of girls from their dormitory by terror group Boko Haram.
Michelle Obama also took the opportunity to note that more than 65 million girls worldwide do not attend school.
America has recently offered a US$7 million bounty for information leading to the arrest of Boko Haram leader, Abubakar Shekau.
France arranged a summit, and on May 12 2014, Nigeria's President, Goodluck Jonathan, and the presidents of Chad, Benin, Cameroon and Niger met in Paris and agreed to combat Boko Haram on a coordinated basis, sharing in particular surveillance and intelligence gathering.
After the meeting, Chad's President, Idriss Deby said the African nationals were determined to launch a total war on Boko Haram.
France has become a target of Islamist militants for its military intervention against rebels in Mali.
With about 6 000 French troops operating in Mali and the Central African Republic, France has a big interest in Nigeria's stability.
Boko Haram has the threat to spread into Cameroon and into CAR.
Britain has also offered to send advisors to help the Nigerian military organise its efforts to fight Boko Haram. However, British Foreign Minister William Hague in offering his country's assistance has insisted that the Nigerian military must uphold human rights as it fights Boko Haram.
The Washington Post carries a very interesting article by Sarah Chayes, a senior associate at the Carnegie Endowment for International Peace.
In the article, Chayes calls on America not to overzealously aid Nigeria to fight Boko Haram because much of the responsibility for the rise of the group lies with the Nigerian government.
While condemning its violent tactics, Chayes reports that in the country's impoverished northwest, "ninety-five percent of the Borno have a connection" to Boko Haram.
The premise is quite simple: young men with no prospects are open to radical offers.
With the highest oil production in Africa, ample rainfall in the country, Nigeria should be enjoying the benefits of economic growth, but its development is nothing to write home about.
Chayes claims that President Goodluck fired his Central Bank Governor in February because his investigation into the disappearance of US$20 billion in oil over a mere 18 months would have exposed the President and his cronies of siphoning most of the money with help from local and international banks.
Chayes suggests that America should stop giving President Goodluck a pass on corruption.
She insists that military assistance to Nigeria should be fully compliant with the Leahy Amendment which bans aid to foreign security forces that have committed gross violations of human rights.
It is interesting that what is coming out of the American establishment is reservation especially when dealing with Nigeria, despite that it is a major oil producer and America loves oil and its knee-jerk reaction would have been to go to Nigeria guns blazing to fight Boko Haram.
As Africans, maybe it is time we sought to holistically approach challenges of corruption and poverty that are wrecking the continent and stop hiding behind conspiracy theories and bogeymen from the West.
Failure to tackle corruption and the lack of political will to address the issue is something that will fuel insurgency across the continent and African leaders have an opportunity to take the high road and not wait on the sidelines for outsiders to be the continent's saviours.