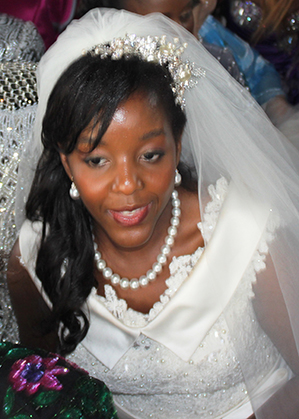 FROM outside, there is an incredible extraordinariness about Bona's marriage and wedding people are climbing mountains, but will not find because they left it there, where they began their search.
There is something so everyday, so common, so abundantly present and available about the marriage and wedding you can imagine stumbling on it in any village across the country, any township and suburb across the cities, anywhere.
That is where its complexity lies and it confuses many people.
By marrying Simba Chikore an ordinary pastor's son from Headlands, Bona broke barriers and made every Zimbabwean man's most impossible dream seem possible.
People had expectations about her marriage; of course we all had.
Such expectations abound and are normal.
There is a story that we frequently heard at those colonial schools a long time ago during the Federation of Rhodesia and Nyasaland.
It was said a presumptive heir to the British monarch forfeited their ascendancy to the throne because they married someone outside royalty.
Whether it was true or not, some of us never came across that story anywhere again.
Although it was not written or said; although people never talked about it publicly, that was everyone's expectation of Bona.
If she was stubborn enough to attempt to do the unexpected, the unwritten rules that shaped our expectation would stand in her way.
After the marriage, someone shamefully confessed they had expected her to marry some other African president's son.
There is an interesting similarity between her marriage and her father's character: The natural inclination towards the people and the simplicity.
Among the numerous stories told about President Mugabe, perhaps the most endearing is the one where he is settling, across the fence, a little disagreement between his neighbours in his village in Zvimba.
A stranger passing by needed to be told he was the President!
It is such small moments and their humility that define his character and leadership.
There are some obligations that fathers cannot run away from.
That is why you couldn't help feeling a bit touched when President Mugabe admitted publicly he had to leave the COMESA meeting in Kinshasa mid-way through last week because his daughter was wedding the day after.
Then the helplessness: "What can you do when things are done at such short notice?
"We have to be there you know."
If there was a man who dreamt of being a prince and then became one, Simba Chikore is one such person.
Bona is an African princess.
And because her marriage blends so perfectly with any other across the country, it can't claim it any longer; it also belongs to the people.
Bona has made it possible for every Zimbabwean to dream being a king or a queen to become one.
She has helped people break unimaginable barriers.
Bona is a true and rare African princess, time will tell.
It is likely when the Chikores went to pay dowry in Zvimba, in keeping with Shona custom, Bona's father must have invited his neighbours to come and be part of the occasion.
However, it was the choice of their rural home for the occasion that reinforced what an ordinary African marriage it eventually became.
There was obviously some haggling over the bride-price, it's normal during such occasions.
The US$40 000 that we were told the Chikores were asked to pay is less than the other figures we hear or come across in the press.
For instance Elizabeth's father, Joseph Macheka, asked for a dowry of US$54 000 for his daughter from Morgan Tsvangirai.
So that when it eventually came to the wedding and President Mugabe walked down the aisle to give away his only daughter to Simba Chikore, it was one of his most disarming shows of obedience and service to his people and country. Because the Chikores are a perfect example of ordinary people, he was not only giving away his daughter to them, he was surrendering her to the people of Zimbabwe that he has led so unflinchingly for so many years.
And that solemn act sealed his connection with his people and country. Sometimes, the symbolism of that act of giving away his daughter was so reminiscent of the biblical story of Abraham and his only son Isaac; how he walked up Mount Moria to offer him as a sacrifice because God had wanted it. And in President Mugabe's case, because the people of Zimbabwe wanted it. Our plea to Simba is to look after her well for us.
There is an extraordinary similarity between Bona's marriage and President Mugabe's style of leadership and character.
But the tragedy about the stories of their lives is how their fiercest critics see what extraordinary leaders they were after they are no longer there.