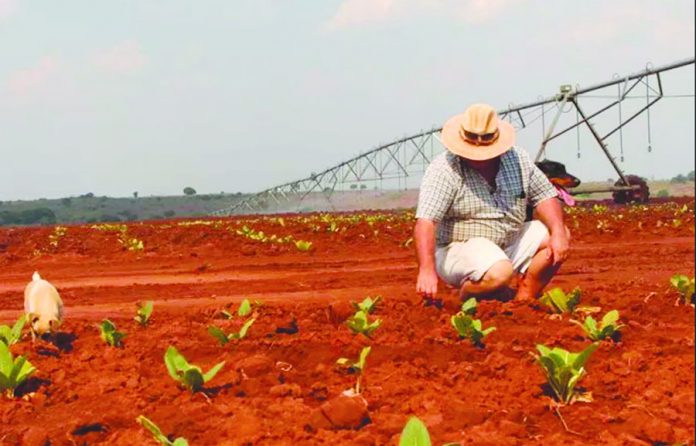 CONCERN continues to be raised over the issue of low agricultural productivity.
Until the advent of the Command Agriculture Programme two seasons ago, lack of inputs such as seed, fertiliser and chemicals was cited as causes of low productivity.
Command agriculture now provides all the required inputs and yet yields per hectare still remain way below the genetic potential of the varieties planted.
Why?
In the next episodes of this series, we shall attempt to interrogate the factors that contribute to low farm productivity.
Without inputs, there is zero agricultural production!
But is input provision alone enough?
We shall attempt to identify and define some of the major limiting factors for agricultural productivity so that farmers and relevant stakeholders, including Government, can take appropriate action to address them.
The need to increase agricultural productivity and boost Zimbabwe's economy is urgent.
Availability and affordability of essential inputs top the list of factors blamed for low farm productivity, followed by poor quality (low rainfall) seasons.
Government, true to the adage to 'Put your money where your mouth is', boldly moved to engage private sector players to mobilise and provide farmers with agricultural inputs.
Under the innovative Command Agriculture Programme, farmers sign contracts committing themselves to plant designated crops on specified areas and receive all required inputs.
The contract also specifies the minimum yield per hectare that must be produced so that the yield covers input costs as well as giving the farmer some profit.
The model looks perfect except for the perennial low productivity phenomenon.
For maize, the minimum yield expected is five metric tonnes per hectare.
About 2,8 metric tonnes of the crop are enough to cover the input costs per hectare.
The balance of 2,2 tonnes per hectare provides the farmer with income.
Good farmers should be able to exceed the minimum five tonnes/ha, thereby reaping huge profits.
Maize varieties distributed to farmers under the Command Agriculture Programme have yield potentials ranging from as low as six tonnes/ha to over 20 tonnes/ha.
For example, in the 2017/18 cropping season, the top maize farmer harvested an average of 21 metric tonnes per hectare in Mashonaland West.
This represents a profit margin of 18,2 tonnes/ha.
At current maize prices, this farmer will rake in a healthy sum of US$7 098/ha.
With such margins or indeed anything above five tonnes/ha, farmers should be laughing all the way to the bank.
But, are they?
Statistics presented by the authorities at the Command Agriculture review workshops show that maize yields average a paltry 700–900 kg/ha countrywide.
This suggests only a few farmers achieve expected high yields in excess of five tonnes/ha.
The majority, despite receiving all the seed, fertiliser and chemicals, still struggle to obtain yields that match the level of inputs.
Even in the 2016/17 cropping season, when the rains were more than adequate, yields still fell way below expectations.
The truth is that there are other factors that limit productivity apart from inputs.
Rainfall quantity and distribution is a major limiting factor but indications are that even where rainfall is adequate for cropping, yields are still low as pointed out above.
Irrigation infrastructure is being enhanced but we shall look at that in a later article.
What are these other factors that limit productivity?
At a recent presidential interface meeting with farmers in Chinhoyi, President Emmerson Mnangagwa bemoaned the low productivity on most farms.
Farmers highlighted some important factors that limit productivity, including limited technical and extension support.
I also repeated my call for the mobilisation of all available agricultural expertise, including university departments of agriculture, to provide technical advisory services and training to the farming community.
The President called on white commercial farmers to avail their expertise to mentor, train and provide technical support to the relatively new black commercial farmers.
However, before the official interface meeting, I had half-joked to the black farmers gathered to agree on a list of issues to be presented to the President, that they were in fact not farmers as yet!
If anything, the majority of resettled farmers can best be described as student farmers.
They are still learning the ropes of commercial farming and, like toddlers learning to walk, they need to be led by the hand so that they gradually acquire requisite skills and experience. Many will resent being designated as 'student farmers'.
But that label is very appropriate from a practical point of view.
While many of us have communal area agricultural experience, we are out of our depth with large-scale commercial farming.
Even white farmers admit it took them decades to master the art of agriculture.
We can liken farmers to a football team which requires a good coach to win games.
The real life example is that of Zimbabwe's once legendary Dynamos Football Club who won four consecutive league titles under coach Callisto Pasuwa.
Without Pasuwa, the team is struggling and even threatened with relegation. In the case of farmers, even experienced ones, the need for extension support is critical.
In the colonial period, the white commercial farmers were closely coached by the Department of Conservation and Extension (CONEX).
Extension agents were each allocated a specific number of farmers to work with, visiting each one at least once a month. Regular in-service training was afforded the extension personnel.
In turn, farmers were gathered at appropriate times to receive and be coached on the latest crop/animal varieties, farming methods, equipment and all other matters ancillary to good farming practices.
The same cannot be said about our current extension support for farmers.
Newly-graduated young men and women drafted into the extension ranks receive very limited induction and in-service training.
In turn, they lack the courage and experience to visit farmers fearing to expose their limited knowledge and experience.
Some may dispute this, but I have it on good authority of genuine discussions with members of AGRITEX.
Given the limited and often antiquated agricultural equipment at agricultural colleges, vocational institutes and universities running agriculture degree programmes, graduates acquire limited skills and practical know-how to adequately service the needs of thousands of largely inexperienced and often part-time farmers.
It is important that responsible authorities fully appreciate the need to strengthen our training institutions.
Many colleges and universities lack even a simple centre pivot machine, touted by Government as the irrigation method of the future!
During the first review workshop for the Command Agriculture Programme in 2017, I recall standing up to highlight the need for colleges of agriculture to be given access to the latest equipment from Brazil, Spain, Belarus and China, among others, that is being availed to farmers.
That, I argued, would provide the students with knowledge and practical experience so as to better service the needs of farmers when they graduate and go into the field.
In the process, productivity will improve. The terse answer to my request for availing latest equipment to training institutions came from one of the ministers in attendance.
He firmly stated that the equipment was meant for farmers, not colleges of agriculture.
So, imagine graduates who encounter an irrigation centre pivot machine, a Vicon or zero-tillage seed drill at a farm where they are seeking employment.
What confidence can they muster to give professional advice to the farmer?
The implications for the quest to increase productivity are obvious.
We have come to learn of extension personnel who avoid visiting those farmers whom they perceive to be more knowledgeable than themselves for fear of exposing their limited knowledge.
Quite understandable!
Resource and human capital constraints have limited Zimbabwe's extension department, AGRITEX, to provide close tutelage for sharpening the skills and knowledge of the thousands of 'new' farmers. Improving agriculture extension support for farmers is an area that Government needs to pay close attention to.
As a teacher of agriculture at university level as well as a large scale commercial farmer, I can speak with a fair degree of confidence on the challenges bedevilling newly-resettled farmers.
The first challenge is that, despite all good intentions, the majority of new black farmers are professionals who hold full-time jobs in the cities and towns.
Most are weekend farmers who, despite their passion, simply cannot find enough time to closely monitor and develop their farming enterprises.
Some will say that is not a problem; just engage a farm manager.
My experience is that there are few competent and experienced candidates for farm management jobs, especially for the new farmers.
Needless to say, with low farm productivity, the capacity of most farms to pay and retain good managers is limited. Limited too are potential farm managers.
Do we have courses that train farm managers? Most colleges run farm management courses, but perhaps they are more academic than practical.
Passing depends on ability to recall written information.
Many things in books are easier said than done and there is no substitute for practical experience in agriculture!
In the next episode we shall further interrogate and identify factors that impact productivity at farm level, including the human factor.