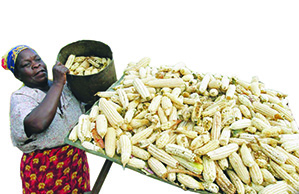 IN a week in which waterhole discussions were on any of the following; EU-Africa summit invitations, Cuthbert Dube, missing Malaysian plane, David Moyes, Arsene Wenger or Liverpool, I headed to Unyetu for refreshing talk.
Fifteen kilometres away from the village and with dusk fast approaching, my weary and impatient four-year-old son, Noti, demanded that he speaks with his grandmother.
We managed to get the two connected on the phone.
An audibly excited four-year-old went into a tirade, "hallo, gogo road yenyu yakaitasei, irikuda kubheura mota, ine mazibhambo, manje tinosvika riini?"
We finally made it to the village right at the fall of darkness.
Supper, long ready, was served.
It was sadza nematemba.
Noti had a torrid time eating half his share.
Supper silence was broken by loud pitch wailing.
It was clearly a female voice and was certainly not funeral wailing.
Muchembere and Yona quickly reduced the possibilities to two; either Jairosi's recently eloped wife or Gosi's wife.
Yona went out to investigate and confirmed, dismissively that it was Gosi's wife. Yona felt Gosi's wife was trouble personified and deserved whatever violence came her way.
Recently she had been cautioned by police for having hidden her brother-in-law's ARVs after a misunderstanding.
We retired to bed without exhausting the argument.
Early morning me and my wife joined Muchembere in the final task of maize harvesting; kufurura, removing the cobs from the stalks.
It was three of us.
Maybe it was four of us given the excitement my boy got from the appearance of white maize cobs from the brown leaf envelope.
He joined in with wild enthusiasm though he tended to retard than enhance the process.
Within moments we were joined by mother and son from a neighbouring village. They took to the task with the efficacy of seasoned harvesters.
After exchanging greetings they introduced the purpose of their coming.
They had received word of my arrival, through village gossip, within minutes of my arrival.
The mother wanted assistance for her son, Charles, who, together with another boy, had become the first pupils to pass 'O' Levels with English and Maths in the last 20 plus years at Unyetu.
Charles had failed to proceed for 'A' Levels at the nearby (only 10 kilometres away) Zinatsa Day Secondary.
I encouraged the mother to apply the same resourcefulness that had taken Charles through 'O' Levels.
She replied with a harrowing account of new found poverty.
Charles' father, Manzira, was my senior at Unyetu in the early 1970s.
After Grade Seven he became a 'home defender' before being absorbed into the war as a mujibha.
After the war, he did a series of odd jobs all over the place before finally settling down in the village to start his own family.
In the village he apprenticed as a water well digger before becoming an independent contractor digging water wells.
From this he lived decently even though it was hand to mouth.
Then last year disaster struck while inside a well.
They were removing mud from a well using a tin and a rope.
He was in the well and his assistant outside.
The rope snapped and the tin of mud fell back breaking Manzira's right arm.
That incident robbed the family of sustenance.
It also robbed Charles of an opportunity to do 'A' Levels.
I looked at the boy, glanced at my wife and we both struggled to hold off tears. 'We will see what we can do' was all I managed to say.
The sombre atmosphere was broken by Auntie Lilian and Mai Casper's arrival. They were in a jovial mood.
They wanted to know about when victory celebrations for the July 31 2013 poll would be held.
I promised to check with the House of Assembly Member's office.
They were looking forward to a beef feast.
It was rumoured that quite a number of beasts would be slaughtered at these grand celebrations.
The group was jolted by Mai Casper's sighting of a dark brown scorpion which quickly disappeared into the maize stack before we could deliver capital punishment.
From arachnids literature I know how dangerous some of these scorpions are.
I pleaded with my wife, without success, to take Noti to safety.
The working party was unfazed.
With bare feet and hands they continued to work their way through the stack. This particular scorpion they called Chirairanhaka.
It can deliver a fatal bite.
Bites are rare, but require immediate attention at a modern clinic.
Subject then moved to the poorly stocked local clinic.
It ended on a positive note, all present praising the dedication of the nurse in charge of the local clinic.
He had recently spent a small fortune on his mobile phone getting instructions from a doctor in Murambinda on how to deal with an emergency case that had arisen at the clinic.
I silently contrasted this with situation I recently experienced at Parirenyatwa Hospital.
A number of the nurses there behave like Passport Office personnel.
The jovial mood was matched by enthusiastic effort in the harvesting job at hand. More joined the party ostensibly to greet us.
Discussion became fluid.
Some bemoaned elusive rains.
They wanted one more downpour to soften the ground for ground nuts harvesting, kudzura nzungu.
Others thanked Mwari for the village bumper harvests.
There were unending exclamations on the size and health of Mbuya Pekeshe's maize cobs.
By midday we were almost through with the second and last stack of maize in this field.
Topics were recycled.
Concerning Gosi's beating of his wife the night before there was round condemnation for Gosi's wife.
On Charles's plight many questioned the motives of a donor organisation that is only giving assistance to gifted orphaned girls.
Some even claimed most of the beneficiaries fell pregnant before completion of their 'O' Levels, insinuating donor employees were responsible for the abuse. Another chided general moral decay in girl children who made a bee line for Tsikamutanda tricksters during the 2013 chirimo.
Soon the task was accomplished.
Three full scotch carts of maize cobs to the good and Mbuya Pekeshe is expecting much more by the time she is through with all her fields.
We bade farewell happy and grateful for the village cooperative spirit.
It was a pleasant drive back to more news on EU-Africa Summit, Manchester United, Arsenal, Liverpool and the missing Malaysian plane.