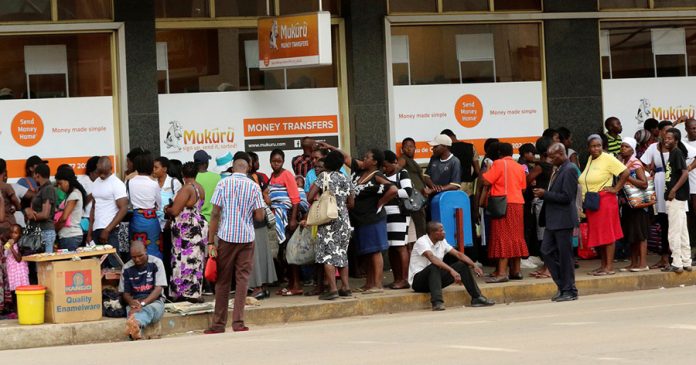 IF ever there was any doubt that the country was reeling from the effects of sabotage by a coterie of a few individuals and greedy corporates, one does not need to look further than President Emmerson Dambudzo Mnangagwa's statement on Tuesday where he warns those who have externalised cash and assets to return the money to the country.
The country has, over the years, experienced acute cash shortages, a biting economic crunch, among a plethora of challenges that caused untold suffering to the majority.
In February 2016, the Reserve Bank of Zimbabwe (RBZ) Governor Dr John Mangudya revealed that over US$1,8 billion was externalised in 2015.
Dr Mangudya, who was presenting his annual monetary policy statement, said according to records, US$684 million was externalised by individuals, while firms externalised US$1,2 billion.
"Such funds leave Zimbabwe without money circulating in the economy, resulting in low multiplier effect and low aggregate demand," said Dr Mangudya then.
"We are exporting liquidity.
"We need as a nation to put a stop to this behaviour.
"The term free funds under a dollarised economy is a misnomer which brings distortion and lack of transparency in the use of foreign exchange resources.
"Free funds terminology was relevant under the Zim-dollar era."
However, the coming in of President Mnangagwa who was sworn in on Friday last week and promised a raft of sweeping changes, has brought hope that the economy, which had stagnated over the past 20 years, will finally emerge from the doldrums.
In his inauguration speech, President Mnangagwa promised to deal with the liquidity challenges that are choking the country.
Said President Mnangagwa: "The liquidity challenges which have bedevilled the economy must be tackled head-on and must be dealt with as a matter of urgency.
People must be able to access their earnings as and when they need them.
My Government will ensure financial sector stability and viability and will put measures in place that promote deposits and savings through bank deposits and other appropriate financial instruments which bring fair rewards to depositors. The current banking culture where costs are levied on depositors must come to an end."
On Tuesday, President Mnangagwa gave individuals and corporates who have externalised money and assets a three month moratorium to return the money.
The moratorium which is part of the Zimbabwe Defence Forces (ZDF) 'Operation Restore Legacy' begins on December 1 2017.
President Mnangagwa warned that those who do not comply with the directive will face the full wrath of law.
Below we quote President Mnangagwa's statement at length.
"Activities linked to Operation Restore Legacy have, among other issues, helped to uncover cases where huge sums of money and other assets were illegally externalised by certain individuals and corporates.
Needless to say, such malpractices constitute a very serious economic crime against the people of Zimbabwe which the Government of Zimbabwe will never condone.
As a first step towards the recovery of the illegally externalised funds and assets, the Government of Zimbabwe is gazetting a three-month moratorium within which those involved in the mal-practice can bring back the funds and assets, with no questions being asked or charges preferred against them.
The period of this amnesty stretches from December 1 2017, to the end of February 2018.
Affected persons who wish to comply with this directive should liaise with the RBZ for necessary facilitation and accounting.
Upon the expiry of the three-month window, Government will proceed to effect arrest of all those who would not have complied with this directive, and will ensure that they are prosecuted in terms of the country's laws.
Those affected are thus encouraged to take advantage of the three-month moratorium to return the illegally externalised funds and assets in order to avoid the pain and ignominy of being visited by the long arm of the law."
President Mnangagwa also revealed on Tuesday that as part of his transformation agenda, he would put in place a leaner Cabinet that will see some ministries being merged.
Over the past years, Government has suffered the ignominy of having a bloated Cabinet.
Already there are measures aimed at culling unnecessary expenditure.
President Mnangagwa has promised that his economic turnaround policy will be anchored on his highly successful Command Agriculture Programme, infrastructure development and improvement of social service delivery.
With the President having hit the ground running, all that is left is for Zimbabweans to play their part in order for the country's economy to grow.