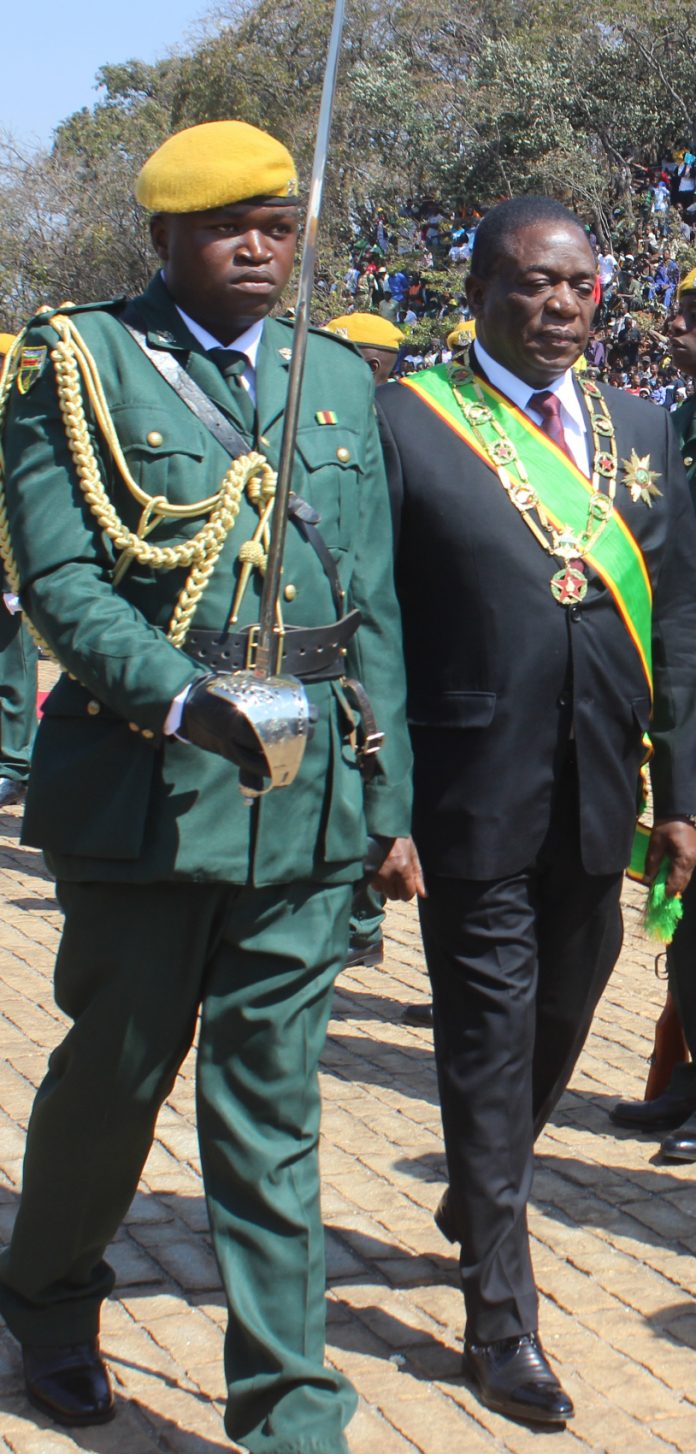 IF there was to be any intervention on one of the fundamental aspects of our country's wellbeing that had been relegated to the bottom drawer of priorities it had to come from President Emmerson Dambudzo Mnangagwa and at an iconic venue.
For close to a month now, the issue of unity, peace and development, coupled with that of the economy had been totally ignored as the brawling by the opposition MDC Alliance futilely sought to derail the aspirations of the country.
The Heroes Acre had to be the venue where such issues of national development are discussed.
President Mnangagwa was there to do just that.
On Monday, under a sunny August day in Harare, a soothing breeze competed with the hot weather that has been slowly gaining traction in Zimbabwe.
Thousands of Zimbabweans made meandering queues, waiting anxiously for their turn to get into the venue from their respective homes.
Something special was about to happen there.
Something special always happens where heroes of a nation are present.
The Heroes' Acre is an iconic and sacred shrine for many Zimbabweans and in many ways too.
It is the place where those who fought for the freedom of Zimbabwe were, and are, interred.
At that sacred shrine, brave men and women sleep in peace, watching over the country whose freedom they watered with their sweat and blood.
Inside the bosom of that 57-acre shrine, seven kilometres west of Harare city centre, lie timely reminders of the brutality of the colonial regime.
A legacy of the current generation and those to come is held firmly in the hands of those heroes and heroines lying there.
Heroes have never been known to die.
They sleep and in peace too.
They smile in their sleep when there is peace in the land.
That is the power of sacrifice and that is the undying effect of its lure.
That is the hallmark of the significance it carries to a people and a nation.
Dreams of a nation are shaped by its heroes and heroines.
The aspirations of a nation have their foundation in the sacrifices of a country's brave sons and daughters.
The future of the nation is founded on the gallantry of its people and this is the future President Mnangagwa was laying for the country during his address on Monday.
There, at the national shrine, the issue of the economy was spelt out.
There, at the Heroes' Acre, a foundation for rebuilding the country was being laid.
The elections, held on July 30, 2018, were about bringing the nation together and close ranks on the polarisation that has characterised the country over the last two decades.
They were about reviving an economy that has been brought to its knees by economic policies that were pursued by the previous administration.
Hardly is the ink dried on the ballot papers than we witness the destabilisation of the country by forces opposed to the peace and tranquillity that Zimbabwe has been enjoying since November 2017.
Yet some, especially Nelson Chamisa, Tendai Biti and their MDC Alliance partners want the country to remain in perpetual election mode.
That has to stop, as said by President Mnangagwa during his address.
Said President Mnangagwa: "It is now time to put the election period behind us and embrace the future.
"The task facing us today is a great one.
"Let us unite as Zimbabweans, revive our economy and build our great nation; the land of our dreams, the land of immense possibilities.
"We should never be deterred by temporary setbacks or regrettable events which we encounter in our course to build an open, free, democratic and prosperous Zimbabwe.
"While this task is every bit as difficult as that which was faced by those heroes decades ago, it is, however, not insurmountable."
The elections, said President Mnangagwa, were held in a peaceful manner and Zimbabweans should applaud themselves for their conduct during those historic polls.
Not surprising, the MDC Alliance, which had threatened to boycott those polls before making an about-turn saying they would not accept any outcome which did not go their way, has since filed an application disputing the results of the July 30 2018 elections.
"On July 30, you stood up and spoke loudly and clearly," said President Mnangagwa.
"You showed the world that not only could we all campaign in a spirit of peace and tolerance, with parties free to campaign whenever, wherever and, however, they saw fit, we equally, together, demonstrated that we could also hold free and fair elections.
"In the spirit of transparency, these were held in the full glare of international observers and global media.
"To safeguard the gains of independence, we have to be united in purpose, always patriotic and should always call for peace and tranquillity as we seek to modernise and industrialise our economy in line with our national vision; to become a middle-income economy with increased investment, decent jobs, broad-based empowerment, free from poverty and corruption by 2030."
As Zimbabweans, we all have a huge task of rebuilding our economy and this can only be achieved if we unite as a nation.
Let those with ears listen.