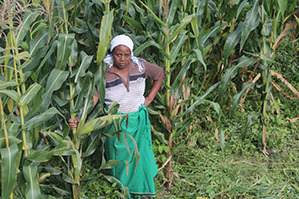 THE heavens opened up and most parts of the country received consistent rains since the start of the cropping season in November and the maize crop looks lively.
The shrivelled, yellow maize plants that made up most fields last season have been replaced by tall green plants, some at the tasselling stage.
Some have ripened and are ready for harvesting.
A tour by The Patriot of Mashonaland East and Manicaland provinces showed that the provinces boast of a healthy maize crop.
The provinces also have farmers producing tobacco, soya beans, roundnuts, groundnuts and cowpeas.
In the past seasons, some parts of Manicaland were affected by erratic rains resulting in the wilting of crops. Zimbabwe requires two million metric tonnes of grain to meet its yearly requirements.
Issues of inadequate funding, high costs of production and failure by farmers to access advanced machinery had contributed to the decline.
In recent years, the production fell below the required levels.
Farmers in areas including Goromonzi, Marondera, Macheke, Headlands, Rusape, and Nyazura are optimistic that the tide has turned.
Saviour Denhere-Chinyani from Bens Hope Farm in Goromonzi could not hide her joy as she showed off her three hectare maize field whose crop was almost ready for harvest.
"This year we had good rains and I hope to get 12 tonnes up from nine tonnes I got last year," said Denhere-Chinyani.
"This season was better as inputs were accessible and the extension officers moved around offering their services to the farmers.
"The only backdrop I suffered was that I could not afford to hire a tractor for land preparation so I ended up using cattle draught power and this meant I had to reduce the hectarage."
Denhere-Chinyani said she has always been motivated to continue to grow maize despite the poor yields in the past seasons by the need to prove to the West that blacks can be and are better farmers.
"With proper training we will get to the levels of the former white farmers and we understand that the challenges we are facing should not force us to give up," she said.
"I am pleased this year our detractors will be shamed.
"We will be able to feed ourselves."
Bright Machekanyanga from Pondorosa Farm in Marondera said this season was proving to be the best since he began farming in 2004.
Pondorosa Farm, which has 10 hectares of arable land, has five hectares under tobacco, two hectares under maize and one hectare of potatoes.
"This season the rains are giving us a chance to weed the fields unlike last year it would rain almost every day and in the end the water was too much, washing away any fertilisers applied," said Machekanyanga.
"From the look of things we are likely to get a better yield than in the past seasons and we hope there will be favourable prices on the market as well.
"We expect to get at least seven tonnes of maize."
Albert Nyakuedzwa of Forkington Farm in Nyazura said he was pleased with the progress of his crop.
Forkington Farm has 200 hectares of arable land and Nyakuedzwa has 25 hectares under tobacco, 50 hectares of maize and 20 hectares of soya beans.
"This year the main contributing factor to expected high yields is the good rains we got compared to what we have been getting in the past seasons," he said.
"We are expecting a good harvest especially for those who had adequate inputs but those who did not have adequate fertilisers the crop did not do well."
Nyakuedzwa said last season he got an average of four tonnes of maize per hectare and this year he expects to get seven tonnes per hectare.
"Last year the yield was affected by the poor rains," he said.
"It is unfortunate that some farmers had reduced hectarage thinking that the rains would be poor as the previous seasons.
"However, we hope to maximise on the increase in tonnage per hectare."
The change in fortune in the agriculture sector comes at a time Government is implementing the Zimbabwe Agenda for Sustainable Socio-Economic Transformation (Zim-ASSET) under which it has reaffirmed its support for the sector saying food security is a priority.
Agriculture has remained the key sector of the economy.
The sector accounts for 15 percent of the Gross Domestic Product and contributes 16 percent to export earnings.