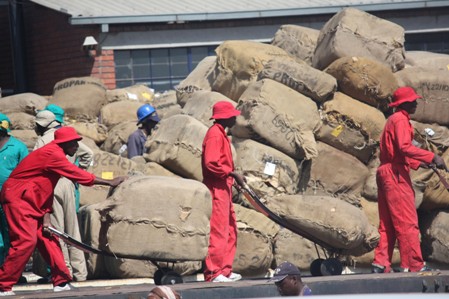 IT is that time on the agriculture calendar when farmers are taking their produce to the market, hoping for favourable returns that will enable them to return to the farms come the 2014/ 2015 cropping season.
Sadly, farmers have continued to cry foul over the 'raw deal' they say they are getting from buyers.
With stakeholders in the agriculture sector aiming for the rebounding of the sector, the question remains will the issue of viable market prices for farmers be addressed.
The past marketing seasons have been marred by price disputes and it goes without mention that this season is not any different.
Farmers have complained that buyers are taking advantage of them, offering prices that did not allow them to break even.
The marketing of maize began on April 1 and will run till March 31 next year with the Grain Marketing Board (GMB) offering farmers US$390 per tonne.
However, private buyers are offering prices as low as US$180 per tonne taking advantage of the failure by GMB to pay farmers in time.
As what has become the norm, cotton marketing which traditionally begins in March started late April under a new selling model approved by the Agriculture Marketing Authority (AMA) where farmers and ginners directly negotiate for the producer price.
In the past AMA would chair and approve price negotiations by stakeholders in the cotton industry and set a price guide.
Farmers are selling their cotton for prices between US35 cents and US65 cents depending on the grade, prices which they have raised concerns over.
Other crops being sold this period include soya beans fetching between US$450 and US$500 per tonne, sugar beans going for at least US$1 000 per tonne, groundnuts US$900 per tonne and wheat fetching between US$400 and US$430 per tonne.
The Zimbabwe Farmers' Union (ZFU) on Tuesday convened a Stakeholders' Meeting to discuss and proffer solutions on issues affecting the sector with the issue of markets and prices taking centre stage.
ZFU executive director, Paul Zakariya said efforts were being made by farmers' representatives to ensure that a win-win situation was achieved to ensure farmers got favourable returns and buyers made a profit.
"As unions we have a lot of lobbying to do to ensure that both parties get a desired result on the market," said Zakariya.
"Farmers should know that they can have control over production costs and yield but it is difficult to influence the prices on the market."
Zakariya said there was need for farmers to improve on quality and quantity so they got favourable prices.
"Farmers should improve on quality and quantity so that they maximise on pushing volumes of their produce," he said.
"Cutting production costs by embracing new technologies also helps, at the moment a tonne of maize in the region costs US$220 per tonne with farmers being able to break even yet it is not the case here as even with the US$390 offered by GMB farmers may not get a profit."
Principal Director in the Department of Livestock Veterinary Services, Dr Unesu Ushewokunze-Obatulu concurred with Zakariya on the need to maximise on quality.
"Farmers should invest in the quality of their produce and if its livestock farmers they should ensure animals get adequate, nutritious feeds and are vaccinated to prevent diseases so that the end product is of good quality and fetches a good price on the market," she said.
"Once farming is taken as a business and all procedures are followed to the book, quality improves."
Speaking during the same meeting Tobacco Industry and Marketing Board chief executive Andrew Matibiri argued that the prices that were offered on the local market were good, but farmers must work on reducing production costs.
"It is now time for farmers to embrace new technologies that will help them cut production costs," he said.
"There are charges being charged by entities such as Rural District Councils, Environmental Management Authority, Forestry Commission and those paid for water and electricity which need to be reviewed as they are eroding the farmers' income."
Matibiri said the 2014 tobacco marketing season also witnessed farmers protesting against the prices offered at the auction floors.
The sale of tobacco under the auction system ended last month with the average price per kilogramme being US$2,69.
When the marketing season commenced in February it was disrupted with farmers boycotting over the prices.
"Farmers complained about the prices offered by buyers but as it stands this past season Zimbabwe had the second highest price offered to farmers on tobacco in the world after the United States of America," Matibiri said.
"If farmers had embraced cost cutting measures they would be in a position to realise profits like their counterparts elsewhere in the world."
Agriculture has remained the key sector of the economy.
Under the Land Reform Programme more than 400 000 households benefitted and since then indigenous Zimbabweans have been the drivers of the sector.
Despite efforts by the myriad of challenges faced in the sector resettled farmers have remained resilient and continue to strive for a turn of fortunes.