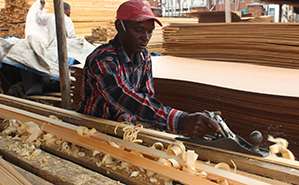 THE Zimbabwe Youth Council has urged Government to invest more in Vocational Training Centres (VCTs) to equip youths with practical skills that help to mould them into successful entrepreneurs.
More than 300 000 youths are churned out of the Zimbabwean schools every year.
The majority of these find themselves without gainful employment and with no practical skills to earn a living.
Most tertiary institutions require at least five ordinary level passes for one to enrol in any of their programmes.
This leaves school dropouts without the minimum academic requirements with no possibility of acquiring employable skills.
The situation has not been helped by the harsh economic climate in the country created by illegal sanctions imposed by Britain and its Western allies that has caused many factories to close-down, thereby depleting the job-market.
Faced with this problem, Government created vocational training centres as places of job creation and combating unemployment and social exclusion.
VTCs were therefore, created as institutions to offer practical life skills to young people mainly tailor made to create young entrepreneurs targeting those leaving secondary schools.
However, most VCTs in the country have been operating below capacity due to lack of funding.
ZYC director Livingstone Dzikira said VTCs were vital in providing young people with relevant knowledge required in the management of different business initiatives.
He said lack of skills were affecting successful implementation of youth development programmes that were being promoted by the government through the empowerment policy adopted by the country in 2010.
"Skills development is an integral component of the youth development drive, therefore, VCTs are the institutions with the primary mandate to develop youth skills," he said.
"VCTs are equipping young people with relevant skills thereby, opening up new opportunities for them to benefit through the empowerment policy."
Young people constitute at least 70 percent of the population but most of them are not employed.
Dzikira said investing in the training centres will reduce unemployment.
Youths equipped with skills, he said, will be in a position to successfully carry out income generating projects to sustain their livelihood and contribute to the country's economy.
"Boosting of VCTs will develop young people to be responsible and productive by starting their own business where they can earn a living and at the same time employ other youths," he said.
"Lack of sound leadership and responsibility are affecting youth entrepreneurs."
Poor management skills, for example, have resulted in the Kurera/Ukondla Youth Fund incurring a loan default of more than 60 percent.
"This is a clear testimony that youths without vocational skills are finding it difficult to run successful projects."
Government is targeting increased enrolment at existing vocational training centres from the current 7 300 to 50 000 over the next two years as well as equip the 42 VCTs countrywide.
By 2018 the government plans to enroll 500 000 youths at VCTS.
This is part of the fundamentals of the "new economy" as described by Finance Minister Patrick Chinamasa in his 2014 National Budget where he declared that the "old economy" is dead.
According to the new economy theory, an employed person is someone aged 15 years and above who works for pay, profit or family gain for at least one hour during normal working time or who does not work during this period but has a job or business to go back to.
There are 42 VCTs operating in the country and government has committed to establish 10 more by 2015.
Meanwhile, ZYC has been criticised for abusing the US$11 million National Youth Fund availed by the government in 2011 with allegations that a large chunk of the money had been diverted by council officials for personal use.
However, Dzikira dismissed the allegations as baseless arguing that the ZYC was not involved in the management of the funds that were administered by the building society CABS.
"ZYC do not have any jurisdiction over the disbursement or approval of loans everything is being done through the bank," he said.
"As a youth body, we only assist youths to write project proposals free of charge so that they can meet the standards required by the bank."
At least US$5,5 million has been disbursed with at least 6 000 projects approved.