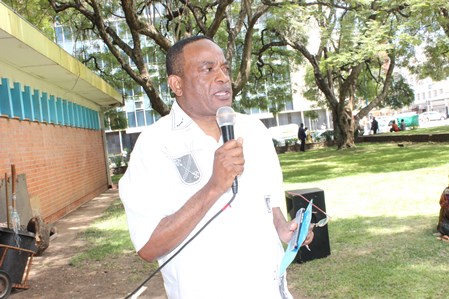 THERE is need to include digital financial transaction laws in the draft Consumer Protection Bill to protect consumers from abuse on electronic business services that are increasing in the country, Consumer Council of Zimbabwe has said.
Drafting of the Consumer Protection Law started in 1999, when the country was lagging behind in terms of technology.
Since then, the draft has not incorporated any clause that protects consumers from abuse by service providers.
In an interview on the sidelines of World Consumer Rights Day symposium, CCZ national chairperson, Phillip Bvumbe said consumers were vulnerable to abuse, for example, from mobile financial service providers.
"At least 51 percent of people in the country are using digital banking services in all sectors of the economy," he said.
"The services are not bad, but they need legislation backup so that service providers do not take advantage of consumers."
Inclusion of the clauses, he said, was critical to ensuring that consumers had legal recourse in instances they are abused.
"We are happy that the Consumer Protection Law has attracted the attention of the President who emphasised the importance of consumers in the country," Bvumbe said.
"The law is taking long while consumers are being short changed by businesses."
Bvumbe said consumers should stand up against all forms of market abuse, especially in the age of digital financial transactions.
"Telecoms providers should have effective complaints systems, and if consumers are not satisfied there should be redress mechanisms to ensure a fair outcome," he said.
"We must be able to penalise providers for abusive and unjust business practices."
Zimbabwe celebrated World Consumer Rights Day under the theme, 'Fix Our Phone Rights'.
Speaking at the same occasion, Industry and Commerce Deputy Minister, Alice Mabuwa said there was no provision in the Draft Consumer Protection Bill that upholds consumers rights in the mobile banking systems.
"The bill does not as yet address mobile financial services specifically," said Mabuwa.
"Today's world is increasingly running on systems enabled by a network of computers interconnected over an extensive communication platform that would have been difficult to imagine more than a decade ago.
"Back then, our concern was primarily the quality of a limited set of products and services available mainly from locals."
In his opening speech of the 8th Parliament, President Robert Mugabe challenged the Ministry of Industry and Commerce to table Consumer Protection before the parliament.
Mabuwa said government was concerned about protecting the rights of consumers in the country and will work towards amending the draft bill to suit current trends of business transactions.
"The ministry will therefore need to be guided by colleagues who are involved in mobile banking and financial services in-order to improve the existing draft bill," she said.
"This will be with a view to incorporate consumer concerns on the matter.
"A draft of the bill is already in place and is being examined by the relevant authorities before it can be tabled in Parliament."
In his presentation at the symposium, Deposit Protection Corporation chief executive officer, John Chikura said mobile financial transactions were increasing in the country, a situation that can expose consumers to market abuse if the services were not regulated.
"There has been an increase in companies that operate mobile money transfer business in the country with products such as EcoCash, Telecash, One Wallet and Textacash," he said.
Chikura said consumers of these services face risks such as money laundering and liquidity challenges if mobile banking is not well regulated.
Internet banking and mobile payments are becoming more popular than traditional banking systems with mobile phones replacing wallets through services such as One wallet, Tele-cash and Eco-cash.
Estel Reid, a consumer who uses mobile financial services said transaction charges for these services were too high.
"Digital transactions are convenient and have made life easier for us to send and receive money," she said.
"The problem with the service providers is that they charge a lot of money for each transaction and at the end, they take a huge percentage of our money.
"Mobile transaction charges are higher than bank charges, but we do not have an option as most of our banks are not convenient to send money to other areas in the country."
Banking is no longer about going to the bank, but doing your banking at home, in the office or anywhere, where there is telephone network coverage.
Salaries can now be paid directly on the phone and people are able to check balances, transfer money, pay bills and make deposits from a smart phone, tablet or computer.
Such is the development in ICT, although consumers are feeling the pinch.