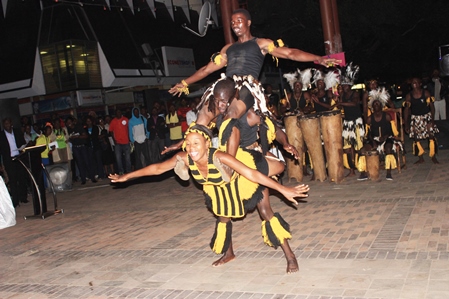 THE Harare International Carnival starts this week hot on the heels of the just ended controversial Harare International Festival of the Arts (HIFA).
Both cultural and art driven events, fall on this calendar month as though this time is the most lucrative time of the year.
While it may seem far-fetched, both have a huge bearing on our lives and the lives of our children as they can mould or break the values and norms that have been safeguarded for many generations.
There is so much hype associated with the coming of these events and one tends to wonder the value that they bring.
HIFA has been here for a decade and much that we have seen from it is how it is corrupting our young people and teaching them sexual tendencies that are foreign to this land.
The highly publicised and million-dollar making platform has the liberty of inviting many artistes from far and wide and some of these have little respect for our culture and way of life.
Freshlyground, the South African musical group, which was scheduled to perform this year has been known for its anti-Mugabe stance making it difficult to imagine what else they can sing.
The atmosphere exuded at the just ended HIFA, the 'glitz and glamour' as many would like to call it, and everything about it, represents a Eurocentric ideology that is not Zimbabwean and unAfrican.
The denim cut-offs, the crop tops, fringe and crochet dresses, butt riders and other fashion signatures worn at HIFA by our young people are not only a departure from our tribal attires and promote near nakedness, but unleash sexual demons alien to our culture.
While this is a platform where black seemingly mixes freely with white, and where the white dons in African print, the racist vibe silently roams the Harare Gardens during this time and cannot be simply put off by wearing African prints and letting the two races mix.
HIFA tries to make most of us comfortable with foreign sexual preferences such as homosexuality and lesbianism and this is where men and women of such calibre mix and mingle.
HIFA is a platform for advancing a political agenda that strips the Zimbabwean people of their true identity and allows them to pursue the far-fetched English which makes the whiteman superior to the blackman. Its funding is dubious and has an anti-government tint to it.
It is merely a ploy to entertain us and our young people with the trivialities of the European culture while the whiteman plots and devises means to steal our heritage and natural resources.
It is an illusion that we are valued and accepted by the whiteman yet in essence we mean little to him.
Its founder and artistic director Manuel Bagorro is known for his 'secret' political mission to Serbia and it is known that Denmark has been using this platform to re-engage Zimbabwe.
What a better way than for the wolves to hide in sheep clothing or the thief to come in the night when the whole world is asleep.
It is clear that HIFA is simply a political assignment or project which will not stop until it has achieved its purpose.
Its theatrical plays even though centred on our own historical icons such as Mbuya Nehanda whom we have always known to be our heroes and heroines who delivered us from slavery and colonial bondage by the Rhodesians, distort our history and have nothing to do with the values and norms instilled in us by those heroes.
It is unfortunate that many of our young men and women are engrossed in it.
The Harare International Carnival on the other hand is a platform that brings a showcase of various cultures.
Cultural groups from as far as Nigeria, Trinidad and Tobago and many other countries wear their traditional and creative attires and showcase them during marches and events lined up by the Zimbabwe Tourism Authority (ZTA).
The origins of the carnival stem from the former slaves in the Caribbean who kept their culture alive through their cultural dances.
In the same vein, the Harare International Carnival whose theme this year is 'Celebrating our Diversity' brings together men and women from all over to share their culture and promote tourism.
This platform which is funded by the Government is expected to rake in billions of dollars at the same time promoting our culture.
The ZTA is clear about the boundaries of this carnival.
Its officials who include the ZTA chief executive officer, Karikoga Kaseke and Givemore Chidzidzi, have countless times said that the carnival celebrates our diversity within the confines of our culture and that our culture is the guiding principle.
This is why the events lined up during the carnival include performances that promote mbakumba, mbira, isitshikitsha, jerusalema and many other dances are showcased.
The creativity of our Zimbabwean people and their true self is exhibited during such times.
Our hospitality, traditional cuisine, values and the transition that we have had is evident during the carnival as we try and promote ourselves as a tourist destination.
Many people might see HIFA and the Harare International Carnival as merely replicas, but in essence one has a respect of who we are than the other.
However, if handled appropriately, both have a huge potential of growing the country's economy.
After all is said and done, we are Zimbabwean and any event that is given a platform to showcase and exploit, the talent and hard earned monies of our people must respect our culture.