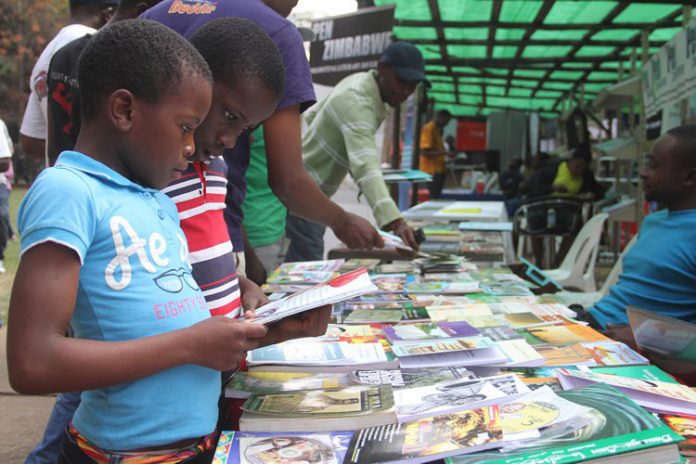 THE first school term of 2018 commenced this week with both parents and learners hopeful that, come end of year, good results will be achieved especially by those writing national examinations.
This year marks the second year since the rolling out of the new updated education curriculum.
The coming in of the new updated schools curriculum meant more work for the book industry as new textbooks and set-books are now required.
The move was met with enthusiasm by local writers.
A golden opportunity had been presented.
All they had to do was seize it.
Indeed both seasoned and upcoming writers did not let the opportunity pass by.
As 2017 came to an end, through this column, local writers were challenged to write stories which celebrate being Zimbabwean.
On the ground, it seems writers have let the book industry down.
The local story has been hijacked by outsiders.
These outsiders have taken it upon themselves to tell the Zimbabwean story.
This has been costly.
The country's history has been distorted.
The onus is on local writers to tell the Zimbabwean story from their own perspective.
Be it the country's history or current events, it is the duty of the indigenes to ensure they are meticulously recorded.
However, it is not only writers who have been found wanting and letting down the domestic book industry.
For long, locals have abandoned the culture of reading.
Perhaps it was lack of material to read.
As the year starts, once again we make a call, but this time to the general public.
An infamous saying goes: 'If you want to hide something from a black person, put it in book.'
This notion has to be dispelled.
Blacks have to prove that not only do they read books but they too can write them.
Books should be used to store and keep alive our vital information.
A reading culture has to be introduced.
By so doing, writers will be assured that their products have consumers.
This will also motivate them to continue writing.
Renowned Nigerian writer Chinua Achebe once wrote: "When a tradition gathers enough strength to go on for centuries, you do not just turn it off one day."
It will indeed take time to ensure people embrace the reading culture.
Reading should not only be done for learning purposes by students.
Stakeholders in the book industry should promote their products in such a way that people are attracted to reading local material.
Local writers, like fellow artistes in the music industry, have been affected by piracy.
School textbooks and setbooks have been photocopied and sold by book vendors on the streets.
The proliferation of street book vendors is worrisome.
Most books on the streets are photocopies of original books.
Writers and publishers are losing out.
Therefore, writers ought to seek ways to curb book piracy, among other challenges affecting the book industry and ensure not only do they benefit but they continue to write more.
During last year's edition of the Book Fair, Pentecost Mate, a writer, called on publishers to effect cost cutting measures when printing books.
"Readers do not study the quality of the paper but what is written," he said.
Cutting costs for writers means not only can they continue in business but readers can afford original copies of books.
If books are affordable, it means locals will not hesitate to buy books.
An interesting point was raised by visiting Tanzanian presenter Shemeji Melayeki in his presentation titled 'The Power of Reading Books: Creating a Habit of Reading' during the 2017 Book Fair as he called on writers and publishers to adopt new technologies.
"There is a lack of digital asset distributors but it is essential that books are available in all formats to ensure they reach a wider target market," he said.
Given the advancement in technology, perhaps it is important for writers to move with the times.
Some people now prefer reading e-books which can easily be accessed on gadgets such as tablets, computers or phones.
Moving away from the norm of producing hard copies would not only cut costs for writers but also help attract readers.
It is said: 'Catch them young'; as students start on a new term, the culture of reading can be instilled in them.