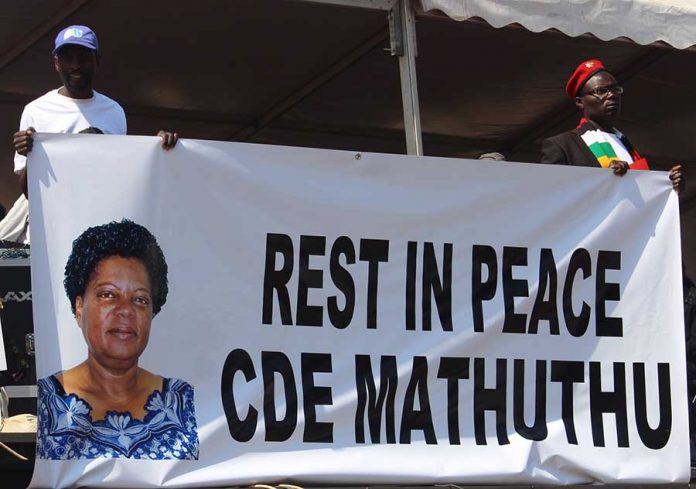 IT was not an ordinary funeral where people wail and throw themselves on the ground.
There was nothing to wail about this great woman Thokozile Angela Mathuthu.
There was her life to celebrate.
And thousands came to relive the many great things that Mathuthu achieved in life.
Her acts were the stuff that makes heroes and heroines.
Her great works have left an indelible mark on the country's history.
The late national heroine Mathuthu was among the women who played a pivotal role in the empowerment of fellow women and Zimbabweans at large.
Her impeccable track record and impressive CV speak for themselves.
She was a ZANU PF Politburo member and Deputy Secretary for Women's Affairs as well as former Matabeleland North Governor.
She died at age 61, succumbing to cancer.
Like fellow women who participated in the struggle and independence of Zimbabwe, Cde Mathuthu shall be remembered in the history of the country as a selfless woman who supported the introduction of the women's quota system.
She did not wait for the empowerment of women to be initiated and handed over to them by men.
She ensured that women became part of the country's development agenda by making it a priority in the revolution.
The adoption of the women's quota system in Zimbabwe has contributed to the social, economic and political development of the nation.
Speaking during her burial at the Heroes' Acre on Sunday, President Emmerson Dambudzo Mnangagwa hailed the impact Cde Mathuthu made in the development of the nation, saying she served the Party with admirable distinction and executed her responsibilities professionally and diligently.
"She was a strong advocate of women empowerment and one of the members of the Women's League who, in 1999, initiated the call for greater female participation in national development both in the Party and Government," said President Mnangagwa.
Her interest in women's affairs saw her participating in many international conferences that included the Dakar Women's Preparation for the Beijing Conference.
Cde Mathuthu experienced the harsh Rhodesian settler-regime racist policies and repression at a young age.
Without doubt, such harsh policies contributed to both men and women taking up arms and fighting the Rhodesia regime.
Such policies included discrimination of the black majority in jobs, their low wages, racist recruitment policies and placements as well as general disenfranchisement.
The actions of the colonial regime resulted in the death and suffering of many innocent people but through collective collaboration both men and women played a pivotal role in liberating the country.
"She fought a good fight; she finished the race and kept the faith.
"From a very tender age, she knew her responsibilities to her people, who were then shackled by settler-colonialism.
"Her family background gave her that consciousness and thus, she became politically active in the struggle to liberate our country from imperialism and colonialism," said President Mnangagwa.
Important were the years 1975 and 1978 when she became active in the ZAPU youth wing as a committee member and war collaborator.
During that time, she assisted combatants who were operating in areas such as Tinde, Kamativi in Hwange and Binga Districts.
As a war collaborator, she provided assistance, alongside other youths, providing information, food and clothing for the freedom fighters.
During the ceasefire in 1979, she helped house some Zimbabwe People's Revolutionary Army fighters in Gwayi and at independence she became PF-ZAPU Women's League committee member and deputy chairperson in Hwange District until 1983.
After the Unity Accord in 1987, she readily embraced the call for national unity and worked hard to support it.
"In Government, we have lost a dedicated and diligent public servant whose tireless efforts and work ethic left her as exemplary servant/leader. Her overriding national consciousness and singular commitment to national unity saw her appointment as Governor of Matabeleland North Province at a young age," President Mnangagwa said.
She went on, said President Mnangagwa, to serve in that capacity and became the longest serving Governor and Resident Minister to have been appointed in any province.
Her contribution in Government also saw her being appointed as Deputy Minister for Information, Media and Broadcasting Services, a post she held until 2017.
As the Deputy Minister for Information and Broadcasting Services, the late national heroine worked for the realisation of the Zimbabwe Digitalisation Programme to modernise broadcasting infrastructure in the country.
The late national heroine will be forever remembered for co-ordinating Government programmes at the behest of the leadership.
She oversaw projects that include Bubi Lupane Dam; Lupane State University; decentralisation of the Department of Registry from Bulawayo to Lupane; construction of civil servants houses in Lupane; construction of Nkayi Magistrate Court; GMB depots at Lupane and Tsholotsho as well as conceptualising the expansion of Victoria Falls Airport.
The late heroine also vigorously worked to change the land ownership structure, which was central to people's aspirations and integral to their economic empowerment.
She worked hard to decongest communal settlements, while opening new opportunities to the once marginalised black entrepreneurs who wanted to join the conservancy business.
She is survived by her husband and four children.
May her soul rest in eternal peace!