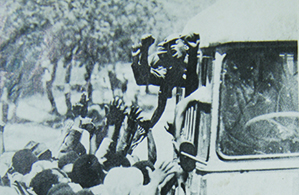 WHENEVER I pass through Rusape I cannot help rolling back to January 1980.
The memories are as fresh as yesterday's events; they are like a scar that refuses to fade with time.
It was a very wet season, as if it was washing away all the blood that had been spilt in the countryside.
Ceasefire was least expected as talks at Lancaster rumbled on endlessly.
The drums of war had reached a new crescendo and casualties were frighteningly high.
Calling the guns to fall silent amidst the madness on December 26 and 27 1979 was unbelievable and was met with widespread sceptism.
Indeed the guns fell silent, guerillas were given a seven-day period to march to the nearest rendezvous point from where they would be ferried to one of 16 Assembly Points scattered across the country.
The ceasefire had a deadline of January 5 1980 for all to move into the Assembly Points.
After that, all guerillas outside the camps were considered bandits, outlaws.
Ironically, the enforcers of this law were the same Rhodesians we had fought against for so many years.
Some of us failed to beat the deadline and we got stuck at rendezvous point F4, commonly known as St Barbara's Mission, in Makoni Detachment.
I was part of that large contingent team of fighters who failed to travel to Foxtrot, commonly known as Dzapasi at the time.
I do not have definite figures, but we were about 200 cadres.
We were caught between a rock and the deep blue.
Legally, we were outlaws who were outside Assembly Points.
Rhodesians said we should be shot or hanged as terrorists who had defied orders.
Transport was secured on January 7 1980, well after Ceasefire deadline.
A Cde Prince came to negotiate on our behalf as ZANLA along with some ZIPRA officer, a Rhodesian officer and Commonwealth monitoring officers.
The Commonwealth monitoring forces were supposed to be the mediator, but their sympathies lay with the Rhodesians.
When asked to hand over our weapons, we refused. We wanted to march into Dzapasi Assembly Camp with our weapons.
After a lot of haggling, there was a compromise.
We would march to the buses that were some five kilometres away, near St Triashill Mission.
Only then would we give our weapons to the Commonwealth Monitoring Force and we were promised to get them back upon arrival at Dzapasi.
That was the last time I saw my AK 47.
My Kalashinikov sub-machine gun.
I had spent nearly two years with it.
I knew every curve and every scratch on it.
I knew how to handle its trigger and control the bursts as well as its recoil. Anyone at the wrong end of my AK knew this was no raw recruit who had just found his way to the battlefront.
The last time I used it was a few days before the Ceasefire was announced.
After much delay and getting stuck on muddy roads, the buses started rolling just after sunset.
For all of us, a bus was now a new experience after so many years of using our feet only.
There was so much singing in a spirit of triumph and among us was Cde Hidden.
He was the most senior commander among us and we all respected him.
We were all shocked when we were driven into Rusape Police Camp later that night.
When we demanded an explanation from Cde Prince, he just stammered and never gave a satisfactory answer.
Instead of spending the night with us in the camp, he went to the comfort of some hotel in town.
The nightmare began as soon as our good Cde Prince left the police camp with the Commonwealth monitoring officers.
Suddenly we were bandits, criminals and rogues and those despicable terms we naturally disliked — magandanga, matororo.
We were instructed to squat like slaves being selected for the market.
I have never felt so humiliated.
The black police officers were ruthless, brutal and they had us in a sack. Somehow I was at the tail-end and so initially I did not know what was happening.
It was after midnight that I realised something was wrong, very wrong.
Our numbers were dwindling.
Some were not coming back.
This was more than some debriefing.
By 3am, I knew we were in a serious situation.
At 5am it was my turn.
It was already dawn and I was ushered into this caravan where I sat before a huge black hulk of a person with a form that he was filling.
I will call him Goliath because he had all the proportions of that Philistine.
Goliath made one assumption and that was his first mistake – he thought I was illiterate.
After all, quite a few comrades had seen no more than three or four years of school.
I played along.
By the time he asked for my name I had quickly scanned through it.
This was some kind of interrogation.
For all his massive and intimidating frame, Goliath could not write properly and was slow in thinking.
I answered a few routine questions and played along very co-operatively.
Among the questions he asked me: "Did you ever lay landmines?"
With a very blank face I answered 'No' and I blinked stupidly.
I even believed myself as I added: "Handina!"
He went on scribbling an undecipherable scrawl.
Goliath looked bored; he did not need any convincing.
My innocent youthful face said it all.
I was just some little mujibha trapped in a war way beyond my understanding.
He pushed the paper in my direction and instructed me to sign the form.
I played along and stupidly asked where to sign as if I could not read.
I was the most illiterate gandanga he had ever come across.
I have never looked so daft and insipid as that moment before Goliath.
I was an innocent little mujibha who could never handle a firearm, let alone handle complex explosives.
Very slowly and very deliberately I signed 'Shepadi' as I if I had never gone to school.
I was still signing when he bellowed, "next!"
As I stood up I looked at the black rubber wrist bands on my left wrist.
Goliath did not see them, even if he saw them, they never meant anything to him and he could not see anything sinister in me.
Those wristbands were rubber washers of every landmine I had laid in Makoni detachment, especially along the Ndingi/Rugoi Road.
Sadly, I lost them at Dzapasi Assembly Point.
I got out of the caravan and was directed to one of the buses that was already waiting to resume the journey to Dzapasi Assembly Point.
The rest of the journey to the Assembly Camp was a shattering anti-climax.
We were all dampened, dispirited; quite a few of us went missing, never to be seen again.
Among the missing was Cde Hidden.
I still have a few questions which remain unanswered.
What happened to Cde Hidden, Medical Officer for Bonda Detachment and many others?
Where did Cde Prince spend the night on that fateful day?
Why did he not come back to explain and account for the loss of those comrades vana vevanhu as some commanders would put it?
Why did he not follow up on us at Dzapasi like a good comrade would normally do?
I am told Cde Prince passed on, but the questions still remain unanswered.
I wish he were still around.
I would want him to answer these questions.
We still owe the comrades who perished in that police camp on that fateful day answers.