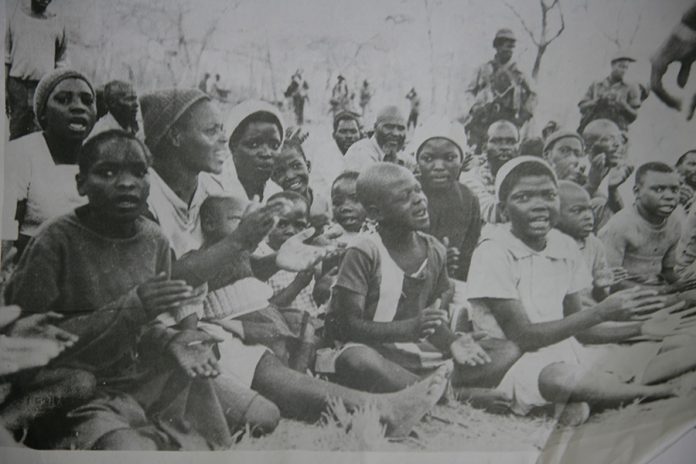 IT is most gratifying to hear and see Zimbabwe's children celebrating our heroes, not only because of what they hear and see from the radio and on television, respectively, but, especially from what they learn from the classroom.
Our heroes must be smiling.
It is a great triumph for us that the curriculum we instituted at independence and implemented for 10 years, which was then sabotaged and discarded, has been 'reinstated', and that in our life time.
It is a great victory and it is most timeous that we should celebrate this at our 38th anniversary of Heroes Day celebrations.
On Monday, August 6, we were seated by the fireside in Gweru's Mkoba 18 Township, three days after my brother's interment. I had promised my late brother's children I would tell them of our family history in the evening as we sat by the fire.
Most people had left but our cousins had spent the day with us. They also joined us by the fireside.
In all, there were about eight children; two in secondary school, three in primary school, one in Early Childhood Development (ECD), with the rest still at home.
Everyone sat impatiently, anxious for me to begin.
"Tete, the family story!" Leeam insisted.
Before I could begin, their cousin Ethan in Grade Three said: "They fought for this country."
Puzzled, I paused, trying to make a connection.
Then jokingly I responded to him: "Yes I represented the family in the struggle, I fought for this country."
This was surprising news to some of the children and for some five-or-so minutes, they were seized with this discussion and inevitably the question came up, what the struggle was about, why were we fighting?
I did not have to answer this question.
Leeam answered: "The whites came because they wanted our gold and diamonds and many other things. They said they were now ruling the people of Zimbabwe and so our people fought."
Other explanations came from various quarters, all centred on the fact that whites came and took our country because they wanted our wealth.
After some time, Nalan who is still at ECD asked: "Now that whites were fought by Zimbabweans so that we could be free, did we become free?"
This took me into an elaborate explanation of what our victory against the whites means.
Some of the children started reciting the National Schools Pledge.
And then Ethan who had started the whole discussion begun the song: "Heroes' Acre ndiyo nzvimbo inovigwa magamba eZimbabwe…."
To my surprise all the children joined in the singing.
We sung this song for quite sometime.
It felt good to be singing this song with the children of Zimbabwe.
In the meantime, their grandmother, my brother's mother-in-law Mrs Chitsa, had joined us by the fireside.
She is a veteran school teacher who has been in the classroom for the last 40 years.
She said: "Oh yes we sing this song in class, the children know the song and the syllabus requires that we sing such songs in class with the children.
As for Chimurenga songs from the struggle, I have no problems.
I used to sing them at pungwes.
I have an advantage over the younger teachers.
They do not know them."
It felt good.
So the pungwe had finally re-entered the classroom, 29 years after the Chimurenga Writer's Series were shredded by Hunyani Paper Collections in 1989!
Mrs Chitsa then told me that when the new curriculum commenced, she had difficulties finding teaching and learning materials to use in the classroom.
Her husband, a school-head, had advised her to go through his pile of The Patriot newspapers and in these, she found a treasure trove.
Since then, she says, she has been home and dry.
She finds plenty of teaching material.
I then appraised her of other products of the Zimbabwe Heritage Trust (ZHT) like ZANLA Comes to Town, The Battle of Mavhonde and Cde Felix Muchemwa's The Struggle for Land in Zimbabwe (1890 – 2010) .
She could not believe such treasures existed and she pleaded with me to assist her to get these.
She said she could screen these for her children on her laptop.
"We are required to screen such for the children," she said, "but where to get them, for the younger teachers it's even worse, they do not have the background."
I promised her I would do my best.
It was a terrible disaster when the revolutionary curriculum launched in 1980 was thrown out after 1989, but finally we are back on track.
Ino nguva yamagamba, it is fitting and proper that we should express our gratitude to all those who fought so tirelessly to make the new curriculum a reality and the ZHT is among those at the forefront urging for a curriculum that says who we are, which defends, promotes and propagates who we are.
When the National Schools Pledge was first proposed by former Education Minister Dr Lazarus Dokora, vociferous voices claimed that our children would be forced to recite it.
We did respond then in this paper that our children would not need to be forced because they love what is theirs and that, like their predecessors who had left for the struggle, our children were proud to be Zimbabwean.
We were right.
Here we were seated by the fireside and children were revelling in the story of their country, unsolicited.
Children talked of those who fought for this country, sung the song of the Heroes' Acre and even recited the National Schools Pledge.
Aluta continua!