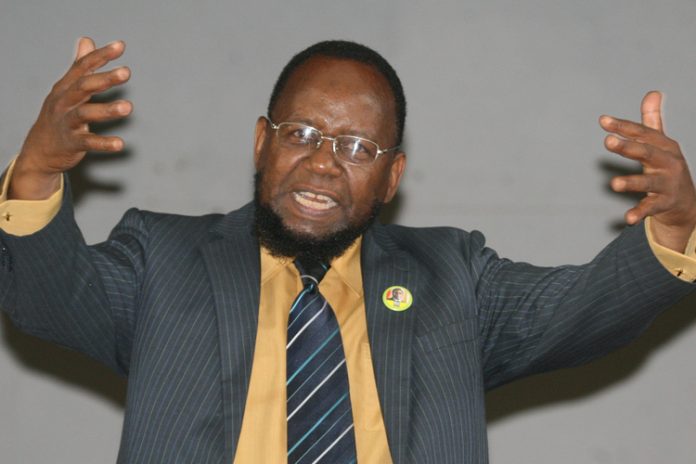 IF I were to be asked today for two gifts of life that my heart desires, it would be 'Dokora (Lazarus) strength and wisdom'.
The dear comrade's departure from Cabinet, perhaps on a constitutional technicality, set off wild celebrations within the teaching and school parents' communities.
The irrationality of the charge sheet on whatsapp groups meant a 'typing' response would be futile.
Later in the day, I walked into a watering hole, and again the former Minister of Primary and Secondary Education, Dokora was in the dock.
At least here, I plucked the courage to ask for particulars of the charge.
These soon flowed; New Curriculum, National Schools Pledge, Lord's Prayer, anti-Christ and Moslem.
Asked to elaborate on the new curriculum charge, accuser claimed Dokora was trying to 'Zimbabwenise' education at a time education was globalising.
Of course, they could not provide a list of countries with global curricula.
On the National Schools Pledge, another accuser charged: Where on earth do you do it except in Zimbabwe?
I mentioned the US, Sweden and South Africa.
Then argument shifted to offending wording, and when asked which phrases in particular, they could only give blank responses.
I googled and recited it: "Almighty God, in whose hands our future lies, I salute the National Flag. Respecting the brave fathers and mothers who lost lives in the Chimurenga/Umvukela. We are proud inheritors of the richness of our natural resources. We are proud creators and participants in our vibrant traditions and cultures. So I commit to honesty and the dignity of hard work."
Again, nothing was pinpointed as offending.
On the Lord's Prayer, I asked whether it was constitutional to impose a particular religion on all schoolchildren, again to mumbled responses.
On Dokora's religion, I have heard him deny the Islam allegations several times, but what would be wrong with a minister who is a Moslem?
Is that not the religious freedom protected by our Constitution?
Dokora was hated for loving Zimbabwe, loathing laziness and chicanery; scrapping teachers' incentives (classroom kitu kidogo) and left a particularly sour taste among our spoiled teachers.
I still wonder what incentives drove young Manyere (teacher) at Unyetu in the early 1970s to be in class ready with an exercise an hour before assembly every morning.
Or made 'Gobo' Mavhengere (our teacher at Unyetu) skip holiday trip home taking us through unpaid holiday lessons?
Perhaps poor Cde Dokora had the naivety of my Unyetu experience.
I can only say go well, head high, for your part in helping restore the Zimbabwe legacy.
History will remember you in the class of Mutumbuka and Chung, ministers that gave their all for a better and educated Zimbabwe.
And to the team at Ambassador House, we trust that the New Curriculum, National Schools Pledge and scrapping of incentives will stay.
As I write this piece, there are momentous events around renaming military barracks in this country after Second Chimurenga heroes, top of which are KGVI barracks renamed Josiah Magama Tongogara Barracks.
Congratulations ZDF, musadzore tsvimbo!
We need to restore legacy in our nomenclature and cultural practices!
Other sectors should also follow suit; Prince Edward, Churchill, Allan Wilson and others have outlived their welcome. These schools need name change like yesterday.
This has reminded me of my tribute to the late Vimbai Gukwe Chivaura.
Lack of cultural, political and historical awareness is quite evident in street and place names in Harare.
A city that is steeped in historical and cultural imagery of Chitungwiza (Dungwiza raChaminuka), Harare (Harava or Haarari?), Mufakose (Hwata Mufakose people), Dzivarasekwa (Dziva raSeke?), Mabvuku (and its Shawasha streets ancestry of Tingini, Godzonga, Marembo, Chauruka, Nyamare and Nyahuni), Mbare (Shumba Gurundoro) and Seke (Shava Mvuramavi) is also littered with culturally and historically offensive names.
These include Allan Wilson, Prince Edward, Churchill, Mazowe (our Gomba), Mt Hampden (our Tsikwi), Manchester, Coventry, Harvey Brown, David Livingstone and Fife.
To this historical/cultural garbage, we can add suburbs, Warren Park, Westlea, Tynwald, Sandton, Glaudina.
Either we are ignorant of our own history or at war with our own identity.
The name and philosophy of Vimbai Gukwe Chivaura shines brightly on these decaying gutters of national pride and identity.
When I moved to Harare in early 2000, directing people to my stand, in Mainway Meadows was a nightmare. There were no street names, only used numbers. Fifteen years later, nothing has changed.
In 2005, I moved to the new Adylin Township in Westgate. Residents still endure the inconvenience of having to use stand numbers as the streets are yet to be named.
This confusion is replicated in most housing developments that have taken place in the last two decades.
Could it be that our city fathers are clueless on what to honour? Harare's history is full of indigenous rivers, names and historical icons awaiting dusting up from the archives.
A starting point is pre-colonial nomenclature for the Harare region.
The only rivers well known by their indigenous names are Manyame, Marimba, Mukuvisi and Gwebi.
These have become names for areas as well as institutions.
Others are lesser known or are known by their corrupted versions.
Mazowe was Manzou or as some say Manzoro and Umwinsi was Mubvinzi. Umwisdale was corruptly named from Mubvinzi.
Other Harare rivers include; Chiripagura, Nyaruwanga, Rukadora, Manyonga, Nyaguwi, Mhandara, Rumbabvu and Chiraura.
Original place names for the Harare area include Gomba for Mazowe Valley, Zvamapere or Chimurove for Avondale, Mharapate for Hillside, Chizarezare or Mutewedzi for Mount Pleasant, Chaswi for Emerald Hill, Bririwiri for Hartmann Hill and Bare or Mutomboka for Gunhill.
In the 19th Century, Harare was mainly a large plain (bani), known for its abundant cane rats (matapi), the Matapi Hostels being the only reminder.
Chiefs/traditional leaders that have been associated with Harare area include Seke, Neharawa, Harare, Mbare, Gutsa, Hwata, Chiweshe and Chinamhora of the Shawasha.
Royalty totems for the area include Shumba, Shava and Soko.
The 19th Century European conquest was met with massive resistance, especially in the Harare region of Gomba (Mazowe Valley) that was under Chief Hwata.
Although the resistance was eventually broken, seeds for future uprisings had been planted and watered.
Mbuya Nehanda and Hwata, the faces of resistance in this area, were executed.
The former has to this day remained a rallying point for the Zimbabwean revolution.
The legacy of the latter has largely been extinguished in our inherited Harare.
In-between the First and Second Chimurenga, sons and daughters have emerged who have served their city well in the capacities of trade unionists, community leaders, philanthropists, business leaders, sports personalities and musicians.
Such names include Charles Mzingeli, Arthur Shearly Cripps, Sipambaniso Manyoba, Mansell Mphamba, George Nyandoro, James Chikerema, Manu Kambani, Dorothy Masuka, Oliver Mtukudzi, Thomas Mapfumo, George Shaya, Peter Nyama, Jairos Jiri, Freddy Mkwesha, Shacky Tauro, Kirsty Coventry and Proud Chinembiri (Kilimanjalo), among others.