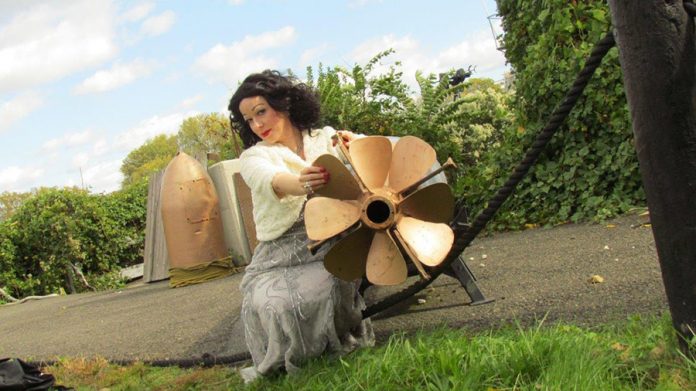 PLAYWRIGHTS are often credited for having a profound influence in different aspects that shape people's lives such as language, literature and culture.
So powerful is theatre that it has contributed in tackling and bringing to the fore certain issues that raise social awareness and developing an aesthetic value in the arts.
This has given rise to the popularity of theatre in the arts industry, with a number of playwrights and actors in theatre production emerging.
Award-winning Virginia solo performer, Heather Massie, is one artist who has made an impact in theatre.
The American has made a name for herself by becoming one of the first women to celebrate science through arts.
Massie, who recently had her debut theatre performance at the just-ended Harare International Festival of the Arts (HIFA) through her production titled Hedy! The Life and Inventions of Hedy Lamarr, revealed her interest in working with Zimbabweans.
In an exclusive interview with Patriot Arts, Massie said she intends to return to Zimbabwe to work with various interested groups.
"I want to return to Zimbabwe to do more shows in schools and also work with orphanages," she said.
"My mission is to empower women and encourage them in endeavours on science and technology."
Massie, whose vision is the advancement of science and technology, is optimistic women can play a bigger role in this initiative.
She intends to conduct workshops promoting science and the use arts in advancing science and technology.
"From my perspective, I feel artists now have the freedom to showcase talent by using art in expressing not only feelings, but on how what is happening in the world can affect people's lives," Massie said.
Hedy! The life and Inventions of Hedy Lamarr explores the life, inventions and person of Hedy Lamarr, a Viennese-born Hollywood film star of the 1930s-1950s.
Known as the 'most beautiful woman in the world', Lamarr stored away knowledge of munitions while married to Austrian arms dealer, Fritz Mandl.
She employed this knowledge to support the US Navy's war effort during the Second World War by inventing the 'secret communication system' with composer George Antheil to make torpedoes more accurate.
Also referred to as 'frequency hopping or spread spectrum technology', her invention is used today in cell phones, WiFi, CDMA, GPS, bluetooth and a myriad of other wireless systems.
Massie said having studied Astrophysics with dreams of becoming an astronaut; she marries her lover of art and science in the person of Lamarr.
"Through the years, I have wanted to bring science into my work and Lamarr proved to be an interesting subject in my life," Massie said.
She brings Lamarr to life while interacting with the audience, and unearths the truth behind how such a glamorous actress could create an invention which is ubiquitous today.
"I use the story of the unexpected genius of Lamarr to inspire the audience to find ways each day to make the world a better place and encourage young women in endeavours of science and technology," said Massie.
Presenting herself as a 'larger than life character', Massie showcases her talent as she invents 33 characters in her own character.
Hers is a solo performance that is not only Hollywood's Lamarr's tribute in her efforts in playing a role in inventing communication systems, but to ensure women accomplishments are celebrated.
Since 2016, Massie has being going around festivals and arts events with her story of the incredible Lamarr.
In 2017, she also featured Hedy! The Life and Inventions of Hedy Lamarr at Intwasa Festival in Bulawayo.
Her performance, also a celebration of women's efforts in a given society, can be taken as an empowerment initiative that does not only give a voice to women, but encourages them to be future inventors.
She has managed to break the common belief that science and technology is a field that can only be embraced and advanced by men.
Massie was honoured as the Outstanding Actress in a Staged Reading at the 2016 Planet Connections Theatre Festivity in New York City (NYC) for Hedy! The Life and Inventions of Hedy Lamarr.
She was also awarded with the Best Actress Award in the 2017 SaraSolo Festival in Sarasota, Florida; with the Audience Choice Award for the 2017 Shenandoah Fringe in Staunton, Virginia and with the Outstanding Performance in a Solo Show Award for the 2017 Planet Connections Theatre Festivity in NYC in the US.