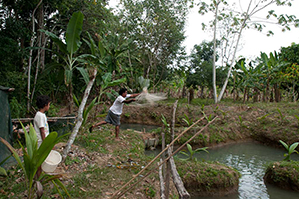 ZIMBABWE joins the rest of the world in celebrating World Biodiversity Day this month amid various threats to biodiversity and calls for urgent measures to ensure it is protected and used to sustain lives without decimating it.
Biodiversity is the degree of variation of life forms within a given species, ecosystem, biome or an entire planet.
Biodiversity is a measure of the health of ecosystems.
The Convention on Biological Diversity says biodiversity is under serious threat as a result of human activities.
It cites the main dangers worldwide as population growth and resource consumption, climate change and global warming, habitat conversion and urbanisation, invasive alien species, over-exploitation of natural resources and environmental degradation.
Deforestation and other land use changes due to human activities, spread of the urbanised areas, road networks as well as industrial areas and associated problems (noise, pollution) coupled with abandonment of former agricultural practices that were favourable to biodiversity.
International Day for Biological Diversity (IDB) or World Biodiversity Day will be celebrated under the theme 'Mainstreaming Biodiversity; Sustaining People and their Livelihoods'.
The commemorations, to be held on May 22, celebrate the different forms of life promoting their growth and protection.
Biodiversity is the basis of life and the essential services provided by ecosystems.
By protecting and stopping biodiversity loss, pundits contend it is the surest way of investing sustainably in people, their lives and well-being.
So important is biodiversity that the Sustainable Development Goals (SDGs) have taken it into account as they seek to end all forms of poverty.
The new goals are unique in that they call for action by all countries (poor, rich and middle-income) to promote prosperity while protecting the planet.
They recognise that ending poverty must go hand-in-hand with strategies that build economic growth and address a range of social needs including education, health, social protection and job opportunities, while tackling climate change and environmental protection.
While the SDGs are not legally binding, governments are expected to take ownership and establish national frameworks for the achievement of the 17 Goals.
The 13th meeting of the Conference of the Parties to the Convention on Biological Diversity (COP 13) to be held in Cancun, Mexico, from December 4 – 17 2016 will focus on the mainstreaming of biodiversity within and across sectors, which is closely linked to this year's IDB theme.
The International Day for Biological Diversity is a United Nations (UN)–sanctioned day for the promotion of biodiversity issues.
From its creation by the Second Committee of the UN General Assembly in 1993 until 2000, it was held on December 29, the day the Convention on Biological Diversity went into effect.
On December 20 2000, the date was shifted to commemorate the adoption of the Convention on May 22 1992 at the Rio Earth Summit and partly to avoid the day being 'lost' in the many other holidays that occur in late December.
The UN General Assembly declared 2011-2020 the UN Decade on Biodiversity.
This decade serves to support and promote implementation of the objectives of the Strategic Plan for Biodiversity and the Aichi Biodiversity Targets, with the goal of significantly reducing biodiversity loss.
Environmentalists recommend that individuals take various steps to fight climate change, such as reducing their carbon footprints, promoting education and contacting elected officials.
International governments and cities can lead the change.
They also claim that solutions to deforestation mostly lie in policy where companies and corporations can adopt best practices and refuse to use timber and paper suppliers that contribute to deforestation.
In the same vein, conscious consumers can refuse to patronise companies that do and put pressure on retailers that employ unsustainable manufacturing methods.
Individuals can also participate in land preservation through charities and private corporations.
Governments need to enact stronger and scientific forests protection laws.
Conservation and continued awareness surrounding over-exploitation, especially poaching and over-fishing, are key.
Governments need to actively enforce rules against such practices and individuals can be more conscious of what they eat and purchase.
Other solutions, such as removing subsidies granted to large-scale fisheries, can help.
On invasive species, the National Wildlife Federation says solutions include creating systems to prevent introduction of invasive species in the first place, effectively monitoring for new infestations and swiftly eradicating newly detected invaders.
On pollution, the average person can do a number of things to fight atmospheric and hydrologic pollution, such as recycling, conserving energy at home and using public transportation.