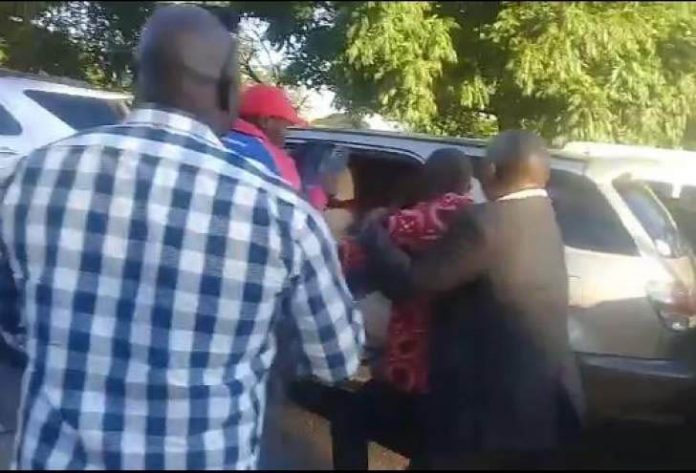 By Tafadzwa Masango
THIS past week we were once again regaled by the drama theatrics of the MDC Alliance, as Nelson Chamisa and company produced yet another shocking, poorly done blockbuster movie – The Assassination Attempt.
It can be recalled that about a year ago, (November 2018) Chamisa and his band of hangers-on tried and dismally failed to capture the country's attention in yet another poorly done performance, 'The Kidnaping Attempt' in Marondera.
For those who might have forgotten about the fake kidnapping attempt that took place in Marondera, here is a brief.
The main actor, Chamisa addressed a 'thank you' rally in Marondera, where in his speech he claimed state security agents had been following him around.
On his way back from Marondera, Chamisa's convoy was blocked somewhere in Ruwa/Mabvuku and 'suspected security agents' 'seized' him but his security team managed to retrieve him and take him to safety.
As usual, the private media was on this story like a house on fire, all sorts of allegations being made and all based on this poorly stage-managed event, whose precursor had been the lie that Chamisa had fed his audience at the Marondera rally that the State was after him.
It is left to those of us who are not 'stupid' to bring to light such shenanigans and expose them for the sham that they are.
The incident was recorded by someone from Chamisa's entourage, who was giving a ridiculous and hilarious commentary.
The kicker being, 'Chamisa is being kidnapped right in front of you, and all these grown men are busy shouting and recording', "ZANU PF CIO, ZANU PF supporters wanted to attack Chamisa!"
To top it off, Chamisa is willingly escorted by his kidnappers to their vehicle and even gets in, then one of his supposedly security people rushes in and drags him out of the car. Coincidently, the so-called 'ZANU PF CIO' attempted to kidnap Chamisa using a Toyota Harrier which has number plates, their faces were not covered and could be clearly seen in the video. No one made an attempt to even capture these kidnappers who were clearly unarmed and also outnumbered by Chamisa's people.
Such are the theatrics we are provided by the MDC Alliance.
Of course after this little drama, Chamisa and his people then announced they were going on a diplomatic offensive and would be meeting South African President Cyril Ramaphosa and other SADC leaders to apprise them of the deteriorating political and economic environment in Zimbabwe.
Mission accomplished for the MDC Alliance.
Now to this latest escapade, The Assassination Attempt, it is even more hilarious and ludicrous than the fake kidnapping drama.
So Nelson Chamisa is once again on his ego-stroking campaigns with the purpose of using them as a launch pad for one of his diplomatic offensive trips.
Mind you, its year-end, the man and his equally pathetic entourage need some money to buy Christmas presents for their families.
So we are back at the scene of the last performance, Marondera, where once again Chamisa is up to his usual shenanigans.
It is December 1, which in Zimbabwe is the National Tree Planting Day and the stage is once again set for some ridiculously poorly performed drama.
Clueless Chamisa is said to have made a declaration that December is now a tree planting month (yes folks, for years Zimbabweans have commemorated Tree Planting Day in December, and now Chamisa suddenly wants to 'discover' tree planting day).
This is the kind of person we are dealing with.
According to an equally excitable character, which goes by the title of presidential spokesperson, Nkululeko Sibanda, Chamisa arranged to visit Marondera and plant trees in conjunction with the local authority at a local school.
What he fails to mention is that Chamisa wanted to rail road a Government primary school for his little tree planting publicity stunt and had not followed the proper channels.
The local authority has little say on what goes on at a Government institution and anyone who knows the laws of the country would know that and would have made the necessary arrangements. Chamisa had no choice but to then go about planting trees at local authority premises, given that his political party dominates the local authority.
Probably after realising that no one was really giving him much attention, a plan was set to create an incident that would place the spotlight on our attention-seeking opposition leader.
Prior to Chamisa's arrival at the clinic, hordes of supposed supporters were bussed to the location.
Zimbabweans are a curious lot and whenever there is a flurry of activity we are drawn like moths to a flame.
So by the time Chamisa arrived at the clinic and once again tried to bulldoze his way into the premises, a large crowd had gathered.
The police, who had been attempting to diffuse a volatile situation that was being instigated by Chamisa's out-of-control followers, had no choice but to fire teargas to disperse the crowds that were disrupting service at the local clinic.
It was at this point that, once again, Chamisa sought to have his 30 seconds of fame recorded on camera.
Sibanda gave several statements in which his narration of what transpired became more outrageous and hilarious with each interview he gave.
In one statement, he claims the police fired at Chamisa point blank and missed.
In another statement, he says the police fired live ammunition and in yet another, police fired live and rubber ammunition.
And in all this firing of all these ammunitions, Chamisa escaped unharmed – main actor haafe – we have been here before.
While Chamisa, who was fired at point blank escaped unharmed, Sibanda claims several party supporters suffered injuries.
We all know that Chamisa and his people love to strut in front of cameras.
A few weeks ago, after creating chaos and confusion in the CBD over what they called the 'Hope of the Nation' (HONA), Sibanda fled from the streets when it got hot, and only re-surfaced alongside his boss, Chamisa, visiting those they had hoodwinked into disobeying directives from the police to vacate the streets.
This time around, the police allegedly used live and rubber bullets and yet we are yet to see evidence of the use of this ammunition on any of the vehicles or persons that were present at the clinic.
All we have is a video with ominous background music that was quickly put together with the usual theatrics from Chamisa's security detail.
I last saw such fictional dodging of 'bullets' in that Hollywood Sci-Fi blockbuster franchise, The Matrix.
I believe the incident at the clinic was set up right after Chamisa was chased away from the primary school as a way of grabbing attention.
No one really knew about this supposed national tree planting month he had declared, and it only became news after the so-called attempted 'assassination'.
Much like the infamous HONA which turned out to be a damp squib, Chamisa seems to thrive on lighting the fuse and leaving his supporters at the mercy of law enforcement agents.
Since assuming leadership of the MDC Alliance, Chamisa has nothing to show in terms of leadership skills except these escapades and provocation of the authorities.
I believe Government, more particularly, law enforcement agents, should ignore him because he poses no real threat.
The HONA and tree planting incidents are proof that Chamisa does not have that je ne sais qoui which would make him a credible threat to any institution of Government.
Instead, he is riding on the reactions from the law enforcement agents to prop up his theatrics.
If the state ignores him then there is no story to tell and the media will ignore him.
When the MDC Alliance cancelled the HONA at the Harare Show Grounds that was a sure sign that the party did not have the numbers needed to fill up the facility and had to resort to the space outside their headquarters.
The bussing in of followers for the national tree planting day to the clinic in Marondera is yet another clear indication that Chamisa is no longer the flavour of the week and has to resort to renting and buying crowds using alcohol.