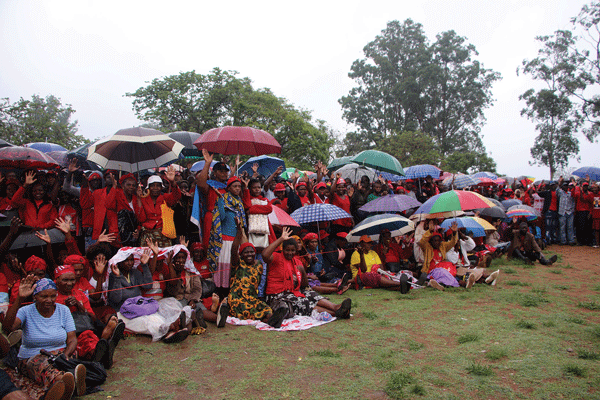 THERE is a lie that MDC Alliance leader Nelson Chamisa keeps imposing on the public in the hope that he will realise certain objectives, and the time to expose that lie and its aims has come.
The stuttering opposition leader has been telling all and sundry that there is a 'crisis' of legitimacy in Zimbabwe and that he 'won' the July 30 2018 harmonised election.
He further claims that he garnered 2,6 million votes.
In addition to that, he says ZANU PF MPs and President Emmerson Dambudzo Mnangagwa must occupy their seats as the opposition because they 'lost' the elections.
Evidence to that effect has yet to be provided and even when the courts presented him with the opportunity to do that, he simply wasted their time and squandered that opportunity.
But beneath that lie two crucial issues which need serious probing emerge.
First is the attempt to use the lie that the July 30 2018 harmonised elections were stolen, to galvanise the masses to 'defend their vote'.
He wants to use his gullible supporters to pursue a personal agenda which he has been whispering behind the scenes that he finds it attractive.
Despite the false and sometimes childish public bravado, we are aware that the youthful politician has been warming up to the idea of being installed as leader of opposition in the House of Assembly.
What is lost on him is that ruling a country is no child's play.
Zimbabwe is forging ahead with, or without, his infantile sideshows.
What comes out clearly from those utterances is pervasive agitation towards direct provocation of the authorities in order for him to attract international attention.
His planned demonstration, which we know would be replete with violence, is an attempt to smuggle himself into Government.
Second, and linked to the first issue, is that the economic policies that Government is pursuing leave the opposition with no straw to clutch on.
A healthy economy like the one that is emerging from the austerity measures that have been introduced by Government recently inhibit the opposition's capacity to navigate through the political waters in the country.
We have said this time-and-again that opposition in Zimbabwe thrives on the people's suffering.
That is all coming to an end as the rebuilding of the country gets underway.
Equally astounding are his astonishing claims that President Mnangagwa is facing a legitimacy crisis.
On the contrary, it is him who is facing a legitimacy crisis, having stolen power at a funeral and stalling the holding of a congress by his party.
If he is confident of winning power, surely there is nothing that can stop him from going to congress.
Again that is his baby to nurse.
Chamisa can demonstrate all he wants, but that will all come to naught as progressive minds of this country come together to rebuild their great nation.
He can lie as much as he wants about stolen elections but that will do little to stop the train from moving.
If anything, it is as clear as daylight that Chamisa is still in denial about the realities that are obtaining on the ground.
That is his problem, a burden that he should carry alone.
Perhaps he can draw valuable lessons from the Hoofnagle brothers, a lawyer and a physiologist from the US, who have done much to develop the concept of denialism; they have defined it "…as the employment of rhetorical arguments to give the appearance of legitimate debate where there is none; an approach that has the ultimate goal of rejecting a proposition on which a scientific consensus exists."
Let us look at the threats that he made in Beitbridge over the weekend.
"Beitbridge is the first port of call, but we will embark on a national tour to tell people to be ready," he said.
"We are planning to have the people's vote respected.
"We won the election on the ground and it was stolen, but the economy's performance is testimony to what happened.
"You must ride on top of those trucks bringing flour into the country. You must find ways to get to Harare when we give the signal.
"The people's vote must be respected. I had garnered 2, 6 million votes when they decided to steal the election, but they cannot steal the economy.
"They have no clue; they have parked because they can no longer drive the country, but give me two days and I will make it work.
"We have a crisis of legitimacy, there is a crisis that people decided to go against the choice of the people.
"I have refused to be swallowed. They are inviting me, but I don't want them to do what they did to our founding leader Morgan Richard Tsvangirai.
"They must go out and I take over as they become the opposition."
We leave it there.
Let those with ears listen.