By Tafadzwa Masango
OVER the weekend, MDC Alliance leader Nelson Chamisa once again exposed not only his immaturity and lack of political tact, but also that of his supporters who continue to fall for his lies in regards some alleged personal relationship between himself and US President Donald Trump.
In the run-up to the 2018 harmonised elections, Chamisa claimed he and his sidekick 'friend of the Committee', Tendai Biti, met with Trump and the latter promised he would give the opposition US$15 billion once it won the election.
The US$15 billion is reportedly the money that Biti had articulated as being sufficient to resuscitate Zimbabwe's economy.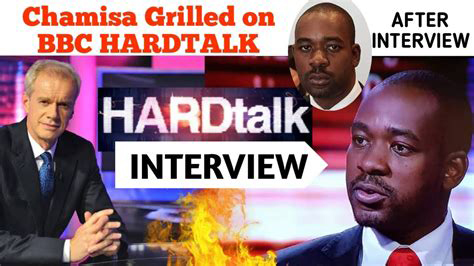 Fast forward to the BBC HARDtalk interview a short while after Chamisa made these claims, where he openly lied to host Stephen Sackur, denying he never uttered a statement to the effect that he and Biti met Trump.
I believe Chamisa's words were that 'other' people and not him had made reference to the alleged meeting with Trump.
This 'patakasangana naTrump' debacle is a clear exposé of who Chamisa and Biti are – two pretenders to the throne.
Last week, Chamisa was once again at it; this time claiming, once in office, all it would take from him is a phone call to President Trump for the US$15 billion to come to Zimbabwe.
Zimbabwe not a charity case
If there is one thing that is constant wherever one is dealing with the opposition and its appendages in the civil society sector, it is the issue of donor funding.
Most, if not all, activities that guide the operations and programmes of the opposition are premised on a notion that whatever has to be done has to appeal to the donors so that they can release more money.
This is the same money donors, such as USAID and Amnesty International, have been pouring down the drain over the past two decades in the hope that regime change would take place, without realising that most of the money was being diverted into the pockets of a few, who went on shopping and marrying sprees and other activities that cannot be published out of respect for the sensitivity of our readers.
The relationship between the opposition and the West has always been that of beggar and benefactor.
This relationship was best captured in the famous video of the late Morgan Tsvangirai, hat in hand grinning as white commercial farmers signed cheques to fund the MDC in exchange for the promise of the reversal of the Land Reform Programme.
The lifeblood of the regime change agenda in Zimbabwe has always been donor funds.
These funds have created a parasitic and destructive section of society which feeds on demonising Zimbabwe at every turn in order to line its pockets, at the expense of the over 15 million Zimbabweans.
These individuals are not used to hard work, their modus operandi revolves around creation of fake reports, fabricating incidents, using gullible youths and even children to provoke the security forces in order to put Zimbabwe under global spotlight.
All this provides them a platform to be in the international media to spread their lies and bolster their fabrications.
This is the reason it is difficult for the likes of Chamisa to talk about nothing else other than donations.
They do not see Zimbabwe developing through any other route but aid.
This is why they celebrate nonsensical propaganda by the local US Embassy that sanctions are not hurting the ordinary Zimbabwean, as well as jump up and down cheering US grandstanding that it provides 'aid' to Zimbabwe.
Funny thing about this aid; the bulk of it is channelled through the very organisations fronting this regime change agenda and not the man or woman on the street groaning under the yoke of US sanctions.
No country has ever developed itself using charity and donation.
This donor dependency syndrome is epitomised by Chamisa's continued hallucinations that President Trump is his close buddy and will give him US$15 billion that will magically drive Zimbabwe into a first world country with airports at every homestead.
His musings are no different from those of a small child picking up 25 cents and buying an entire shop.
The notion that Zimbabwe needs donations has sank its roots, even in the media, where sections of the media continue to characterise any engagements between Zimbabwe and the outside world as begging expeditions.
This view that Zimbabwe must be 'given' money betrays the poor and inept thinking within a segment of our country.
One could say; while Chamisa has been preaching that 'Zimbabwe is open for donations', President Emmerson Mnangagwa is saying 'Zimbabwe is open for business and dialogue'.
That is why we have seen successive engagements in recent weeks with three of Zimbabwe's neighbours.
These engagements have also exposed this dependency syndrome within the opposition and its supporters.
While they talk of bailouts, the Government is talking of investment.
Government wants investors and not handouts.
It wants Zimbabwe to enter into mutually beneficial partnerships with its neighbours, and not to be treated like a poor cousin who does the entire menial work at family functions for a scud or a bottle of cooking oil.
It is unfortunate that the media is failing to articulate this, and force feeds the nation the view that Zimbabwe can only develop through handouts, which is far from the truth.
Equally disheartening is that this same media continues to hype the reckless mutterings of a disgruntled Biti, who, in the past few weeks, has been schooled by real economists.
Interesting fact about Biti and his much touted 'Best Finance Minister in Africa' award; Euromoney came into and made money off Biti by that 'feja feja' award, by hosting a conference and establishing networks.
What does Zimbabwe have to show for all the money that was spent on that junket except for that dubious award which mysteriously began and ended with Biti?
Nothing!