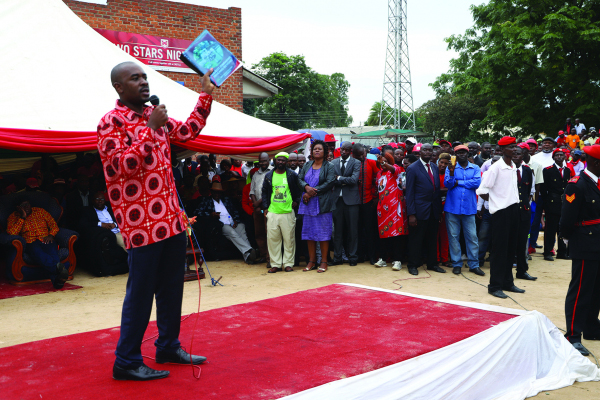 SIGNS of panic were visible from the moment the MDC-Alliance's leader Nelson Chamisa announced he had rescheduled his press conference to first 'hear' what the Zimbabwe National Army (ZNA) had to say during their press briefing on Wednesday last week.
It then did not take long for the media to pick that Mr Chamisa would premise his media engagement on what the army would say because as it turned out, he had nothing new or meaningful to say.
There are fundamental issues to be picked from the press conference.
First is the compelling fact that, having failed dismally to put on a serious challenge to ZANU PF and President Emmerson Dambudzo Mnangagwa in the political field, the opposition leader has found a new home in the media.
This is a point that we have raised countless times that he would find the going tough, having launched his presidential bid on the back of the untimely demise of his predecessor Morgan Tsvangirai.
It should also be added that the circumstances under which he took over power in the MDC always pointed towards a steep road ahead.
Chamisa engaged skulduggery and violence as seen during Tsvangirai's burial in Humanikwa Village where officials opposed to his ascendancy were thumped by marauding MDC youths.
His generational consensus mantra has failed to find any serious takers, especially against a reinvigorated ZANU PF.
Where he dangled the age carrot, ZANU PF simply reformed itself and embarked on an economic transformation trajectory that has gained and found traction across the political divide.
It has since been relegated to a contest between the ZANU PF Youth League and the MDC-Alliance presidential candidate.
Meanwhile, ED continues to charm everyone across the board.
His policies are pointing towards massive transformation.
Key to understanding this scenario lies in the second lesson that should be grasped by all with clear political lenses.
The economy has become the central point in ED's policy.
He has not only talked about this important issue.
He has delivered on many fronts.
The signs of revival are there and with an internationally endorsed mandate, the road to the Promised Land can only become as clear as daylight.
Chamisa, on the other hand, has failed to clearly articulate what he stands for. His economic policy, notwithstanding the many gaffes that have characterised his chaotic campaign, is unclear.
Together with Tendai Biti, they have resorted to drawing from the ill-fated inclusive Government what they say are many successes which they scored.
That is a lie which should be dismissed with the contempt it deserves.
And there are many questions that he has failed to answer.
How much support did Biti give to the farmers during his treacherous reign as Finance Minister?
How much support did he give to the peasants?
How much support did he give to small-scale miners?
What projects did he initiate and implement?
Yet these are the people from which the bulk of the electorate is drawn — a fundamental point that was lost on the MDC in the aftermath of Tsvangirai's demise.
Again, another crucial point that eluded the MDC, in particular Chamisa was that what they saw during Tsvangirai's funeral was the nation mourning the departed leader not an endorsement of the party, and it was an event ably supported by the state.
Brought together, all these points aptly explain the anger that has gripped the young Chamisa.
Forget about the sometimes provocative posturing on social media, the real battle is won where the people are.
Figures at ZANU PF's rallies have been telling.
Never mind the many attempts to associate the current dispensation with the old administration.
They can never tally.
The anger and frustration of the stuttering Chamisa must also be understood from this perspective.
We wrote a few weeks ago that soon, reality would sink in and the young man will start singing the 'rigging' tune.
That too has run its course.
No one has yet provided evidence to back the rigging claims.
Yet in this, Chamisa finds comfort.
Few will be bothered by infantile imaginations whose penchant for nursing wild, childish dreams was manifest on Wednesday.
Prior to that press conference, Chamisa had promised fireworks which included 'exposing' the Zimbabwe Electoral Commission (ZEC) over its alleged connivance with the ruling ZANU PF to 'rig' the July 30 2018 harmonised elections, among other senseless issues.
As expected, all that came to naught as Chamisa huffed and puffed in his long, rambling press conference which was fraught with bouts of vitriol against journalists who bombarded him with serious questions.
Such has been his desperation for attention that, like his predecessor, the late Morgan Tsvangirai, Chamisa has become a template of inconceivable political nuisance.
Let us give him a voice and hear what he has to say:
"It is clear that we have an election process stalemate arising out of the ballot paper scandal, the sham ballot and the voters' roll inadequacies and omissions.
"This has culminated in an election crisis. For the avoidance of doubt, we do not and will not accept the current ballot paper that has been printed without our participation.
"We, therefore, call upon SADC, the AU and the international community to intervene and save a collapsing process and abate an imminent legitimacy crisis."
Seriously Mr Chamisa!
We leave it there.
Let those with ears listen.