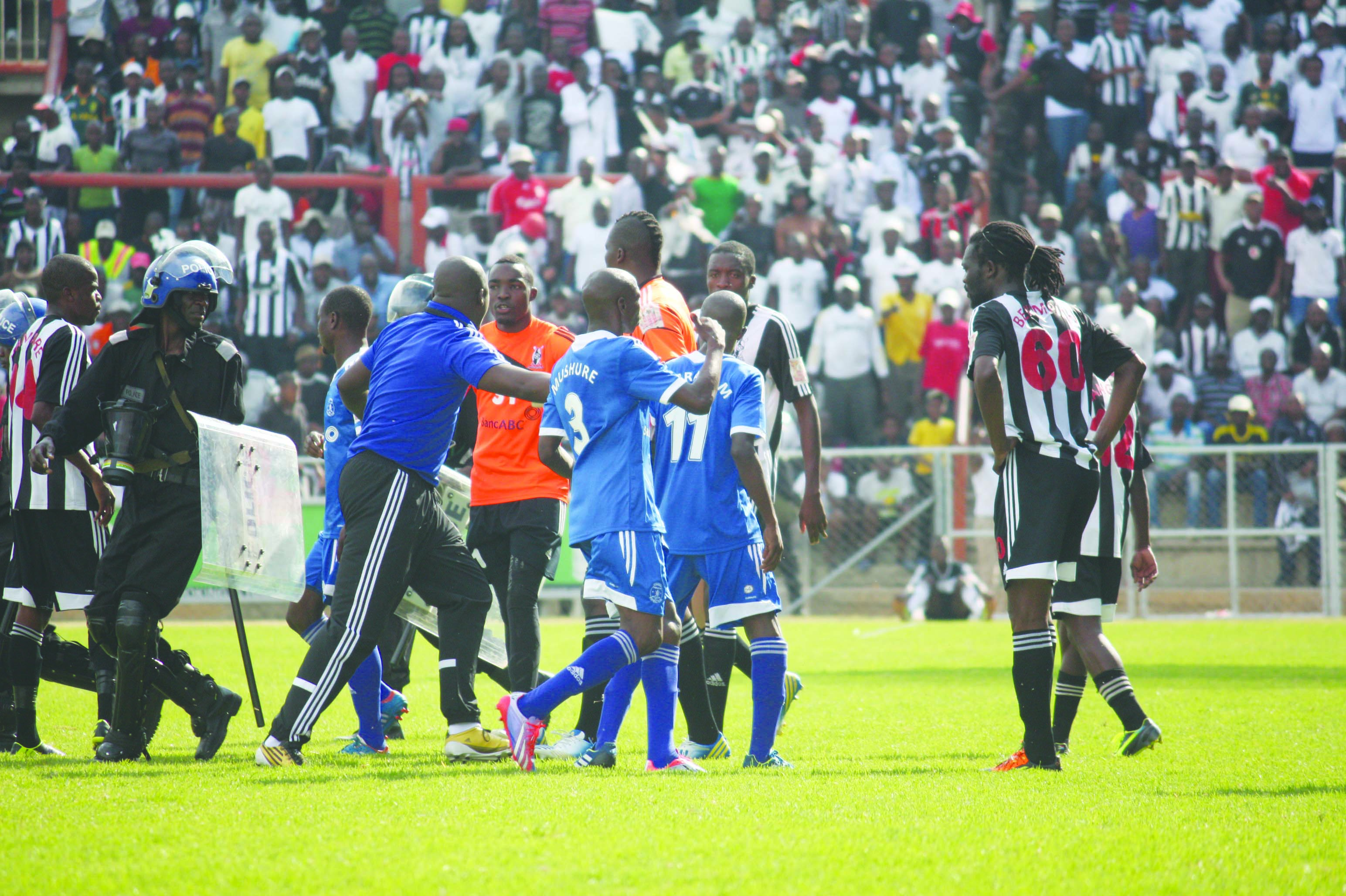 HISTORY repeated itself at Barbourfields Stadium last Sunday as Highlanders failed to beat Dynamos for the fourth time this season.
And like in the past Highlanders supporters went on a rampage and terrorised the Dynamos fans who had come to cheer their team.
Multitudes of Dynamos supporters had to scurry for cover at Barbourfields Police Station a few metres away from the stadium and police had to use teargas to disperse scores of disgruntled Highlanders supporters.
Bosso who lost 0-1 to Dynamos have for the past seven years not won a match against the Harare giants.
Highlanders last beat the Harare giants in 2006 and went on to win the premiership that season.
Sunday's match was no exception as the Dynamos class of 2013 emulated their predecessors and maintained dominance over Highlanders.
Ocean Mushure's penalty made the difference as the Glamour Boys retained the top position on the log.
But it is disturbing that violence has become synonymous with Highlanders-Dynamos matches.
Sunday's skirmishes mark a third time Bosso fans have been involved in rowdy behaviour.
They threw missiles into the pitch in the first leg match at Rufaro Stadium. Earlier the Highlanders fans had been involved in violence at Maglas Stadium and the club has been fined US$8 000 for the misdemeanours.
After the match, Bosso fans totally lost it with sections of the supporters resorting to unprintable tribal slurs as they charged towards the Dynamos fans.
It is commendable that the police swiftly reacted and dispersed the unruly supporters.
But it was not before some unfortunate supporters had been assaulted and got injuries that required them to go to hospital.
Matches pitting the two giants have almost always been volatile as supporters of both teams follow developments of the clubs religiously.
It is time that these acts of violence come to an end.
Obviously maturity and tolerance is needed in the game. Yesteryear, Highlanders had to change its name from Matabeleland Highlanders to Highlanders while Mashonaland United changed to Zimbabwe Saints.
This was done to foster unity and peaceful co-existence.
The late Father Zimbabwe Cde Joshua Nkomo condemned the names that denoted tribes in the country.
Football has been described as the most beautiful game with power to unite people and supporters of both Highlanders and Dynamos who must not tarnish this game.
On the field of play, the match was tense and an avalanche of yellow cards was dished out to those found on the wrong side of the football laws.
Oscar Machapa, Murape, Jaure, Ncube, Ocean Mushure and Bhekimpilo Ncube among others were cautioned.
But this was not because of differences between the players, but the fierce competitiveness that grips players of the two teams when they meet.
And when the final whistle was blown the players shook hands and supporters must take a cue from this display of sportsmanship.
For all that might be said and what will be at stake at the end of the day, it is just a game, to be enjoyed, there is no need for bloodshed.
Big games are played all over the world, they are nothing new.
The Spanish La Liga ties between Barcelona and Real Madrid, are always explosive and so are those in South Africa's Super Diski, when Orlando Pirates and Kaiser Chiefs clash.
While football can be an emotional game, it is important that the larger picture be seen, which is we are one people.
Failure to control tempers will one day end in a huge tragedy.
We do not want a repeat of the incident in Egypt, Port Said, when 74 people were killed in a clash between Cairo club Al-Ahly and local club Al-Masry in February last year.
The violence flared after Al-Ahly, one of Egypt's most successful teams, were beaten 3-1.
Thus the incidents between Highlanders and Dynamos that seem to have become a norm are disturbing and a cause for concern.
It is time that authorities consider imposing stiffer sentences that will see teams playing in empty stadiums.