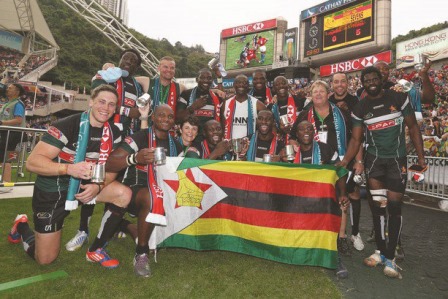 ZIMBABWE Sevens rugby side, the Cheetahs are preparing for the IRB Sevens World Series slated for March 28 in Hong Kong.
The tournament is the qualifying event for core status on the IRB sevens World Series.
Being a core member of the IRB means Zimbabwe will participate in more matches in the Sevens while players will have longer contracts as they will play throughout the year.
There are 15 core teams in the world and six non core teams.
The Cheetahs who recently participated at the Sevens International Invitation tournament at Harare Sports Club last weekend have several positives to draw from the two-day tournament.
It was fruitful for the Zimbabwe Sevens teams as they fielded the Cheetahs and Goshwaks.
Both teams played well with the seniors fighting to the finals before they were beaten by South Africa 15-21.
Georgia, Russia and Hong Kong all fell by the wayside against Zimbabwe.
All the three are better ranked on the IRB international rankings.
By fielding two teams, Zimbabwe managed to gauge the performance of players in a competitive tournament.
The Goshwaks, Zimbabwe's developmental side, managed to put up a top drawer performance.
A number of players in the team demonstrated that the future of the Zimbabwe sevens team is bright as there will be continuity after the retirement of the senior players.
Last year the Zimbabwe sevens team was in Pool G together with Mexico, Cook Islands and Russia.
A total of 19 players are in camp and will be trimmed down to 12 this Friday.
Cheetahs provisional squad:
Fortune Chipendu
Jacques Leitao
Farai Jijita
Boyd Rouse
Ben Nicholl
Jabulo Ndlovu
Biselele Tshamala
Stephan Hunduza
Kilvan Magunje
LeniXence Tambwera
Hilton Mudairiki
Tangai Nemadire
Gardner Nechironga
Riaan O'Neill
Sebastian Roche
Brandon Boshi
Morgan Vangue
Teddy Hwata
Tafadzwa Chitokwindo