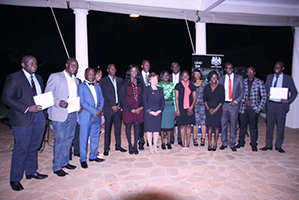 LAST month, 20 Zimbabweans left for the United Kingdom to study in various fields after being awarded Chevening Scholarships by the British government.
Britain this year increased the scholarship awards five-fold from four to 20 for the 2015/2016 study period.
The UK Ambassador to Zimbabwe, Catriona Laing described the increase as part of the confidence building measures with Zimbabwe.
"The scholarship programme is a demonstration of the UK's commitment to Zimbabwe's human resource and to its future.
"In offering this prestigious scholarship, the UK is playing a role in ensuring that Zimbabweans have skills and knowledge to contribute to their country's development," she said.
The scholarship offers financial support to study for a Master's degree at any of UK's leading universities.
The name Chevening comes from Chevening House in Sevenoaks, Kent – currently the official residence of the UK's Foreign Secretary.
Initially the scholarship, which began to be awarded in 1984, was given to Zimbabweans that exhibited leadership qualities, but now, it is being awarded to the supposedly intelligent who have leanings towards the regime change agenda.
Britain out of 'goodwill' is helping groom Zimbabwe's future leaders who will take over from the current crop.
The British government selected the beneficiaries very 'well' as most of this year's scholars are from the non-governmental organisations (NGOs) sector and many have a record of denouncing the country's leadership.
This is not by coincidence.
The NGOs in Zimbabwe are well known for playing a leading role in advocating the regime change agenda.
The Chevening Scholarship has in the past produced regime change activists such as Sydney Chisi, Okay Machisa, Chris Mhike, Ronald Chari and Masimba Nyamanhindi, among others.
And yet Zimbabwe is supposed to be grateful to the British government for increasing the number of regime change activists such as Mfundo Mlilo, Masimba Nyamanhindi, Blessing Gorejena, Phillip Dhauti, Sibusisiwe Ndlovu, Pedzisayi Nemadziba and Angela Jimu, among others to its lists of 'scholars'.
Mfundo Mlilo
Mlilo is one of the young civil society leaders pushing for regime change in Zimbabwe.
He is the spokesperson of the now fragmented Crisis in Zimbabwe Coalition (CiZC) and executive director of the Combined Harare Residents Association (CHRA), an amalgamation of residents' associations in the capital city.
CiZC is an umbrella body of more than 300 NGOs and 15 national coalitions presently facilitating the development of pro-active and broad based agents and processes of regime change.
Mlilo is also a Hubert Humphrey Fellow (University of Minnesota), a Fulbright award administered by the US State Department.
He claims there are human rights violations in Zimbabwe hence the need to remove President Robert Mugabe and his Government from power.
"President Mugabe's leadership is failing to provide cures for social, economic and political malaise," said Mlilo.
"The nation is angry, sick and tired of a failing leadership which is failing to provide social and economic answers to peoples' needs and worries, and taking everything for granted."
He has on numerous occasions called for President Mugabe to step down from power.
Sibusisiwe Ndlovu
Ndlovu is a media practitioner with 12 years of experience in radio broadcasting.
Ndlovu has been very active in the NGOs sector having worked for the National Youth Development Trust (NYDT) and the Bulawayo Progressive Residents Association (BPRA) in the fields of communication and gender mainstreaming.
She is the founder and director of Women's Media for Development Foundation (WMDF), and a member of the Young African Leaders Initiative (YALI) which was launched by American President Barrack Obama in 2010.
YALI is a signature effort to invest in the next generation of African leaders that will 'spur growth, prosperity, strengthen democratic governance, and enhance peace and security across Africa'.
Since YALI's inception, US Agency for International Development (USAID) has invested more than US$100 million in over 76 partnerships with African universities to help train a new generation of African leaders in health, agriculture, education, environmental science, technology and other sectors.
Currently, USAID's Higher Education Solutions Network, a US$25 million per year programme partners with African and US higher education institutions, using science, technology and engineering to educate future leaders and research solutions for the greatest challenges in development.
These young 'African leaders' are the ones on the forefront pushing for regime change in Africa, as they have been taught and brainwashed to despise their past and heritage.
In the name of new ideas and renewal, the ways of the African founders and elders such as Kwame Nkrumah, Sekou Toure, Julius Nyerere and President Robert Mugabe are to be broken by sponsored African youths with the help of older US leaders.
They embrace a new culture, new form of colonisation: mental colonisation.
They despise their leadership and influence change of existing governments in Africa.
Angela Jimu
Jimu is a photojournalist who used to work for the so-called independent newspaper, the Zimbabwe Mail which has since collapsed.
She is also a mentee of the US embassy's Women Journalist Mentors Programme.
Jimu is the vice-president of the Zimbabwe Association of Female Photographers (ZAFP).
The ZAFP was launched in 2013 as a voluntary organisation that strives to raise the standards of professionalism
The ZAFP is funded by Hivos and the Royal Netherlands Embassy through the Human Rights fund.
Hivos is well known for advocating the promotion of lesbians gays bisexual transgender rights (LGBT).
Hivos backs the acceptance of sexual minorities, the fight against homophobia, and mobilisation for political change.
The organisation has never made it a secret that it wants political change in Zimbabwe and bring in a leader who supports gays and lesbian rights
Jimu made the headlines last year in August when she was allegedly arrested and assaulted by police officers while covering an MDC-T youth demonstration in Harare.
Through Zimbabwe Lawyers for Human Rights, Jimu early this year sued the former Home Affairs Minister Kembo Mohadi in relation to her arrest and assault.
Blessing Gorejena
Gorejena is the programmes manager at Zimbabwe Human Rights NGO forum, a coalition of 19 human rights organisations.
She has condemned the ZANU PF government for 'depriving' the country's citizens of their rights to have their human rights concerns heard.
"There can never be peace in Zimbabwe if past human rights violations remain unresolved," she said.
"What we are currently witnessing is negative peace as perpetrators of human rights violations are walking free.
"We can't have peace when there is no justice."
In November 2012, Britain's Foreign and Commonwealth office, issued a travel warning basing on Gorejena's stern warning that there will be politically motivated violence in the run-up to the 2013 constitutional referendum and harmonised elections.
And it is the same office that has awarded Gorejena a scholarship to study in the UK.
The scholars are expected to return to Zimbabwe upon completion of their qualification to make a 'meaningful' contribution to developing the country.
What 'meaningful contribution' can one expect from such a group of quislings bent on seeing a regime change because the West wants one?