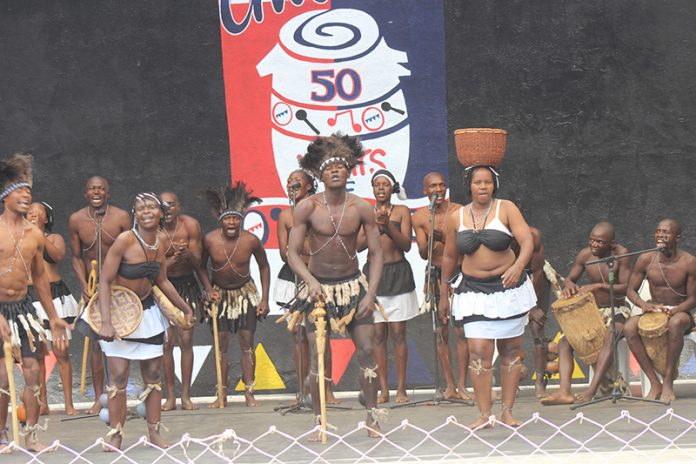 THE popular traditional dance competition, better known as Chibuku Neshamwari Traditional Dance Festival, this year celebrates 54 years of existence.
The festival has become one of the important vehicles promoting and ensuring that traditional dances, which are one of the country's crucial intangible cultural heritage, do not disappear.
In the so-called global village where Western traditions are stifling indigenous cultures, it is imperative to have deliberate programmes that uphold different cultures and ways of life.
Dance and music have played an important part in the way people interact, celebrate and tell the history of the continent.
Songs and dance have always been a means of communication, playing a functional role in society.
Music and dance have accompanied marriage, birth, rites of passage, hunting and even political activities.
They have been used in ceremonies, not just to celebrate but communicate with ancestors and in worshipping.
No amount of globalisation can eradicate the fact that music and dance have a much greater purpose, hence the reason dancing is usually done by a community or group.
And the Chibuku Neshamwari Festival has kept alive the many traditional dances that define the country and its peoples.
Provincial competitions are underway with Mashonaland East, Harare and Matabeleland South having already hosted theirs.
Winners in the various provinces will battle it out in the final competitions that seek a national winner.
The national competitions are slated for August this year at White City Stadium in Bulawayo.
Warren Park hosted the competition for Harare.
The dances showcased the connection between the different African cultures.
Dance on the continent utilises symbolic gestures, masks, costumes, body painting and props to communicate and the beat of the African drum which accompanies most dances has been described as the 'heartbeat of the community' and its rhythm is what holds the dancers together.
Some of the dances which the groups performed in Harare are not of Zimbabwean origin but still made a huge impact at the festival.
The popular dances included Zambian nyau and Malawian gure.
Though differing in choreography and representing various practices, all the presentations told a distinct African story.
Zimbabwe National Traditional Dance Association (ZNTDA) president, Kennedy Kachuruka said the dances showcased at Chibuku Neshamwari are a crucial component of society and help preserve our culture.
"Each dance symbolises a certain cultural practice perpetuated by the performance of the dance," said Kachuruka.
"Muchongoyo celebrated victory in battle and was performed by men while women joined in the celebrations with ululation.
"Dinhe, another dance, celebrates a good harvest with dance steps showing the process of production."
The fact that some dances originated from other African countries shows a symbiotic relationship of all the peoples of the continent.
According to social science expert Nyasha Chakanyuka, traditional dances and music are the fibres that hold together a society.
"With 'modernity', there has been a tendency to abandon some of the practices that define us as a people. But these practices are not obsolete and they continue to shape our lives," said Chakanyuka.
"Traditional dancers and singers on the continent are a repository of oral tradition passed down from generation to generation.
"We must have other national platforms besides Chibuku Neshamwari traditional dance festival that promote and preserve our cultural heritage."
She said, because of colonisation and Christianity, indegenes have been taught to despise who they are and what defines them.
"It is the colonial mentality that has some Africans regarding certain cultural traits as archaic and forms of witchcraft," said Chakanyuka.
Through colonisation, the whites destroyed the African cultural backbone through attacking her institutions, systems and heritage by introducing Western practices embodied in Christianity.
According to anthropologist, Dr Michelina Andreucci, colonial authorities and missionaries led in the destruction of African cultures.
For instance, she points out that traditional dances and rituals were considered 'magical, witchcraft and heathen' and were substituted with the 'civilised' 'Foxtrot', 'Cha-cha-cha', 'tango' and other Western-style ballroom dances.
And it became a mark of progress and success if one could dance the individualistic Western dances.
Some of the dances featured in the Chibuku Neshamwari Festival include dinhe, mbende, likuba, Malawian nyau, Zambian nyau, chimtali, tangi and muchongoyo, among others.
Chibuku Neshamwari dance festival is co-ordinated by Delta Beverages and the National Arts Council of Zimbabwe (NACZ).