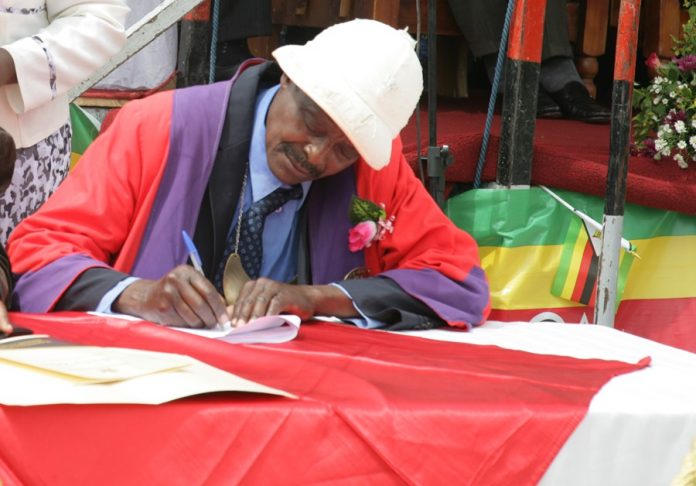 THERE was happiness mirrored on the faces of chiefs during their recent meeting with President Emmerson Mnangagwa in Gweru last month; it was not only the vehicles they received that put smiles on their faces, rather it was the imminent change in their regalia, change to a more traditional outfit that reflects their status as the custodians of tradition, culture and values that define us as Zimbabweans.
The present chiefs' regalia design, colour and all its aspects are still embedded in the colonial past, traditionalists were riled by the use of the red and purple cloth that forms the larger portion of the chiefs' regalia.
They argued the colour red sits uneasily in the Zimbabwean traditional cosmology.
The symbolism and history of this regalia is largely borrowed from the West.
According to historians, the regalia combines images of the Belgian Congo Police, imperial London Police and miner's helmet.
Archival records show that traditional chiefs' regalia consisted of a tsvimbo/spear and head crown (ngundu) made of animal skin.
Traditionally, people were taught to avoid red as a colour especially in the rain season, as it was believed to attract lightening bolts and it was also associated with avenging spirits.
The chiefs' regalia in the country consist of a purple and a red gown, like the one worn by high court judges, a white helmet, a golden badge emblazoned with the Zimbabwean Court of Arms and staff or tsvimbo; the symbolism of the colours is colonial and has no links whatsoever with our own historical and spiritual being.
Historically, we have the famous tsvimbo or staffs such as the Mukwati walking stick stolen by Baden Powell, the famous Nyaminyami stick associated with the BaTonga and the Nehanda staff.
During the 16th and 17th centuries, the Mutapa chiefly regalia consisted of a royal crown (chiremba choumambo), a three legged stool used as a throne, a spear of mahogany or blackwood with the head or point made of ivory or gold, a knobkerrie, skin of a lion/leopard or python and a piece of cloth.
Historians contend that before creators come up with the relevant chiefs' regalia, they should be briefed on the cultural and spiritual issues associated with each region in Zimbabwe.
The trend in Zimbabwe has also been that some chiefs prefer to talk in their mother languages, especially the BaTonga, Ndebele and Nambya, to mention but a few. So it is not sinister to have regalia identifying with their own regions and people.
For instance, in neighbouring South Africa, Zulu chiefs have different regalia from their BaSotho counterparts.
In Zimbabwe, the same system could work as chiefs from Masvingo would have different regalia from their BaTonga counterparts or those from Hurungwe.
The BaTonga chiefs associate themselves with the Nyaminyami; so they would carry the Nyaminyanyami walking stick, while those from Masvingo could carry a different walking stick and use different artefacts when they preside over their courts.
Traditionalists argue that the colonialists chose to give all the chiefs the same regalia as a way of controlling and isolating them from their spiritual and traditional norms, hence it was very common during the Gweru meeting that all the chiefs were clad in suits and neck ties — all colonial relics.
It is also very common to see a chief at a dare or chief's court presiding over issues affecting his or her area while clad in a suit or some modern attire.
If, therefore, the call by chiefs to have their regalia changed is anything to go by, the regalia should have traditional and spiritual value in accordance with their ancestors. If countries with complex cultures like South Africa and others like Nigeria can have different regalia for their chiefs according to regions and a national dress, how about Zimbabwe with its more of a unified culture?
In the not-too-distant past, royalty and nobility were singled out by their privilege to wear the skins of animals like lions and leopards, forbidden to commoners.
As a way of trying to shrug off Western attire, today the chiefs have sometimes been forced to wear what has become known as African attire even though it is a West African fabric.
The new chief's regalia will definitely assist in defining and distinguishing Zimbabwean chiefs from other nationalities.
Above all, national dressing unifies citizens of a country regardless of the fact that they are dispersed across the globe.
Government, therefore, must quickly address this issue at policy level and ensure that we have a chiefs' regalia that will invoke a sense of patriotism and confidence in their subjects.
As a unifying symbol, all the regalia should have a prominent national monument like the Great Zimbabwe reinforcing the concept of the nation and national identity.
So, if our chiefs want to go traditional in the Zimbabwean cultural context, they would have to opt for more simple regalia that reflect the cultural and traditional value of the land and do away with suits and ties, not that they are bad.
That would be a gigantic leap for a society which has been melted by Victorian missionary principles.
The chiefs' regalia issue is a conundrum of the larger picture where our present culture is eclectic and bears little resemblance to the traditions of our forebears.